LONDON – The new ambassador to Britain was stunned to spot something peculiar not far from the U.S. Embassy: a plaque on the side of a once-grand building paying tribute to America's most notorious traitor.
There it was, clear as day: "Major General Benedict Arnold American Patriot."
The very same Arnold who fought for the American Continental Army during the Revolutionary War until he was discovered plotting to reveal its position at West Point to the British.
How could it be, Ambassador Matthew Barzun wondered. Centuries later, was Britain still bitter? Was it someone's idea of a joke?
Barzun, who began his assignment as ambassador to the United Kingdom in August, took to Twitter and wrote a post on his blog, seeking answers.
"I just thought it was so funny, so strange," Barzun told NBC News. "And I thought, well, who would have done that?"
But NBC News has now solved the mystery.
Blue circular plaques dot buildings across London, marking the former residences of famous or historical figures. Charles Dickens, Winston Churchill, John Lennon and hundreds more "lived here" — but Benedict Arnold's plaque is different.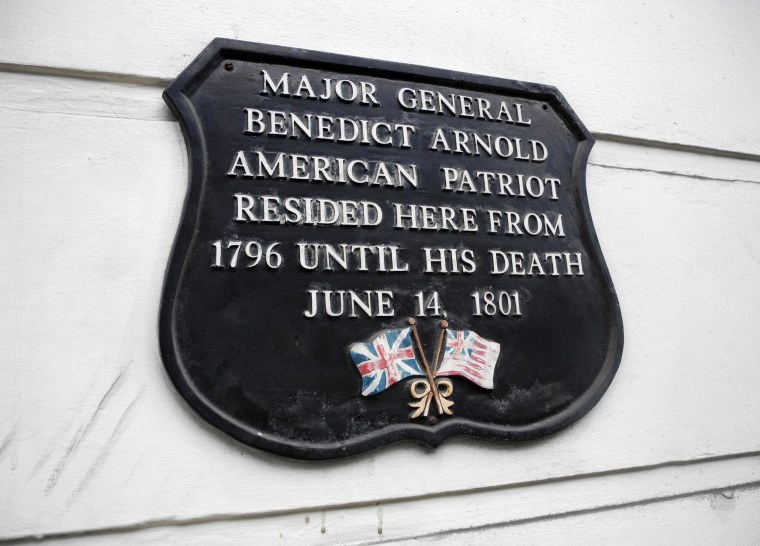 According to records kept by the government's conservation agency English Heritage, a private citizen named Peter Arnold requested funding for the plaque in 1984 but was denied.
Undeterred, he applied in 1987 for planning permission himself through the local Westminster City Councilfor the "erection of [a] cast iron commemorative plaque" on the side of the 18th-century building. And up it went.
A descendant? Not exactly.
"I think he was a good guy ... He felt that what he was doing was in the interest of America"
But Peter Arnold is very much alive and well at the age of 83, living just east of London with his wife Kathryn. An amateur historian, Arnold thoroughly researched his family lineage and discovered a link to the general — although his own branch of the Arnolds split from Benedict's 150 years before the American was even born.
And the more Arnold uncovered, the more he believed the infamous turncoat was misunderstood.
"I think he was a good guy, you see. I don't see him in the same light as so many Americans do," Arnold told NBC News, explaining that he didn't mean to upset anyone with his plaque — or create a diplomatic incident.
Arnold said he has received telephone death threats — gruff American voices telling him he's a traitor just like his ancestors. But he's amused by them and used to other interpretations of Benedict Arnold and his deeds.
"His heart was in America and he felt that what he was doing was in the interest of America as a country and the people who lived there. And at the end of the day he didn't think we should be divorced from England and the king," he said. "So somebody loved us!"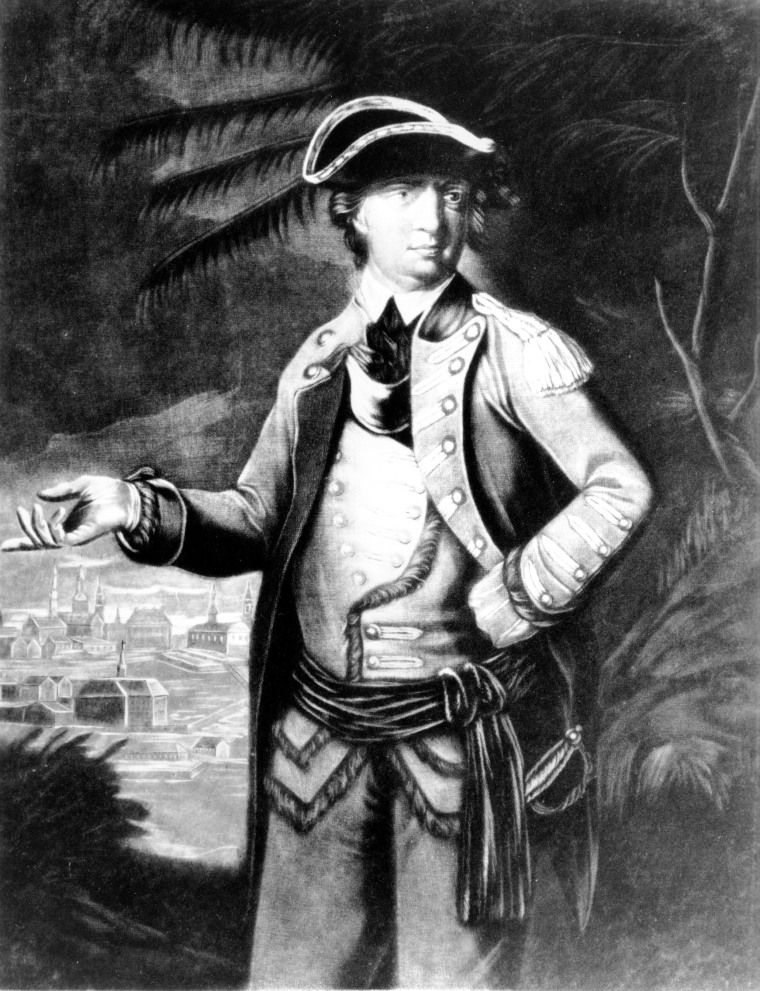 Benedict Arnold lived his final five years in London and died in 1801, when he was buried in St. Mary's Church in London's Battersea neighborhood. This time the marker was installed by an American defender: Former Connecticut state senator Bill Stanley, from the same town of Norwich where Arnold was born, funded a marble gravestone to be erected in his honor.
It describes Benedict Arnold as the "Sometime General in the Army of George Washington …The Two Nations Whom He Served In Turn in the Years of their Enmity Have United in Enduring Friendship."
Stanley, who died in 2010, was a dear friend of Peter Arnold. He argued that the general "saved America before he betrayed it," and was once suspended from school for giving a presentation featuring Benedict Arnold as America's most famous figure.
Stanley touted Benedict Arnold's other military feats, including a naval operation at Valcour Island on Lake Champlain in 1776 which delayed the British forces from invading from the north, and his valor at the Battle of Saratoga in 1777.
As perplexed as Barzun was at stumbling upon the puzzling plaque to the man synonymous with the word "traitor," the ambassador said he was happy to see history being discussed.
"We did really used to be enemies," Barzun said, adding that it was important to remember this when looking for perspective on conflicts boiling over today. "Now look at the work we're doing … We're working together on what to do about what's happening in Ukraine, and what's happening in Syria," he said. "And we're doing it U.S.-U.K., shoulder-to-shoulder."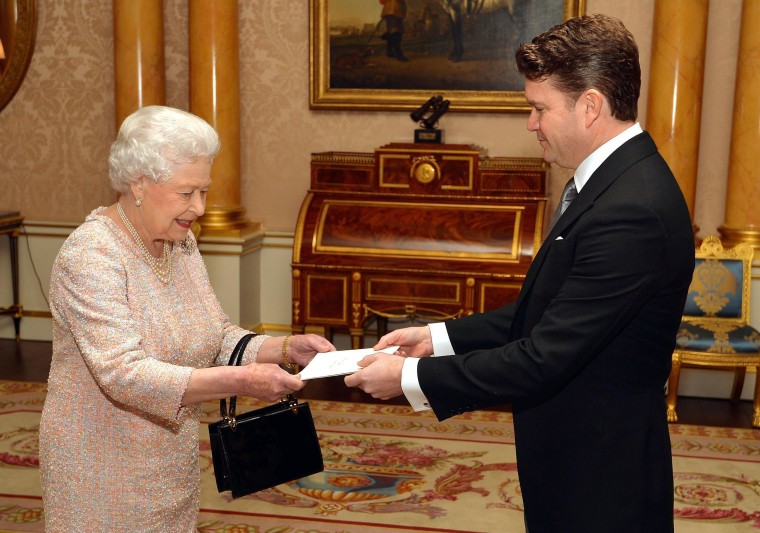 Delighted that his mystery was solved, Barzun phoned Arnold last week. "It was a joy to talk with the man behind the plaque," he said, "even though we see Benedict Arnold's intentions from different perspectives."
Arnold was also pleased to be connected with the ambassador, although he worried Barzun might be out of some people's good books back home."Well, if he has anything to do with me, once he gets back... you never know!"