Rashi Gupta had lost hope of curing her first-born son's persistent eye inflammation.
She saw doctor after doctor, who told her they could only manage the condition with steroids. She even visited temples seeking blessings from Hindu gods for her baby — but with no result.
Then her husband Vishal Gupta, also an engineer, suggested an unusual solution: cow urine.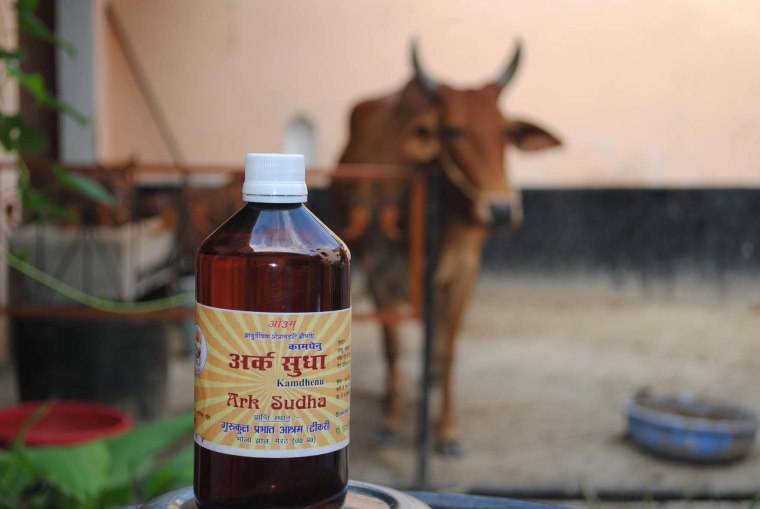 "It was almost unthinkable and grotesque to give cow urine to your son but my husband was insistent that we should try it out and, after a lot of persuasion, I gave in," said the 32-year-old engineer from Modinagar, near India's capital of New Delhi.
Desperate to get her son cured, she gave 9-month-old Vishnu two drops of processed cow urine a day.
"Within five days … we started noticing change in his problem and after 15 days my son was fully cured," she told NBC News.
The experience cemented the family's belief in the healing properties of cow urine and, after initial reluctance, they began using it for treating various ailments. It has also become a family business.
"When I first tasted it, it was very bad but I got used to it in few days and in one month's time my gas problem was over and also my appetite increased"
Vishal Gupta, 37, gave up his job to become a full-time practitioner of cow urine therapy and attended a cow medicine training school in the district of Kanchipuram, southern India, before launching a store selling products made from cow urine.
"Cow is the only animal whose everything has medicinal value," he said. "From milk and dung to urine, everything can be used for a medicinal purpose."
While the belief that cows have curative powers has been part of Hindu practices in India for centuries, these traditions got a big boost when Prime Minister Narendra Modi was elected in 2014.
Some leaders of Modi's rightwing Hindu Bharatiya Janata Party (BJP) advocate cow urine as a cure for all kinds of illnesses — including cancer — and cow urine therapy appears to be taking off.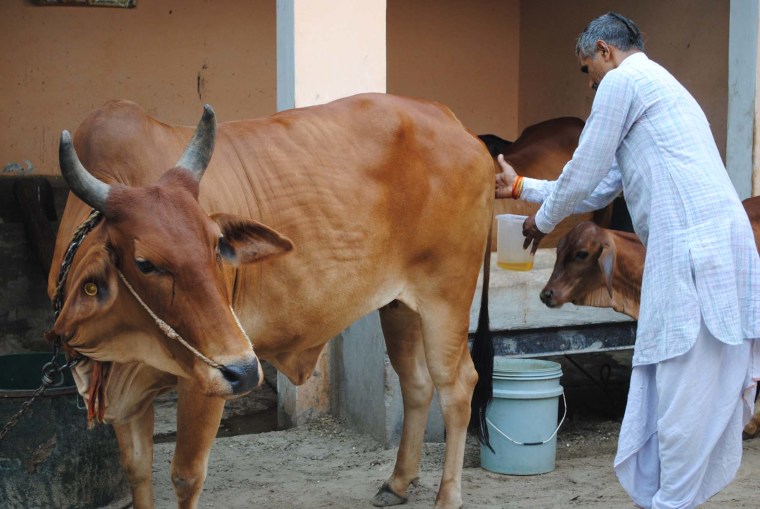 In fact, cow urine typically trades for as much as $25 per gallon, compared to 25 cents per gallon of its milk.
Versions that are boiled and condensed, sweetened, or have added herbs are sold internationally on Amazon under the Hindi name "gomutra ark."
All doctors contacted for this story declined to comment on whether cow urine was an effective cure for any disease.
However, devotees swear by it.
Ajay Dube, a 54-year-old jewelry-maker, came to Vishal Gupta for advice on how to treat intestinal bloating caused by inhaling gas from the acids used to clean gold.
He believes the recommended solution of two teaspoons of cow urine mixed with herbs and berries cured his problem.
"When I first tasted it, it was very bad but I got used to it in few days and in one month's time my gas problem was over and also my appetite increased," Dube said.
Vishal Gupta has entered a business partnership with Gyanendra Kumar, a farmer turned entrepreneur who wakes every morning at 4 a.m. to fill large pails with urine from his cows.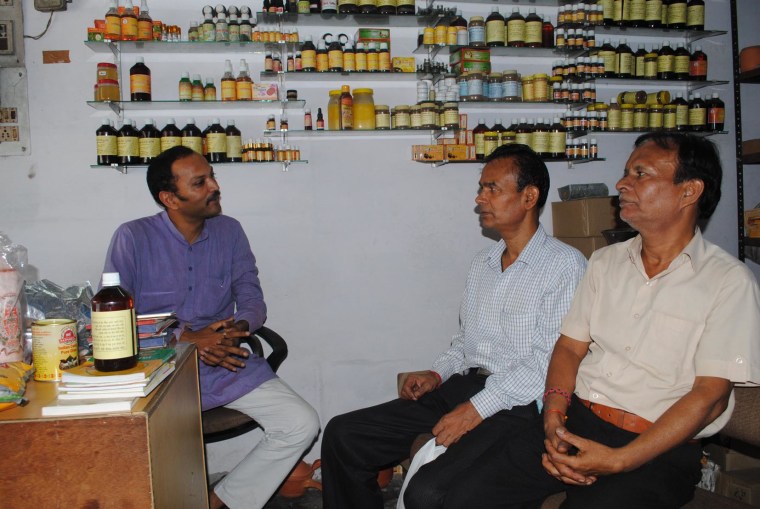 The urine then is boiled and condensed to make the "ark" extract. Last month, one of India's biggest cow shelters began producing 10,000 liters of ark a day at a production facility inaugurated by the health minister, and similar sites are springing up all over the country.
And it's not just medicine — other products made from cow urine including insulin substitute and mouthwash.
Reverence for cow urine has become a political issue in India, where hindus worship cows as "gau mata" — "mother of all." Hindus seek nourishment through milk, dung and urine but almost never cow meat — they regard the cow as sacred and many see its consumption as an abomination.
Since the BJP was elected, a raft of cow-protection laws were implemented as were vociferous demands for their strict enforcement.