BEIJING — Beyond the rusting gate of a deserted and dilapidated 104-year-old mansion, an elderly woman reassures a group of nervous schoolboys that despite its haunted reputation, there's nothing to fear.
"There are no ghosts in here," she tells the youngsters.
But the building's owner, the Beijing Catholic Diocese, hasn't been able to dismiss such fears quite so easily.
A lurid 3D horror movie called "The House That Never Dies," inspired by the derelict downtown pile's spooky legend, has been third on the domestic box-office charts this year, offering up silver-screen staples like a hand reaching out of a mirror and a bathtub full of blood.
The flick has turned a slow but steady stream of curiosity-seekers into a stampede. And the diocese, which has just announced plans to refurbish and redevelop the property for less-spectral tenants, is less than thrilled.
Officially, it is known as Chaonei No 81, but most people call it the "Haunted House." Creepers cover its walls, snaking out of window holes and around precariously hanging balconies.
The mansion was built in 1910, at the tail end of the Qing Dynasty, possibly as a church or seminary, and perhaps by an American or British missionary. Nobody can say for sure, which just adds to the mystique.
Legend has it that the wife of a high-ranking official hanged herself from the rafters of the French Baroque-style building, and that her troubled spirit has lived on, wandering its abandoned corridors.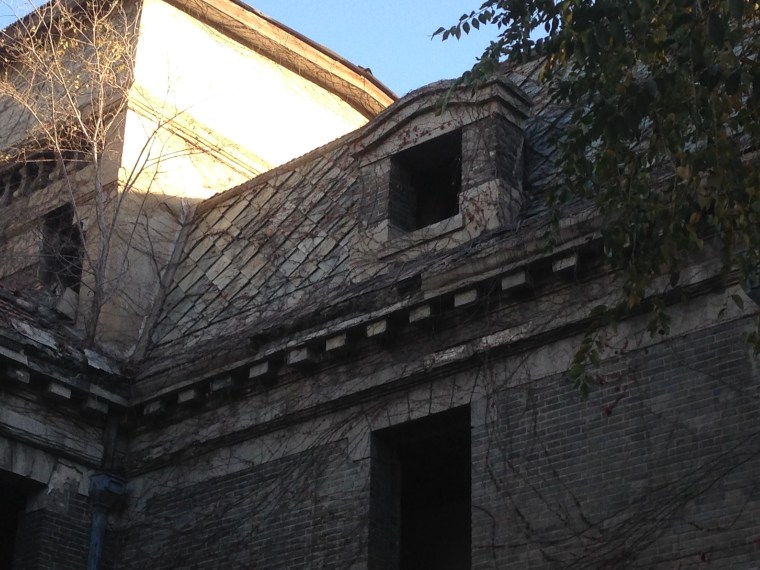 For decades, the house and an outbuilding have sat untouched while all around the city has been reshaped and turned into a forest of modern high-rises, sweeping away entire historic districts. Ghost-hunters were the only visitors; it was the star attraction on a tour of haunted Beijing.
The renewed attention has prompted the diocese to firmly shut that gate. A hand-written sign outside disowns the movie, and another reads, "This is a dangerous house," apparently a reference to the creakiness of the structure and not the alleged apparitions within.
The church is only too aware that in a country where two of the biggest festivals involve burning paper money ("hell money") to placate ancestors and ghosts, the spiffed-up mansion might struggle for tenants if it can't shake its image.
At the gate, a grumpy caretaker confirmed that restoration work should start at the end of year before he chased off a couple who were drawn to the site by the movie.
"I was curious about whether there really are ghosts here," Liang Wei explained of her visit. "I want to check."
The diocese has tried to avoid commenting on the paranormal, but the Chinese Patriotic Catholics Association in Beijing tried to put the rumors to rest in a 2009 interview, declaring, "The whole story about the house being haunted is complete nonsense."