MOSCOW — When Russia's Vladimir Putin addresses the U.N. General Assembly on Monday, all ears will be attuned to one issue: Syria. From this high-profile pulpit, Putin will have the chance to defend the Kremlin's staunch support for Syria's President Bashar Assad, who has not only been fighting a four-year civil war but been battling Western attempts to topple him.
Russia's determination to stick by Assad may seem baffling to some, but experts say Putin has deep-rooted — and personal — reasons for backing the dictator. NBC News reached out to Russia's leading foreign policy experts to help explain Moscow's commitment to Assad, and why the Kremlin is not letting Syria go.
Fear of Islamism
ISIS, which has conquered swathes of Syria as well as neighboring Iraq, is not a direct threat to Russia — yet. Russia's security service FSB estimates that about 2,400 Russians fight for the terror group, most of them veterans of Russia's own Islamist insurgency in Chechnya.
The Chechen uprising is quiet for now, but may flare up again if those veterans return to their home country, which has a 7-million Muslim minority, according to independent Middle East expert Georgy Engelgardt.
Distrust of the United States
Conversely, Moscow does not trust the United States and its allies when it comes to handling jihadists, the experts said. From the Kremlin's point of view, U.S.-led operations to overthrew governments in Afghanistan and Iraq, as well as the West's ouster of Libyan ruler Moammar Gadhafi in 2011, only increased instability and boosted radicalism in the Middle East.
"Assad survived, and it's pretty clear to most players by now that he is better than the ISIS," Malashenko said.
A Long History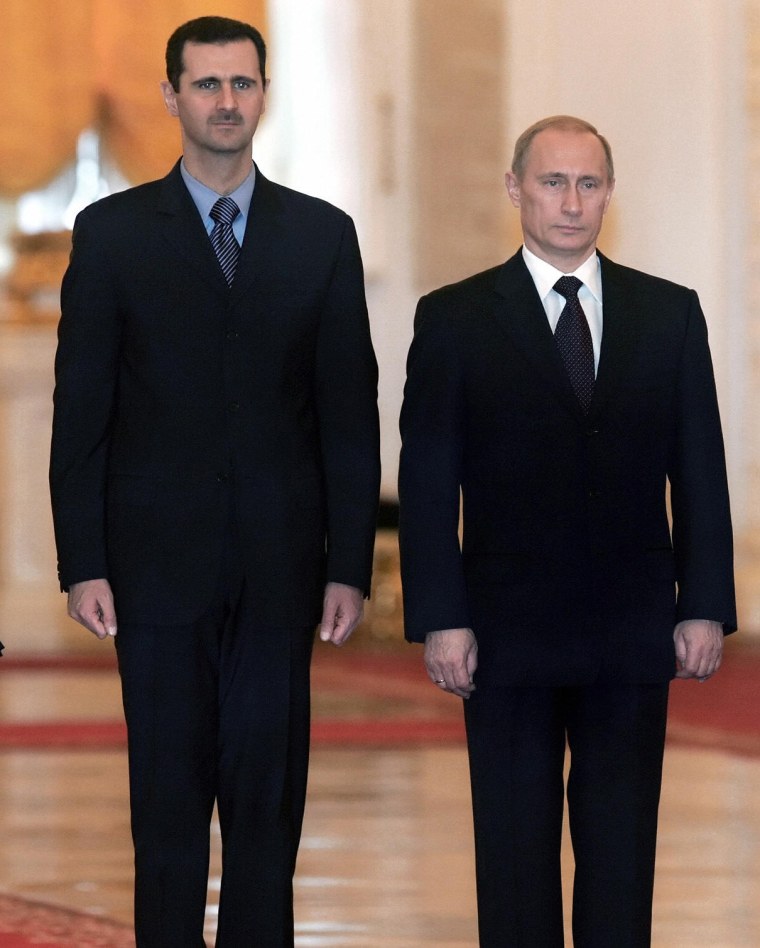 Syria is Russia's oldest and staunchest ally in the region, and their alliance dates back to 1956. Russia has armed the Syrian military, trained an estimated 35,000 Syrian officers over the years, and built up the country's infrastructure, according to Vladimir Akhmedov from the Institute of Oriental Studies at the Russian Academy of Sciences.
Syria also is heavily dependent on Russian weapons, though the war-ravaged country did not rank in the top-10 of buyers of Russian weapons in 2014.
"Even Assad's enemies prefer to fight with Russia-made weapons because many of them were trained in the Syrian army, and this is what they know," Engelgardt said.
A Foothold in the Middle East
Syria could be considered Russia's only remaining friend in the Middle East. Other power players in the region, such as Saudi Arabia, are U.S. allies and compete with Moscow in the oil and gas market. Moreover, the only existing Russian base outside the ex-Soviet Union is located in the Syrian port of Tartus.
Related: Photos Show Syria Bases Preparing for Russian Forces — Report
Tartus is only a small naval dock, with decrepit warehouses and a permanent staff of four. But in addition to acting as a strategic outpost that allows the Russian Navy to operate in the Mediterranean, the dock holds symbolic meaning as a continuation of Russia's Soviet-era might, according to Alexei Malashenko of Carnegie Moscow Center.
Saving Face
Russia's commitment to Assad became self-sustaining during the war: Putin cannot abandon him now without losing face — and he hates policy embarrassments, Malashenko said. And when it banked everything on Assad, Akhmedov said, Russia left itself without alternative partners for dialogue in the conflict, such as moderate rebels or regime insiders who may one day replace the Syrian leader.
Dislike of Revolutions
Putin has never hidden his dislike for the Arab Spring that swept the region in 2011 and other popular uprisings that ousted leaders, no matter how authoritarian. Many experts say Putin sees reform movements as setting dangerous precedents that may one day lead to his own forcible ouster.
Related: Russia Sends Attack Helicopters to Syria, U.S. Official Says
However, this is less important for Putin's Syrian policy than it was before, according to Malashenko.
"Some rabid lawmakers may still be bashing 'color revolutions' in Syria, but it looks like Putin is more concerned with simply propping Russia's last Soviet-era ally in the Middle East," he said.
A Bargaining Chip
Finally, Russia became an international pariah after its annexation of Ukraine's Crimea region at gunpoint in 2014 and its alleged meddling in Ukraine's ongoing civil war. By supporting Assad, and by extension taking on ISIS, the Kremlin thinks it can help repair its dented international image and rebuild relations with the U.S., Malashenko said.