TEHRAN, Iran — Donald Trump's top diplomat is reviewing last year's nuclear deal with Iran, saying the country remains a leading state sponsor of terrorism. But while ripping up the agreement would make good an election promise, it would also embolden Iran's hardliners who believe President Hassan Rouhani has been too friendly to the West.
Secretary of State Rex Tillerson's announcement Wednesday will be seen within Rouhani's moderate circles as an attempt by the Trump White House to try and undermine the landmark 2015 agreement.
Rouhani has invested much of his political capital in the agreement, promising that the lifting of sanctions in exchange for curtailing Tehran's nuclear program would usher in economic prosperity and a better relationship with the world.
This has happened, but only in part — progress has been very slow and remains shrouded in uncertainty. Although billions of dollars of Iran's assets were unfrozen as a result of the negotiations, U.S. sanctions imposed for what it says is Iran's support of terrorism were not considered to be part of the agreement.
Rouhani may also have built unrealistic expectations within Iran by overselling the benefits of the deal. Salaries have not risen and business owners are complaining that they still haven't been allowed to access the international banking system to raise funds.
For the U.S to even be talking now about whether the lifting of sanctions against Iran was in its national security interest — even as it acknowledges Tehran is reining-in its nuclear program — is a serious dent to Rouhani's credibility within the country.
Hardliners will say he gave up too much for too little to get the deal negotiated with the U.S., China, Russia, France, Germany and the United Kingdom, with involvement from the European Union. Even supporters of Rouhani see it as an attempt by the Trump administration to thwart his chances of a second term as Iranian president in elections set for May 19.
Iran trouble
During a meeting in Saudi Arabia — Iran's arch-rival— Defense Secretary James Mattis accused Iran of destabilizing the Middle East through the Lebanese militant group Hezbollah, which it supports.
"That militia is contributing thousands of fighters, and of course Iran's got its own military inside Syria continuing to hold [President Bashar] Assad in power," Mattis said Wednesday. "Everywhere you look, if there is trouble inside the region you find Iran."
Tehran-backed Lebanese militia and political party Hezbollah threatens key U.S. ally Israel and the country has been linked to Houthi fighters battling Saudi-led forces in Yemen.
And while campaigning for president, Trump repeatedly called the agreement "the worst deal ever negotiated."
Some in Iran feel that the White House's more assertive stance will be easier with a fiery, belligerent anti-American leader at the helm in Tehran. Rouhani is none of those things, and it known for being diplomatic and measured.
So talk of renewed sanctions, especially so close to Iranian elections, will feed directly into the hardliners' narrative that the nuclear agreement was a bad one and that Iran has lived up to its end of the bargain without seeing any real benefits. They say it didn't bring the commercial success Rouhani promised and that doing a deal with America was bound to backfire.
Hardliners may also start calling for the nuclear program to be fired up again, saying Iran's great scientific achievement — and arguably its biggest bargaining chip — should never have been mothballed in the first place.
The biggest unanswered question is how Iran's Supreme Leader Ayatollah Ali Khamenei will react if sanctions are reinstated or if new sanctions are imposed, perhaps tied to human rights abuses or ballistic missile tests.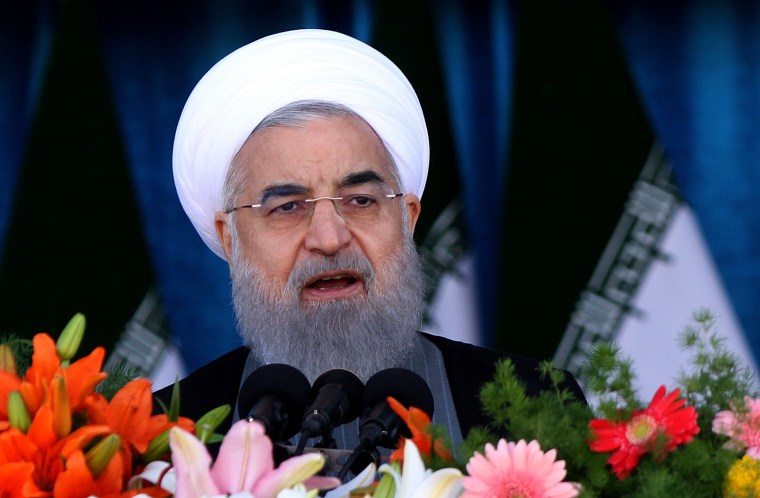 If new commercial deals such as an aircraft order with Boeing are scuttled and Iran's banking system continues to be hobbled, Khamenei will be furious. Khamenei only reluctantly gave his tacit approval to the deal and has continued to criticize the lack of benefits it has brought.
He may want to back out of the agreement but would most likely prefer America did so first.
Khamenei might also prefer hardline candidate Ebrahim Raisi as Iran's news president. Some have even tipped Raisi to be the next Supreme Leader. A deep insider of Iran's political system, he has all the right conservative credentials, including opposition to America, but is a newcomer.
But Iran is a complex country and nothing is certain.
To the outside world, its leadership may appear irrational and impetuous but for the most part Iranians are pragmatic and don't want a military conflict with the United States. Iran might prefer to drive a wedge between America and its allies over the nuclear issue, retaining a cool but safe enmity with the "Great Satan" and a commercial relationship with Europe.
Rouhani is seen as the safest pair of hands for such a tactic — a pliable insider who will still reflect a diplomatic image of Iran being open to the West and open for business. He will also been seen as the most moderate candidate, attractive to Iran's youthful population. His success would make it harder for the Trump administration to label Iran as a bad actor.
However, some in Iran see the next four years under Trump as an antagonistic period that needs to be counterbalanced by a tougher president who isn't so friendly to the West. For them, this isn't the time for reform but a time to strengthen the economy through self-reliance while the enemy is at the gates.