Shannon Lee Miller isn't only the most decorated gymnast in U.S. history, winning nearly 20 world championships and earning 7 Olympic medals. She is also known for her hair scrunchies.
The hair scrunchie seems to have endured in the gymnastic world even as it has been mostly abandoned by the masses.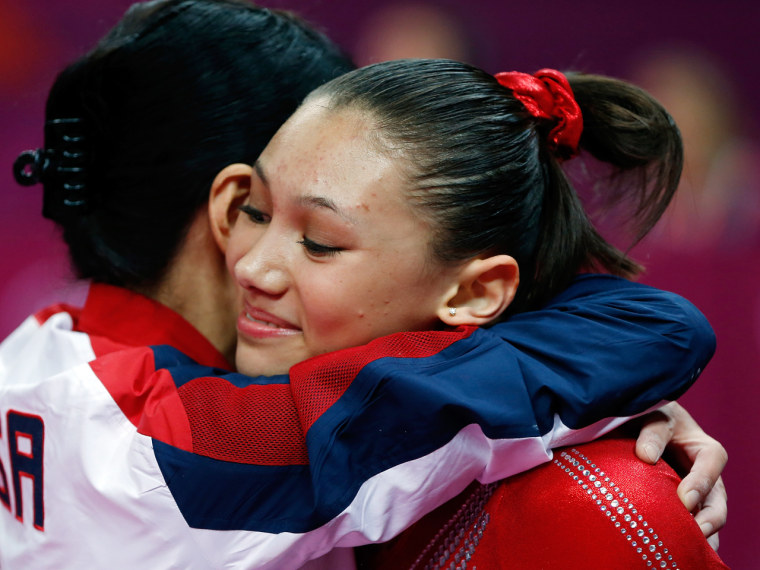 Amateur gymnast Lindsey Green remembers Miller's scrunchies well, back when she was a young gymnast just coming up in the world.  "Look back to Shannon Miller's huge fluffy white scrunchies," she told TODAY.com. "We even made fun of them in the nineties when we were gymnasts. They were so epic." Green is a staunch scrunchie wearer and one of the few gymnasts who will admit it. 
Not to say they haven't been found on the mat during the 2012 Olympics. When the U.S. women's gymnastics team took the gold in London, 2 of the 7 team members were sporting scrunchies. Other countries have wrapped their hair in the plush holders, including Russia, Romania and China.
Watch TODAY video: Mary Lou Retton: U.S. gymnastics 'spanked' Russians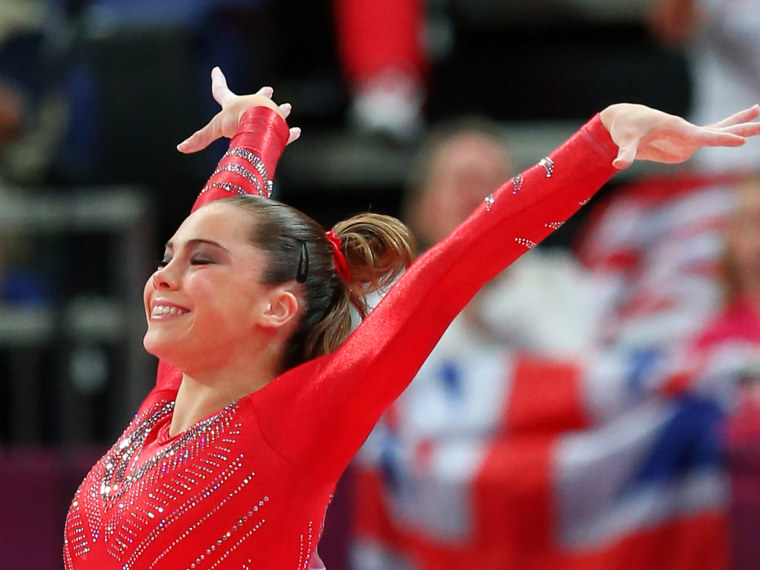 "In today's fashion forward world, I don't know why they're OK," said Shawn Johnson, gold medal gymnast and TODAY.com special correspondent. "I never wore them in competition. I wore ribbons. A rubber band covered in glittery fabric sticking out of your head — what is that?"
Viewers noticed the scrunchies as well and many took to Twitter to discuss it. ESPN broadcaster Samantha Steele said, "I've noticed many things while watching late night gymnastics. Most notable: the scrunchie is alive and well." Another user tweeted, "Gymnastics: single-handedly keeping scrunchie manufacturers in business."
There are several theories from the gymnasts themselves about why they wear them. Johnson maintains it's all about letting your individual fashion sense show on the mat. "Gymnastics doesn't give much leniency in terms of what you can wear: can't wear nail polish, jewelry, can't have tattoos. So people come up with glitter clips, hairdos."
Watch TODAY video: Gabby Douglas: Calm down, I'm going to catch the bar 
Gymnast Alicia Sacramone told Fashionista.com she is against scrunchies, and not because they are lacking the fashion factor but because she thinks of them as bad omens. "I honestly think they're bad luck and I hate them. I don't know why people think they're so great and why they're still a trend." She said that some girls must think scrunchies are good luck. "I think each competitor has a superstitious thing that works for them," she said.
Green maintains that it isn't the aesthetic, but function that are key to their popularity. "I don't know what they make these things out of but they just hold your hair so much better than a regular elastic," she said. "It's so solid and you could literally do 100 back-flips and your hair would really not come out of the scrunchie. If your hair is in your face and you're trying to balance on a beam you've got a big problem in front of you."
Still, Green does harbor some scrunchie-related insecurities. "I only use black ones because they match my hair and I don't want anyone to see it," she said. "I have some scrunchie shame. I would prefer that no one saw."
Shawn Johnson is calling for an even more extreme approach. "I think something needs to change," she told TODAY.com. "It's like Hammer pants. It's something that's never been good that won't go away."
TODAY.com contributor Jillian Eugenios has scrunchies hidden in her desk drawer. Don't tell anybody.
More: Click here for all of TODAY.com's Olympics coverage! 
Video: Elfi Schlegel: Gymnasts have great shot at more medals
Video: Gabby Douglas: 'I knew we could do it'
Shawn Johnson: Watching Team USA take gold was 'surreal' 
10,000 and counting! Pin collector chases Olympic metal 
Obama calls gymnasts, tweets Phelps: 'You make our country proud'