HERMEL, Lebanon — Snow-covered fields and welcoming smiles give the town of Hermel a pleasant vibe. There was a time when archeological caves and rafting adventures attracted tourists to this otherwise remote northern corner of Lebanon. Not anymore.
These days it's suicide bombers and missiles seeking out Hermel.
Militants have fired 190 ground-to-ground missiles on Hermel in the past six months alone, according to local authorities. And in the past three weeks, two suicide bombers have rocked the population of just 40,000.
"Daily life has changed completely. Everyone is afraid," said pharmacist Ali Shaheen, 41, as he worked to repair his damaged store. It was badly hit in a suicide bombing on Jan. 16. "I worry what is going to happen to my children. I am scared to stock the pharmacy like I did before. No one knows what is going to happen here. Now we all just buy what we need day by day."
To date, the strikes and suicide bombings have killed 10 civilians, not including the two suicide bombers. About 75 more have been injured, meaning more than one in every 500 Hermel citizens has been a casualty. Countless more have endured property damage and, much worse, the loss of friends and family members. Some only discovered their loss after searching through hospital beds and rows of corpses.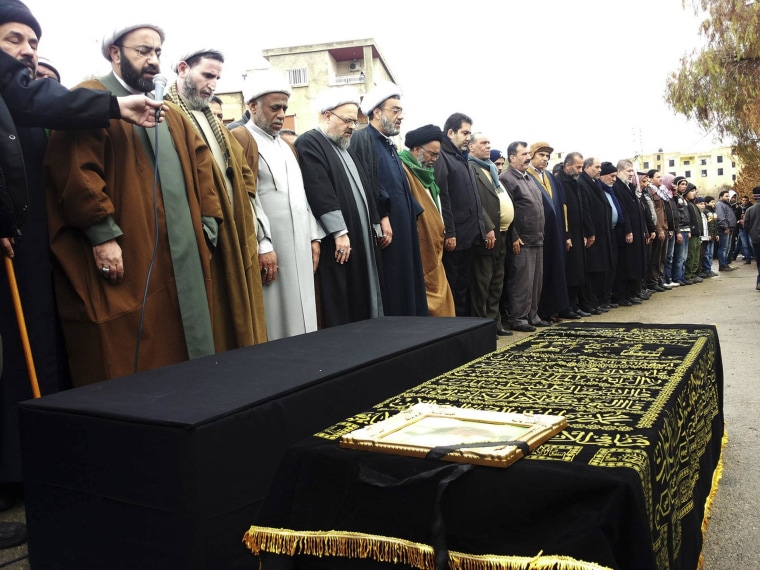 It's hard to understand just how high those numbers are when viewed in isolation. So to put those odds into perspective: During the same time period, three suicide bombings hit Lebanon's capital, claiming at least nine lives and injuring about 120. That's roughly one in every 15,500 Beirutians. In Baghdad, which had its deadliest month since 2008, those killed or injured amounted to about one in every 9,000 citizens, according to UN figures.
And the rate is almost impossible to compare to the United States, where in 2012, for example, seven people died in terrorist attacks in a nation of well over 300 million, according to a report publicized by CNN. That's about one American in 45 million killed in 2012 (a year when worldwide terrorist attacks and fatalities hit a record high).
Even expanding those numbers to Americans killed either at home or abroad, the comparison is stark: according to research documented by Reason magazine, in the five-year period between 2006 and 2011, the chances of a US citizen dying in a terrorist attack either domestic or foreign, both within the United States and abroad, was one in 20 million. The majority of those included in this calculation died while on duty in Iraq or Afghanistan.
Now think again about the residents of the tiny town of Hermel. Their country is not at war. The citizens of the town are not armed or trained to fight, and no one knows when or where the next explosion will hit. The only thing they can be sure of is there will be more.
Why Hermel?
What is happening in Hermel is yet another spillover of the increasingly sectarian Syrian conflict into neighboring Lebanon.
Hermel is almost 100 percent Shia and is dominated by Hezbollah, a Lebanese political party who has its own military forces. The Syrian opposition is largely Sunni and includes extremist elements, some of which are linked to Al Qaeda. Hezbollah has backed their neighbor and ally Bashar al-Assad with weapons and military troops, often fighting on the ground against Sunni rebels on Syrian soil. As a result, the number of retaliation bombings targeting Shia areas of Lebanon is increasing month by month. Hermel's proximity to the Syrian border has made it an easy target.
"It's totally Shia here, so they know wherever they hit they will kill Shia people," Assam Majad Blabel, vice president of Hermel municipality, told GlobalPost on Monday after a funeral for four terrorism victims.
Blabel says Hermel is surrounded by Sunni townships with a network that aids Syrian rebels smuggling weapons and explosives through these border towns. And these groups have stated very clearly they are not done with Hermel yet.
Deliberate targeting
In the past two months via social media, three Sunni extremist groups have mentioned Hermel by name in their threats. They warn that "operations will continue without let up" until Hezbollah and Iran — which is offering weapons and training, and some say may also be offering troops — withdraw from Syria.
While the Abdullah Azzam Brigades called on all Sunni groups to hit Shia targets, they also boasted of missile attacks on Hermel. The group even added a picture of a rocket being fired on the town as their Twitter profile picture. Syrian rebel group Saraya Marwan Hadid boasted of an attack on Dec. 17, posting Twitpics of their group launching 10 missiles at Hermel, which injured four people.
Following the Jan. 16 bombing at a Hermel gas station that claimed four lives, this chilling message calling the attack a "martyrdom operation against Hermel" was tweeted by a Lebanese branch of the Syrian jihadist group Jabhat al Nusra.
The linked message taunts Lebanese authorities, saying, "The fact that we have been successful in targeting the same locations is another proof of Hezbollah's increased weakness as a result of its involvement in the Syrian war."
Blabel says that, to improve security in Hermel, more manpower is needed.
"We take these threats very seriously because [these groups] declared many times 'You people are not like us. You are not Muslim so you are our target,'" he said. The Hermel residents are, of course, Muslim, but Shias and Sunnis commonly exchange accusations that the other isn't really a follower of Islam.
Hezbollah officials said they were not authorized to give official statements, but one Hezbollah party member told GlobalPost anonymously that these "cowardly attacks against innocent civilians" proved that Hezbollah's actions are succeeding in hurting the rebels inside Syria.
A bomb at a birthday party
Blabel said the situation in Hermel has destroyed local tourism, affecting hotels, restaurants, and businesses. The town's once booming fish-farming industry has suffered a devastating blow, too, as cross border trade with Syria has all but ceased.
"We used to export everything to Syria, not anymore. We used to import everything from Syria, not anymore. Tourists stopped coming. Local people don't go out now. No one is spending money. They are fearful. They do not know what will happen. We have all been hit hard by the situation," Blabel said.
Property damage has devastated many businesses.
Pharmacist Ali Shaheen estimates his personal damages and loss of stock to be more than $75,000. He was drinking coffee behind a medicine cabinet in his store when a bomber detonated his explosives while droving by on Jan. 16. Shielded by the cabinet, which fell on him, he escaped with minor injuries. His assistant, who was working the cash register, is still recovering from shrapnel wounds.
"At first I thought the cabinet had fallen on me but I couldn't understand why," Shaheen said as he mimed the scene behind a new cabinet that had just arrived that day. "But then my assistant began shouting to me it was an explosion. I wondered what it could be. Before we all expected something like this to happen — after the shellings we were always cautious of strange vehicles, but when it actually happened it took me some time to even think of a car bombing or something like it."
A few streets away, a gas station supervisor who gave his name as Mr. Shamas was heading a cleanup after a car bomb blew his station apart last Saturday night.
The car had exploded into pieces, which lay scattered across the property. Shamas said the bomber, who had been blown out of the vehicle, remained in one piece. He stumbled several steps before collapsing against a wall and sliding to the ground. A smear of blood remained on the pockmarked wall where he died.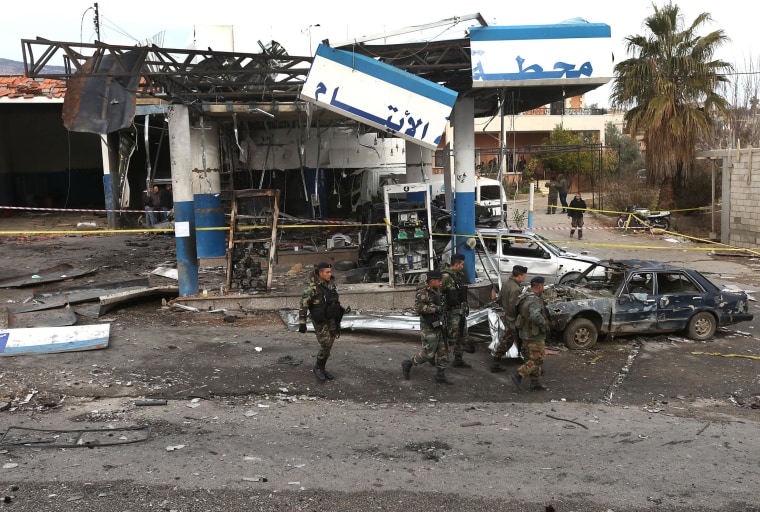 "There was fire everywhere," Shamas said. "There were many people on the ground. Others were stuck in their cars. Everybody was screaming — the women the children, everybody."
Across the road, the windows had been blown apart during a children's birthday party. Police said the bomb had been designed to blow downward, but the driver had parked above a water drain rather than the below-ground fuel tanks.
"If the bomber hadn't made this mistake then everything you see now, all these houses, would be gone," Shamas said, gesturing toward the bustling neighborhood that surrounded the ruins of his gas station.
Across town a funeral was taking place for 80-year-old Mohammed Esa Alhad, the town's newest terrorism victim. He had just lost a two-week battle to survive injuries he sustained in a previous attack.
"As a woman, I am ready to fight"
Many in the crowd held photos of Alhad and other victims. Some wept. Others sat silently. Some spoke with anger and hatred. Alhad's younger brother Salam, who had nursed him until his final moments, remained composed but spoke his mind.
"These people are criminals. They are targeting very simple people — these people dying are not terrorists, nothing. We do not know why we are being targeted," he said. "We stand by the resistance to these attackers. We do what we can, but in the end this is our destiny."
In an adjacent room, Radha Rabah and her three daughters conveyed their condolences to the women of Alhad's family. She said such attacks have not achieved their goal but rather served to make the people of Hermel stronger and more united than ever.
"We refuse to be afraid," she said as an elderly woman wailed in anguish behind her. "As a woman, I am ready to go and fight; even my daughters would fight by my side. We will resist. We will hold on to our country. We are staying right here. We will not flee."
This story originally appeared on GlobalPost.
More stories from GlobalPost:
The Nine Weapons the U.S. is Selling to Iraq
The World's Most Imaginative Insults