Less than a week after President Donald Trump's decision to recognize Jerusalem as Israel's capital, Palestinian protests have largely fizzled out.
Trump's move broke with decades of precedent and U.S. policy, sparked uproar among world leaders and triggered accusations that it jeopardized the prospects of Middle East peace.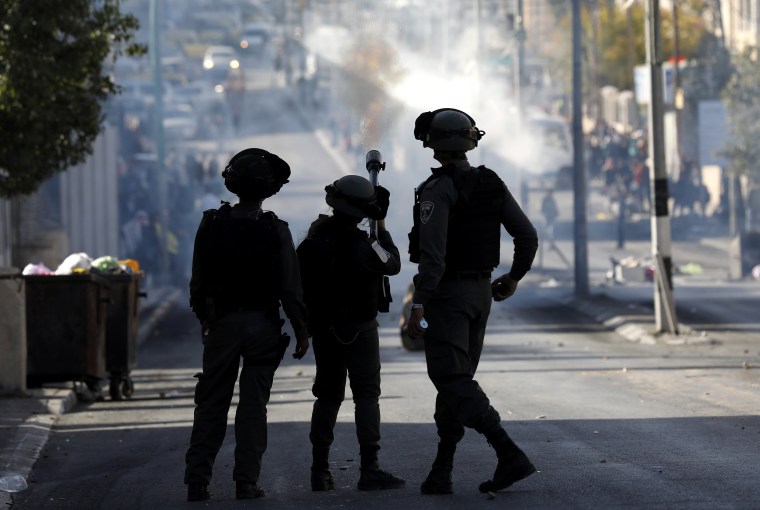 The announcement prompted the leader of the Islamic militant group Hamas to call for a new intifada — or uprising — against Israel. Hundreds of Israelis and Palestinians were killed in the last intifada in the early 2000s.
But while the most recent protests, while sometimes violent, have appeared dramatic, there has been no sign of a sustained uprising since Trump revealed his plan last Wednesday.
On Monday, fewer than 20 demonstrators gathered outside the U.S. Consulate in Jerusalem and chanted pro-Palestinian slogans, but they were outnumbered by journalists.
"Trump's words were important, but they were still only words," said Ian Black, a visiting senior fellow at the London School of Economics and author of "Enemies and Neighbors: Arabs and Jews in Palestine and Israel, 1917-2017."
Read: Trump's full statement on Jerusalem
He added: "These have been fairly low-level clashes. It doesn't mean bad things can't happen and events can't get out of hand, but the appetite for a third intifada is quite small. There is a weariness and exhaustion. An uprising now will not help improve conditions in Gaza."
Some Palestinians also believe that their leaders' calls for an uprising are halfhearted.
"If you're calling for intifada and general uprising, that implies a willingness to risk everything, including the dissolution of the Palestinian Authority," said Nathan Thrall, a senior analyst with the International Crisis Group, and the author of "The Only Language They Understand: Forcing Compromise in Israel and Palestine."
He added, "You have leaders who are clearly not willing to do that, so when they call for protests and intifada, it's not interpreted to be sincere."
Hamas isn't alone in pushing for a new intifada.
Hassan Nasrallah, the leader of the Lebanese militant group Hezbollah, last week also said he supported such calls. Hezbollah went to war with Israel in 2006.
On Monday, Nasrallah vowed that "Jerusalem and Palestine and the Palestinian people and the Palestinian resistance" would return as Hezbollah's "most important priority."
Related: Trump's Jerusalem move undermines U.S. interests, analysts say
Iranian-backed Hezbollah was formed in the 1980s as a resistance movement against Israel's occupation of southern Lebanon, and they remain bitter enemies. The group has recently been focusing on fighting the Islamic State in Syria.
"For a lot of Palestinians, the finer points of U.S. policymaking are not as relevant as the daily impact of the occupation"
The U.S. has never endorsed Israel's claim of sovereignty over any part of Jerusalem. For Jews, Jerusalem is home to the religion's holiest site and is tied to its history as the location of the First and Second Temples. Israel views Jerusalem as its capital, and it is home to Israel's Parliament and Supreme Court.
The Palestinians have sought East Jerusalem, captured by Israel in the 1967 Arab-Israeli War, as the capital of a future independent state.
The muted Palestinian reaction to Trump's announcement stands in contrast to demonstrations that rocked the region this past summer. Then, Palestinians took to the streets protesting Israel's decision to install metal detectors at the entrance to the third holiest site in Islam, the Al-Aqsa Mosque.
But analysts say those were largely led by the public. The calls for protests this time came from the Palestinian leadership.
"For a lot of Palestinians, the finer points of U.S. policymaking are not as relevant as the daily impact of the occupation," said Hugh Lovatt, a policy fellow at the European Council on Foreign Relations in the Middle East and North Africa program.
While recognizing Jerusalem as Israel's capital, Trump signed a waiver pushing off the move of the U.S. Embassy from Tel Aviv to Jerusalem for at least six months, just as every other U.S. president has done since Congress passed the 1995 Jerusalem Embassy Act. However, he announced plans to eventually move the diplomatic outpost — a process that aides have said could take years.
Photos: Trump's Jerusalem plan triggers protests
The State Department said specifics on sovereignty and the city's borders will still be decided in final status peace negotiations.
In the wider Arab world, conflicts in other parts of the Middle East, including in Yemen, Syria and Iraq, have captured the attention of Arab leaders. Meanwhile, Saudi Arabia is preoccupied with its own power struggle with Iran.
Arab foreign ministers demanded on Sunday that the U.S. rescind the decision and vowed to seek a U.N. Security Council resolution rejecting the U.S. move, but did not include any punitive actions.
Turkey on Tuesday also criticized what it said was a feeble Arab reaction to the U.S. decision.
"Some Arab countries have shown very weak responses [on Jerusalem]," Foreign Minister Mevlut Cavusoglu said. "It seems some countries are very timid of the United States."
What's left to be resolved is the effect Trump's announcement will have on any efforts to revive the peace process.
Palestinian President Mahmoud Abbas said Saturday he wouldn't meet Vice President Mike Pence during his visit to the region this month. Abbas hopes to rally other Arab and Muslim leaders to isolate the United States.
Black said that Trump's move had damaged America's "ability to call for peace."
He added: "This is not just about whether there is violence over a few days, but about the underlying problem — a lack of hope for change to this long status quo. It's the longer-term impact that matters."
Rachel Elbaum reported from London. Bill Neely reported from Jerusalem.