WORRALL, England — When locals gather to sing Christmas carols at the Blue Ball Inn pub in this tiny village, you won't hear "Joy to the World," "Silent Night" or "Deck the Halls."
The melodies and words of their carols of choice have been handed down from generation to generation for hundreds of years and are unique to this part of the world.
"They came about in the early-18th and mid-18th century, and this was a time when music in church was very plain and unadorned," said Professor Ian Russell, a scholar who has studied Worrall's carols extensively. While the religious establishment "wanted medieval carols, Latin carols ... some sort of purity," many worshippers had other ideas.
As a result, villagers with no formal training wrote their own music and gathered outside the church, in homes and pubs to celebrate with song. They include "Mistletoe Bough," "Cranbrook," and "Behold, the Grace Appears."
"The music was extraordinary," Russell added. "The people who were doing it were shoemakers, tailors, blacksmiths. These were not pretty carols ... oh no, these are full of guts, these are full of life and vigor."
"It creates a sense of solidarity and community"
The songs are a source of great pride and joy. Starting in mid-November through Christmas each year, dozens of locals get together in the village near the northern city of Sheffield to keep the traditional tunes alive. Nearly everyone at these sessions know the words by heart.
Julia Bishop has been singing them for three decades and has served as an organist at the Blue Ball Inn for the past 16 years. She notes that the group has memorized dozens of the local carols, including complicated harmonies.
"Some people, they don't want to read the words. They pick them up by ear," Bishop said. "Everyone hears everybody else ... they sing together and it creates a sense of solidarity and community."
There is even a song about beer. During one of the breaks in their two-hour singing session, they hand along their empty glasses with the chorus: "Pass the pint, pass the pint."
Marie Osborne has owned the Blue Ball Inn for only six months, but loves the centuries-old tradition. "We want to keep it rolling," she added. "I am really proud that people turn up and sing for us on Sundays."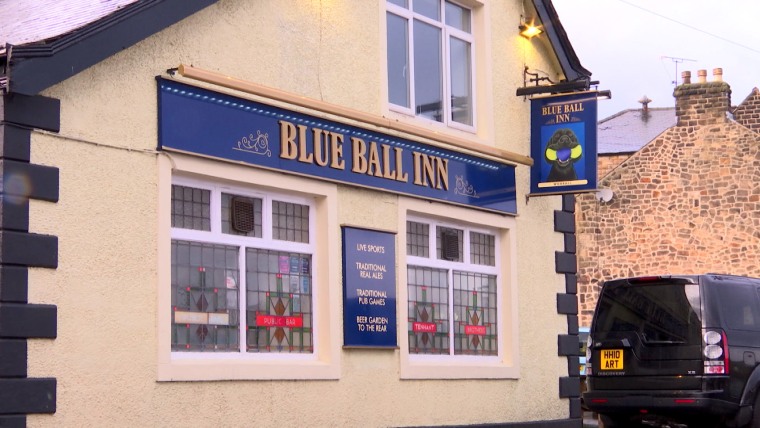 And while meeting up at the pub does provide a chance to make merry, many of carolers insist it is about keeping a legacy alive.
Peter Kimber, a 65-year-old retired carpenter, has been singing the local carols for since he was a teenager. "It clears my lungs ... and takes me back to my youth," he said.
John Senior, 63, learned the words and music from his father and grandfather. He is proud that his daughter and son know them as well.
Worrall's songs are the essence of the festive season, he says.
"This is what it is all about," Senior added. "As a child you've got Christmas but as you go through life that fades. This is that little bit of sparkle, that little bit of magic, that comes back into your life. This is Christmas again to me."