BARCELONA, Spain — The wife of the American who died in the Barcelona terror attack said she has lost the love of her life and isn't sure how she will ever recover.
California residents, Heidi Nunes-Tucker, 40, and Jared Tucker, 42, were celebrating their first wedding anniversary when they decided to visit a friend in Barcelona. A terror attack tore through the streets of the Catalonian city on Thursday and ripped Tucker from Nunes-Tucker's life.
"I'd found my person: truly the love of my life. That was obvious to anybody that knew us or saw us," she told NBC News, on the verge of tears. "And I don't know that you find that again, and I don't know that I want to."
She's certain that the loss will permeate the smallest acts, from morning until evening of her daily life.
"I don't want to wake up without him next to me, and I don't want to watch TV without him," she added. "All of it is just going to be a lot more empty."
The couple was making the most of their first trip to Europe: journeying to Paris to drink champagne atop the Eiffel Tower and taking a gondola ride in Venice. They'd planned to end their vacation with a relaxing few days in Barcelona, where they had a friend who offered them a place to stay.
On their way to a local beach on Thursday, the couple decided to stop for sangria at a café on the tourist-popular street of La Rambla. Tucker told his wife that he needed to go to the bathroom.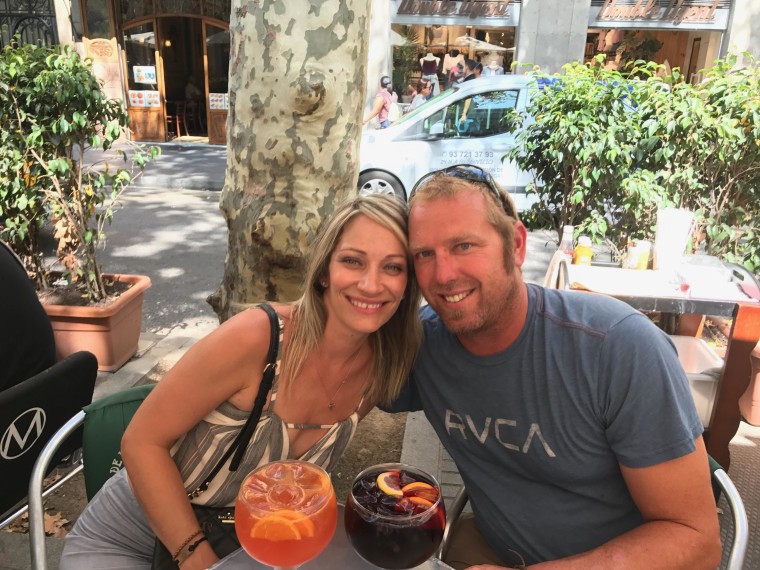 It would be the last time she saw him alive.
"No more than … thirty seconds to a minute after he left, all mayhem broke out and people were screaming and crying and running," Nunes-Tucker said.
She searched for her husband, but couldn't find him. The friend they were staying with came to aid her in the search.
The car-ramming attack on the popular Spanish street injured more than 100 and killed 13 people. Tucker was the sole American fatality. The driver of that van was still on the run Saturday.
Nunes-Tucker said that she saw a photo of her husband after the attack. He appeared injured, but someone looked as though they were helping him. The fact he could be assisted gave her hope.
She passed that information to Tucker's family, but only shortly thereafter she took her husband's name to the police. The local cops knew the name and took her to the local courthouse to deliver the heartbreaking news.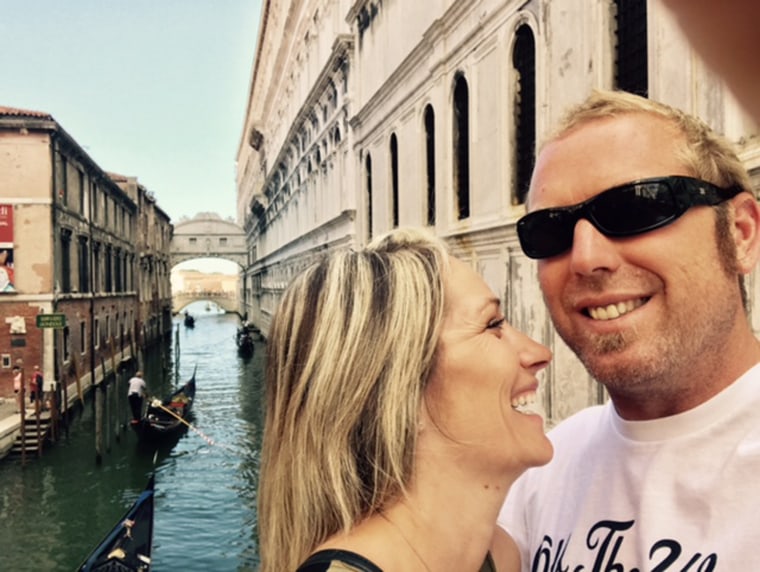 "It's hard not to be angry," Nunes-Tucker said. "It's confusing why anybody would want to hurt anybody like that. Why would you want to hurt strangers? Why would you want to hurt anybody?"
There were two other incidents in northeast Spain that officials say are connected to the Barcelona attack. Hours after the ramming that took Tucker's life, police shot and killed five men wearing bomb belts in the resort town of Cambrils, 60 miles southwest of Barcelona.
An explosion that killed one person on Wednesday in Alcanar, 100 miles southwest of Barcelona, is the other suspected incident.
Nunes-Tucker can't make sense of the violence, knowing it's the antithesis of the man she married — the man she lost.
"I'm a mom and I'm a teacher," Nunes-Tucker said. "And things that are truly important to me — and to Jared — was teaching our children to be kind, to treat mankind the way that you want to be treated, to be tolerant of people that are different than you."
"So I can't understand," she added. "I don't understand why anybody would do that."
Members of the school that Nunes-Tucker teaches at have started a GoFundMe page to defray the costs burial.
"While we praise God for Mrs. Nunes-Tucker's safety, we grieve with her about the loss of her husband," the fundraisers said in a statement. "Now is the opportunity to come together as a community and help her during this very difficult time."
Kristen Dahlgren and Don Wood reported from Barcelona, Phil McCausland reported from New York.