The wife of an ex-National Guardsman who vanished from a dive boat in Thailand told NBC News on Wednesday that she is finding it hard to hold out hope he will be found alive.
Joshua Michael Devine, 36, disappeared early Sunday — just hours after the vessel set sail for the picturesque Similan Islands.
His wife Tassana Devine said she feared the worst after three days of searching the Andaman Sea.
"After I went up in the helicopter helping with the search today, it's hard to be confident," the 34-year-old told NBC News via telephone.
Tassana Devine added that the area of water where her husband went missing was "open sea, it's a big, big ocean." Staying positive was becoming "very, very difficult," she said.
Originally from Massachusetts, Joshua Devine grew up in Connecticut. He currently works as a civilian IT engineer with a U.S. military contractor in Kuwait. He was a sergeant in the Connecticut National Guard from 2002 to 2006. Joshua Devine is also a diving instructor.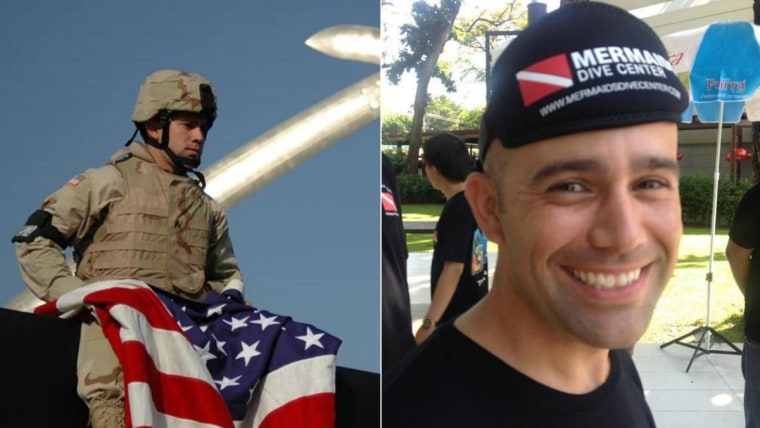 Officials are still trying to piece together what happened in the hours before his disappearance.
His wife of five years said she went to bed before the boat left Phuket at around 11 p.m. (noon ET) Saturday. She said she woke at 4 a.m. when her husband came into the room.
She said he had been drinking with other divers on the 24-passenger boat and that his behavior suggested he was drunk. "He was yelling and spilled beer everywhere and made a mess of the room," she told NBC News.
He was acting irrationally and said he believed the light fittings in the cabins were secret cameras, according to the account given by his wife. "He smashed the light and pulled the cables out," she said, adding that he also "pulled my hair."
Tassana Devine said her husband then attempted to gain entry to a room across the hallway. This alerted other people aboard the boat, who tried to calm him down and assure him there were no secret cameras.
"I was crying because I was shocked and begging him to stop," she added.
Two other passengers took her husband to the back of the boat in an attempt to calm him down, she said. Tassana Devine went back to bed, but sometime later one of the men knocked on her door and asked if he had come back to bed, according to her account.
The other passengers later told her that her husband had asked to be left alone, and when they checked back on him 15 minutes later he was gone.
The boat's captain told investigators that Joshua Devine had been drinking and that he had to be calmed by other passengers after becoming agitated, according to Phuket Marine Police Superintendent Colonel Siripong Petchsirirak.
Petchsirirak told NBC News that the captain was informed Joshua Devine had gone missing at 5 a.m. and the boat was searched before turning back to the area where he disappeared.
A Marine Police search boat has has gone out search the area daily since the disappearance. However, divers say the 230-feet-deep water is too deep for them to navigate, Petchsirirak said. A helicopter assisted the effort on Sunday, Tuesday and Wednesday.
However, Joshua Devine's family in the U.S. have been critical of Thai authorities' efforts.
His mother Marie Major raised $10,000 in donations in a single day after claiming there had only been a "cursory search" to allow the family to travel to Thailand to "get a search and rescue going again."
Mayor was also skeptical about the suggestion her son had been drunk before his disappearance.
"This is not Josh, and it didn't happen from drinking because he doesn't drink before a dive," she told NBC Connecticut.
Nat Sumon contributed to this report.