BERLIN — WikiLeaks founder Julian Assange once again promised the anti-secrecy organization would publish "significant" information involving the U.S. presidential race before the November election — but revealed no details Tuesday.
"We are going to need an army to defend us from the pressure that is already starting to arise," Assange said via video link in an event the campaigner said was timed to coincide with the group's 10-year anniversary.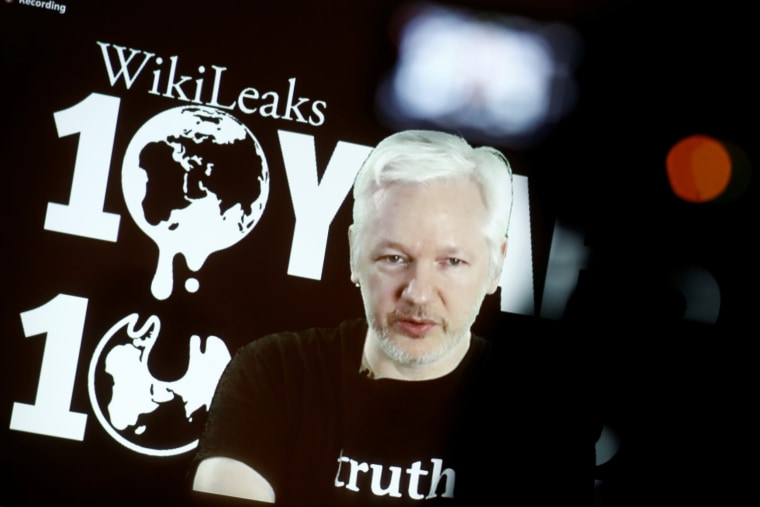 He said WikiLeaks aimed to publish previously unreleased material weekly for the next 10 weeks, but did not say exactly what it would be.
The organization also declined to say whether any upcoming releases would involve the Republicans. In August, Assange also said he was planning to release "significant" information about Democratic presidential candidate Hillary Clinton.
This summer, the organization released a trove of embarrassing emails hacked from the Democratic National Committee.
Assange, 45, has denied WikiLeaks was being used by Russian officials trying to sow chaos in U.S. politics and help Donald Trump win the presidency.
WikiLeaks does not say where it got the internal DNC files.
Assange had been due to hold a press conference live from a balcony of the Ecuadorian Embassy in London, where he has been holed up since June 2012 to avoid extradition to Sweden to face questioning over a rape accusation.
But late on Monday, WikiLeaks announced that the highly anticipated speech had been "moved" to Berlin.
On Sept. 16, a Swedish appeals court ruled the arrest warrant for Assange over a rape accusation would not be dropped. Assange has always maintained extradition from the U.K. to Sweden could lead to him being sent to the U.S. over WikiLeaks' huge dumps of secret documents.
WikiLeaks has been a thorn in the side of governments around the world for years and Assange's time in the Ecuadorian embassy has not halted their work.
Allies and friends have sometimes turned on WikiLeaks and Assange. On July 29, National Security Agency leaker Edward Snowden, who WikiLeaks helped gain asylum in Russia in 2013, criticized the organization for the way it publishes sensitive data.
While praising the organization, Snowden lashed out at their "hostility to even modest curation."