KABUL, Afghanistan - Afghanistan's new president Ashraf Ghani faces a huge task – crushing an insurgency, quashing runaway official corruption and bettering the lot of his desperately poor population.
That's not to mention convincing the population to accept his wife, Rula Ghani, who is reportedly a Lebanese-American Christian - not a trivial task in this deeply traditional country where first ladies and queens are potent and sometimes controversial symbols.
Very little has been confirmed about Rula Ghani's background, politics, or even what she does, sparking rampant and sometimes inflammatory rumors that have dogged her husband throughout his ascent.
Prominent Afghan figures have already come out against the new first lady, who the new president met while studying at the American University in Beirut in the 1970s.
Rula Ghani's mere presence in the presidential palace "can be fatal for the faith of Muslims in Afghanistan," according to Mawlawi Habibullah Hussam, an important religious scholar and imam in Kabul.
"I hope Dr. Ghani does not make the mistake of bringing her public – this will cause resentment among the practicing Afghan Muslims."
"The incoming first lady is not qualified ... as she is a non-Muslim so she does not meet [Muslim] piety requirements," said the former member of Kabul's provincial council and conservative who counts with a large following. "She is a foreigner so cannot be the confidant of a Muslim ruler. This is a very serious issue."
Officials working for Ashraf Ghani, who formally takes power on Monday after a months-long elections dispute with rival Abdullah Abdullah, would not comment on Rula Ghani, what her role would be or even to confirm her age.
Hussam went on to repeat unsubstantiated rumors that have appeared online which allege that Rula Ghani is seeking to convert the women of Afghanistan to Christianity.
"Ashraf Ghani will have to answer many questions on this issue, and if he cannot then it is possible [religious scholars] declare him illegitimate," he said.
This is not a hollow threat.
The place of an Afghan leader's wife has been hotly debated throughout history.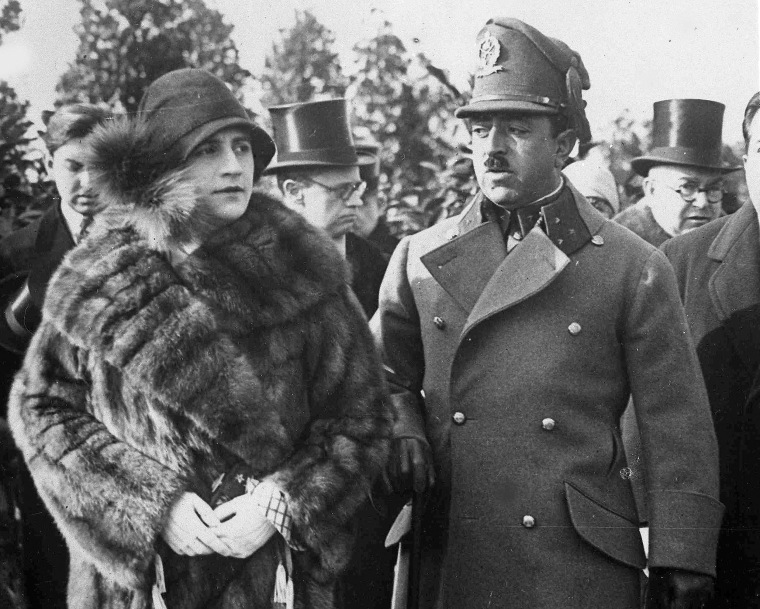 Queen Soraya, the wife of King Amanullah Khan, was a polemical figure who appeared with her husband in public without a veil in the 1920s. The king's modernizing policies and the queen's public profile infuriated many conservatives who felt she was violating Muslim law and Afghan traditions.
Facing a wave of insurrections by those against his agenda – including his stance on women's rights – Amanullah abdicated and went into exile in 1929.
More recently, the role of outgoing President Hamid Karzai's wife has also been interpreted as a powerful message. Zeenat Karzai, a gynecologist who reportedly has worked in hospitals treating Afghan refugees, spent her husband's 13 years in power largely silent and out of sight. This was a huge disappointment to progressives who had hoped that she would use her position to try and improve the lot of Afghanistan's women – among the most disadvantaged in the world.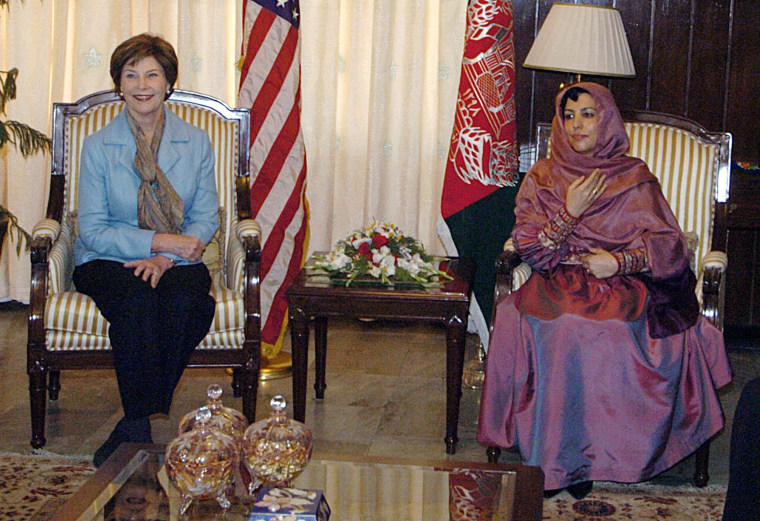 Unlike Karzai, Ghani has not kept his wife completely hidden away. On March 8, Rula Ghani gave an address at an International Women's Day celebration in Kabul.
That sort of display, however, did not sit well with Ibrahim Omaid, a 32-year-old owner of a corner shop in Kabul. He told NBC News he was "terrified" at the prospect of a foreigner and a non-Muslim becoming the first lady of Afghanistan.
"I did not vote in the elections, but if I had I would not have voted for Ghani just for this reason," he said.
Omaid praised Karzai for keeping Zeenat out of sight, although he acknowledged that everything he had heard about Rula Ghani indicated that she was a "good woman." Therefore, Rula Ghani needed to "stay where she is."
"I hope Dr. Ghani does not make the mistake of bringing her public – this will cause resentment among the practicing Afghan Muslims," he said. "Ashraf Ghani will be the next president, but he cannot force us to accept a foreigner as the first lady."
Shukria Barakzai, a prominent women's activist and powerful Ghani ally in parliament, disagrees.
"The current first lady also is a well-educated and active woman, but she has largely remained low profile. But [Rula Ghani] will be different," she said. "This will be a first for Afghanistan that the first lady is seen in public and this can have a very positive effect on women. This is a male dominated society and a strong woman like her in the palace will make a huge difference."
She also said that it was not an issue under Sharia law that Ghani was married to a non-Muslim.
"She is a citizen of Afghanistan, has an Afghan passport, Afghan national identity card and voter card," she said. "She has voted in both rounds of the election and has lived many years as an Afghan."
"As an Afghan woman, I will be thrilled to see this great woman standing with our new president and advocate for women," Barakzai added.
Ghani's office also would not comment on whether Rula Ghani had taken Afghan citizenship, or whether she has voted in elections.
Khatera Asadi, a 24-year-old Kabuli who works at a charity advocating for women's rights, would seem a natural supporter of Rula Ghani. Nevertheless, she does not share Barakzai's optimism.
"[Rula Ghani] is a non-Muslim and this is going to create problems not only for her, but also for the government," she said.
So the Ghani camp surely hopes that most Afghans will at least take a wait-and-see attitude towards the new first lady, like Asadi.
"I do not trust her because I don't know her, but this might change if she does good things," she said.