MOSCOW — The trial of basketball star Brittney Griner was adjourned for 11 days on Friday after her defense team asked a Moscow court for more time to prepare.
A handcuffed Griner, 31, who pleaded guilty last week to drug charges stemming from a February arrest at Moscow's Sheremetyevo Airport, was flanked by three security guards as she was led into the courtroom at Moscow's Khimki City Court.
The two-time Olympic gold medalist and center for the Phoenix Mercury was wearing a yellow and black tie-dyed Nirvana T-shirt at the hearing which began at 10 a.m. local time (3 a.m. ET).
Griner has been detained since Russian authorities said they found vape canisters with cannabis oil in her luggage. She faces up to 10 years in prison if convicted.
Her lawyer, Alexander Boikov, previously told reporters that Griner admitted that the vape canisters were hers, but said she brought them to Russia unintentionally.
On Friday her defense team submitted more documents to the court, including around 20 character references from different charities and sporting organizations, as well as medical records purporting to show Griner, a 6-foot-9 native of Houston, had a history of injuries that has resulted in severe chronic pain.
Her lawyers also submitted a document granting permission for the use of cannabis for medical purposes to treat severe chronic pain issued by Arizona's Department of Health, and the player's doping test results, all of which were negative.
"Among the medical documents is a doctor's appointment for the substance that Britney Griner inadvertently left among her belongings when crossing the border," Maria Blagovolina, one of her lawyers said in a statement after the hearing.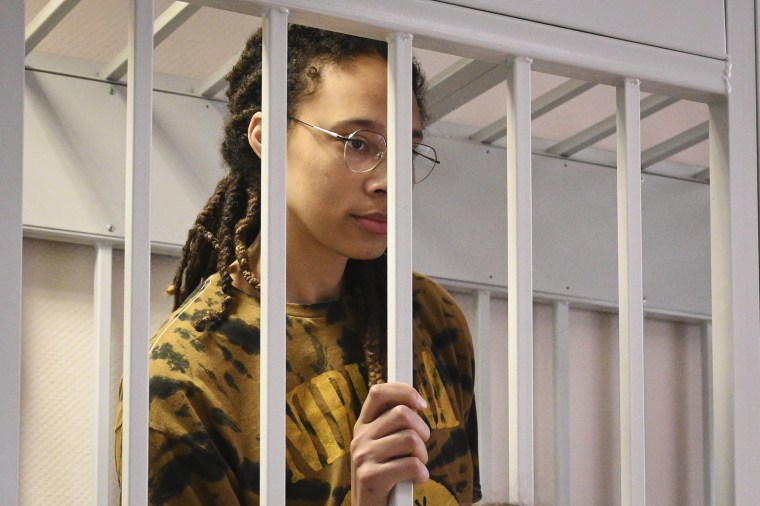 All members of the media were allowed into the courthouse on Friday, the first time they have been allowed to do so since the trial began.
The hearing was adjourned to July 26, after the defense requested more time to prepare.
The U.S. was committed to bringing Griner home, Elizabeth Rood, the Charge d'Affaires at the U.S. Embassy in Moscow said in a statement outside the courthouse following the hearing.
"It became clear in the past few days that there's tremendous amount of respect and admiration for Brittney's character and integrity both in Russia and in the U.S.," Rood said.
"And we reaffirm our commitment to bring back home Brittney and all the American citizens detained abroad," she added.
Boikov also told the media that his client was tired.
He added that she had seen some of her teammates at Ural Mining and Metallurgical Company Ektaerinburg — the Russian basketball club Griner played with during the WNBA offseason — for the first time in months at the hearing on Thursday.
Maxim Ryabkov, the director of UMMC, described Griner as "an outstanding player" and a responsible person when he testified Thursday.
Her UMMC teammate Evgenia Belyakova also testified, saying Griner was "a true leader" and role model. Belyakova said Griner's contribution to Russian basketball was "invaluable."
"We miss her very much. We miss her energy," Belyakova said, speaking to reporters outside court.
Calls for Griner's release have intensified in recent weeks. Earlier this month, President Joe Biden reassured her wife, Cherelle Griner, that he was working to secure Brittney Griner's release as fast as possible.
The Kremlin declined to comment Thursday on speculation over whether Griner could be swapped for a convicted Russian arms dealer Viktor Bout, who is serving a 25-year prison sentence in the U.S., Reuters reported.
But Russian Foreign Ministry spokeswoman Maria Zakharova said Moscow was ready to work with the U.S. on a possible exchange and urged Washington to abandon attempts to exert pressure on Russia and not speculate on this "sensitive matter," according to the Interfax news agency.
Griner's case has drawn comparisons to Naama Issachar, an American-Israeli woman detained in Russia for 10 months after airport authorities found a small amount of cannabis in her luggage.
Isaachar secured a pardon in 2020 from President Vladimir Putin as geopolitical tensions escalated between Putin and then-Israeli Prime Minister Benjamin Netanyahu. Her fate became tied to an unrelated case involving an Israeli Supreme Court decision to extradite an alleged Russian hacker to the U.S.
Tatyana Chistikova reported from Moscow, Alicia Victoria Lozano from Los Angeles and Rhoda Kwan from Taipei.