After her iPhone left her possession during a Disney cruise, a woman started noticing new photos being automatically uploaded to her iCloud account. The images include the apparent phone stealer, a woman who appears to be his girlfriend and a bevy of their friends and co-workers. So the woman did what any clever but irate person would do: Upload them to a Facebook gallery, accompanied by hilarious captions.
Katy McCaffrey went on a cruise aboard the Disney Wonder in April. At that time she lost possession of her iPhone. In a comment on the Facebook album she created, she alleges that the smartphone was stolen by a man named "Nelson," who appears in many of the photos and is identifiable thanks to a Disney Cruise employee badge.
McCaffrey is able to see photos taken with her iPhone because of Photostream, an Apple feature which automatically uploads photos to a user's iCloud account. (It seems that the man using her iPhone didn't bother to disconnect her account or erase the iPhone.)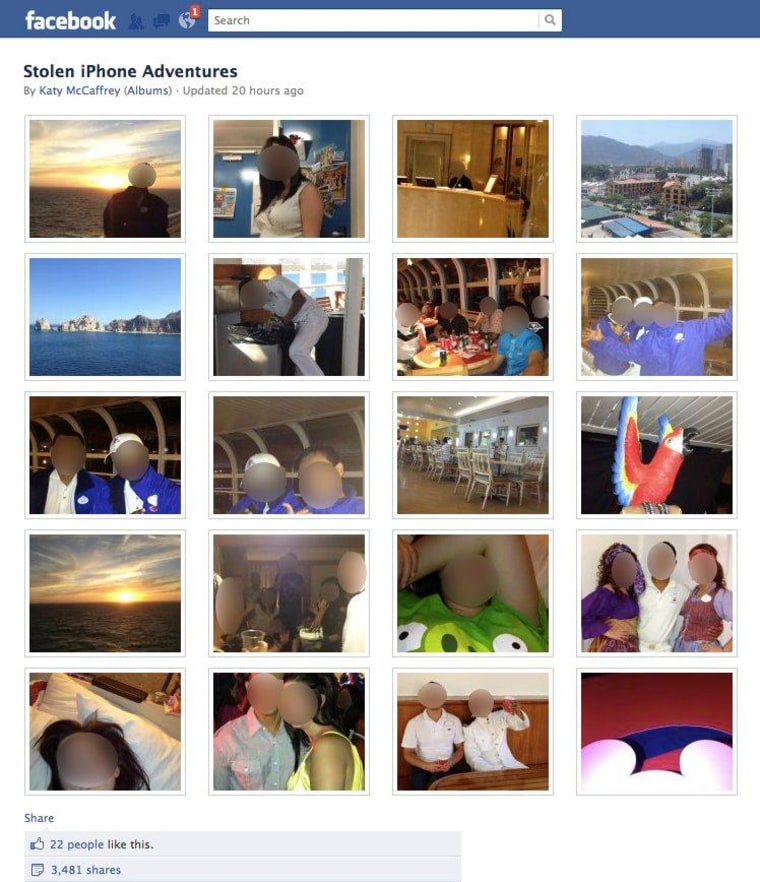 When McCaffrey, an L.A.-based "creative consultant in the entertainment industry," according to her social media profiles, first began posting photos, the "Stolen iPhone Adventures" album was private, but her friends quickly encouraged her to make it public so that it could be shared. 
"I can't see any reason why people shouldn't share this. [F]eel free," she wrote after confirming that her other private photos wouldn't be visible to strangers. The album has been shared over 3,000 times since she made the album public late Monday evening.
In a Facebook comment, McCaffrey explained that she has alerted someone at Disney Cruise about the loss of her iPhone and forwarded the photos she'd recovered. "Hopefully I'll get my phone back and maybe some free passes to Disneyland," she added.
Rebecca Peddie — manager of public affairs at Disney Cruise — confirmed to TODAY.com that someone from the company has indeed been in touch with McCaffrey and that they "are working on making it right with her." Peddie explains that McCaffrey's iPhone has been recovered, but wouldn't confirm whether it was found in the possession of the man who plays a starring role in McCaffrey's Facebook album. Peddie did say that an employee has been placed on administrative leave while Disney Cruise investigates the situation.
We've reached out to McCaffrey to learn more about the incident, but she didn't wish to give an interview. So for the time being, all we've got are her parting words, in the form of a photo caption:
[C]heers to you Disney Wonder whom Nelson loves enough to photo-document his entire life with, using my stolen phone.
Want more tech news, silly puns, or amusing links? You'll get plenty of all three if you keep up with Rosa Golijan, the writer of this post, by following her on Twitter, subscribing to her Facebook posts, or circling her on Google+.