Verna Paredes finished her breakfast—fish and rice prepared by the family of a woman she'd taken to the hospital—and laced up her black combat boots. She placed her handgun in a special holster designed to make it impossible to tell she's armed.
"So the children don't see," she said.
Then she and her partner, Genevieve Alterado, headed out of the tent where they've been living for the last few months, ready to make their first round of the day checking on the 1,876 typhoon survivors living in and around the Astrodome, Tacloban's largest refugee camp until its closure earlier this month.
Paredes and Alterado are members of the Women and Children Protection Desk, or WCPD, a specially chosen, all-female unit of the Philippines' national police. Officers of the WCPD, and they alone, are in charge of security inside Tacloban's refugee camps, which house survivors of last November's Typhoon Haiyan, the largest storm to ever make landfall. They have been charged not just with keeping order, but with protecting the women and children of the camps from a new set of dangers: the gender-based violence and exploitation that often follows disasters.
It's a troubling but common story: Women and children who survive wars and natural disasters often face repeated waves of trauma—such as domestic violence and human trafficking—in destabilized areas and displacement camps. After the 2010 earthquake in Haiti, reports of abuse and survival sex—the exchange of sex for basic necessities—were widespread. In Syria, research shows that, alongside the civil war, violence against women and children has increased across the board.
After Typhoon Haiyan, which left an estimated 4 million people homeless, the United Nations Population Fund estimated that 65,000 Filipino women and children would become victims of sexual violence as a direct result of the storm.
This month, as refugees move from the evacuation centers to newly built, temporary bunkhouses, officials are looking to the WCPD program as a rare success and learning opportunity in the difficult, ongoing effort to keep vulnerable women and children safe.
When Filipino officials gathered soon after the storm to make a plan for the security of internally displaced people, the safety of women and children was the first thing on Yasmin Vilches' mind. The regional head of the WCPD, she remembered a five-year-old girl who had allegedly been raped just two months earlier in an evacuation center for refugees fleeing violence in the southern Philippines. "That's what we're trying to avoid," she said. "That's why we thought of the WCPD."
In the first weeks after the typhoon, the police of Tacloban City were severely overtaxed: Precincts lost cars, computers, buildings, and case files, and local officers faced their own personal losses.
Some camps had regular police or military patrols, but others had none. UN and local agencies held focus groups in two camps, asking residents how they felt about their security. Female evacuees reported being fearful, especially at night—some men were drinking heavily, which led to fights, and toilets were located in unlit areas. Asked if they'd prefer to have the WCPD step in, they said yes.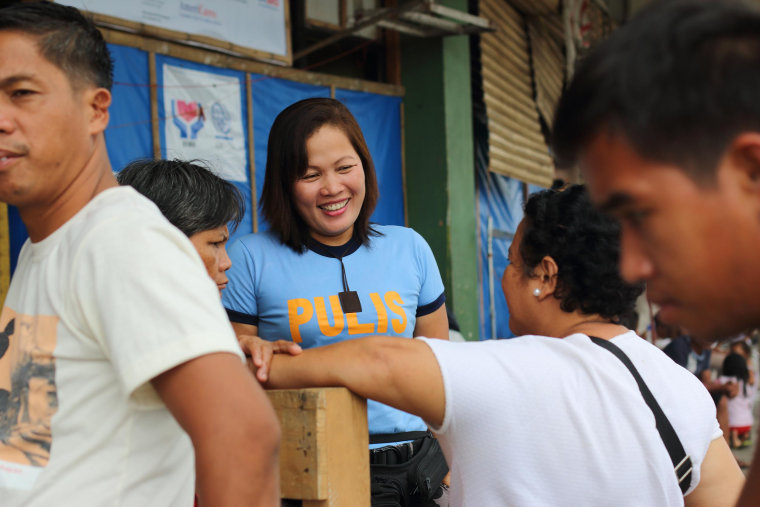 The unit was created in 2004 to separate crimes against women and children from other violations. WCPD officers and investigators are specially trained to handle cases that require particular sensitivity, such as domestic violence, sexual assaults, child abuse, and juvenile delinquency. Having such a unit ready to be called on was an important asset, said Arlene Alano, a representative of the United Nations Population Fund (UNFPA) based in Manila. "Philippine mechanisms for [gender-based violence] coordination, prevention and response are more equipped for humanitarian crises than those in many countries," she said.
Vilches asked for permission to recruit additional WCPD officers from nearby areas that were less affected by the storm—she wanted officers who understood the local language and customs. She hand-picked a group of 38 women, including Paredes and Alterado, and dispatched them to nine refugee camps around Tacloban.
One day last month, Paredes and Alterado stepped out of their tent to begin their rounds, but didn't make it far. On the steps of the Astrodome, a group of women mingled in front of the camp's makeshift main office, where a government employee dispensed medicine. When the policewomen approached, the women clustered around them. Laughing, they showed them their babies; one asked them to read from a paperback Bible. Paredes smiled, turning aside for a moment. "It's always like this," she said—the evacuees don't see much distinction between regular life and police business.
This kind of approachability is one reason that the officers and the officials that deployed them thought the program would be well-suited to the needs of refugees.
"Most of the victims of trafficking and abuse are women," said Alice Viason, a social worker and the Astrodome's camp manager. "They can open up more easily to women officers rather than men." The same is true for the youngest refugees, said Asther Dadulla, an officer of the Department of Social Welfare and Development: "It's easier for the children to approach the female officers than men. They're afraid of male officers." Paredes put it simply: "In any kind of situation, they come here first."
WCPD officers are given special training in how to question victims of abuse, and are rigorous about protecting privacy. In Tacloban, they have also tried to create nonthreatening opportunities for camp residents to fill them in on any problems. The casual rounds are one example; they also help with the distribution of relief goods and live inside the camp itself even when off-duty. Women often come to the WCP tent to talk—sometimes about crime, sometimes simply about the annoyances of camp life. Sometimes, said Paredes, "they come just to cry."
In January, the WCPD officers helped host a haircutting day in the camp. More than 300 residents came to get their hair cut--for many, the first time since the storm—and to receive donated bras and underwear. While the evacuees waited, the WCPs talked to them about warnings signs that might help them recognize human traffickers.
Jennifer Hyndman, director of the Centerfor Refugee Studies at York University, researched gender-based violence among Somali refugees and found that an overly formal and public reporting process may have deterred women from coming forward to report rape and abuse. She said integrating violence reporting with regular services—"something you would do on a regular basis without being stigmatized"—is an important strategy if you want crimes to be reported.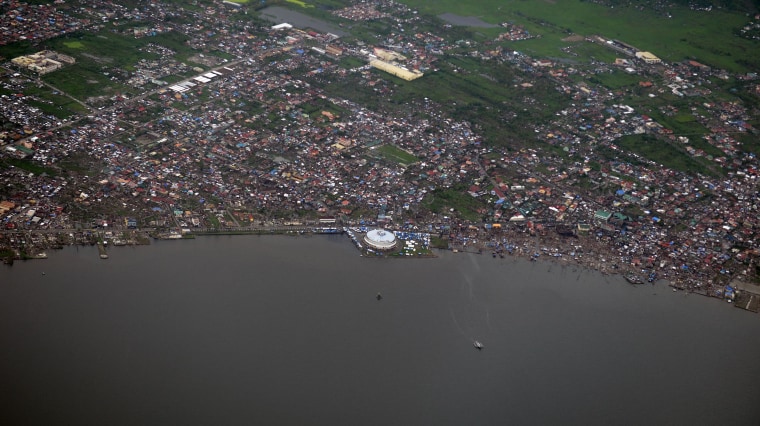 In the camps and elsewhere, WCPD officers have hosted seminars in which they teach women and children about the dangers refugees face (sex- and forced labor-trafficking are major fears) as well as their rights and options. Many women didn't know that they could file a domestic abuse case without paying a fee.
At night, the policewomen patrol the camp, together with evacuees chosen to serve on the self-organized Committee on Protection, focusing on areas that residents reported as unsafe. They intervene in fights or chastised drunks, maintaining a visible presence in the darkened camp once the generator is turned out. They also keep watch for non-residents who might be there to exploit the refugees; Paredes and Alterado once questioned a foreign man who was giving out candy and pencils to the camp's children, and he ran away. "We thought that he is planning for something not good for the children," said Paredes.
The policewomen say they have had little problem convincing male residents to view them as authority figures. "If you deal with them in a nice way, they listen to you," said Paredes. "People here are manageable. They listen to us, even men who are drunk."
Statistics are not yet available, but officials feel confident that the presence of the WCPD has helped keep violence in check. "Crimes are being prevented," said Vilches. "Our male survivors are having second thoughts about doing something bad to our women and children."
Jessica Gorham, a gender-based violence expert with the UNFPA who worked with refugees in South Sudan, Liberia, and Guinea before deploying to the Philippines, says she believes the WCPD program helped prevent violence in the camps.
Still, it's not an easy program to replicate. The UN, she says, has tried to encourage similar programs in other countries—recruiting women police is considered a "best practice"—but they've often been difficult to implement, especially in areas where local women have little access to education or the culture does not encourage putting women in positions of authority. The Philippines example demonstrated the importance of developing a well-functioning unit like the WCPD, as well as laws that protect women and children from violence, prior to catastrophe.
Paredes left the Astrodome on March 7th, three days after the last evacuees were transferred to bunkhouses. "We were very sad," she said.
"Some people were waving us goodbye and saying, 'Ma'am, we won't forget you!'" The children waved and their mothers cried. "I collected so many flowers from them—roses!" Paredes laughed.
For now, it's "back to normal" for Paredes, who returned to her home in the neighboring province of Samar. She wakes up with her children and heads to an office with walls and file cabinets at eight o'clock sharp each morning. Still, it's an adjustment. She finds herself missing the Astrodome in ways she didn't expect. "The noise! The voices of the children. The silence of the night. Everything."
Paredes would like to see other WCPs follow the refugees to their temporary new homes in the bunkhouses—long rows of tiny, plywood shelters—as well. "The children and the women still need security," she says.