From Europe to the Middle East to Australia, U.S. allies and adversaries alike lined up Wednesday to condemn President Donald Trump's decision to formally recognize Jerusalem as the capital of Israel and to later move the U.S. embassy there.
World leaders painted the decision as unilateral and outside the vision of a negotiated peace between Israelis and Palestinians and warned of heightened tensions or even violence across the Middle East.
British Prime Minister Theresa May swiftly "disagreed" with Trump's decision, saying in a statement that Jerusalem's fate should be decided as "a negotiated settlement between the Israelis and the Palestinians, and Jerusalem should ultimately be the shared capital of the Israeli and Palestinian states."
"We regard East Jerusalem as part of the Occupied Palestinian Territories," May said in the statement."
Saudi Arabia's government went further, calling the move an "irresponsible and unwarranted step." A statement from the kingdom's Royal Court said the move "represents a great bias against the historic and permanent rights of the Palestinian people in Jerusalem, which have been affirmed by the relevant international resolutions and have been recognized and supported by the international community."
Iranian President Hassan Rouhani denounced it as "new adventurism by global oppressors," Reuters reported, and Turkish Foreign Minister Mevlut Cavusoglu said "one announcement by a country" does not make Jerusalem the capital of Israel and called the decision a "dangerous step."
Israel, meanwhile, thanked Trump for his "courageous and just" decision. "There is no peace that doesn't include Jerusalem as the capital of the state of Isreal," Isreali Prime Minister Benjamin Netanyahu said in a video statement on Twitter.
Trump made the declaration on Wednesday from the Diplomatic Reception Room in the White House. "Today we finally acknowledge the obvious: That Jerusalem is Israel's capital," Trump said. "This is nothing more or less than a recognition of reality. It is also the right thing to do. It's something that has to be done."
The announcement broke from a decade's long "hands off" foreign policy approach by previous administrations and went against the advice of international policy experts.
French President Emmanuel Macron called Trump's decision "regrettable" and said it "contravenes international law and U.N. Security Council resolutions."
The 28-member European Union also expressed "serious concern" regarding the U.S decision without any input from the Palestinian side.
"The aspirations of both parties must be fulfilled and a way must be found through negotiations to resolve the status of Jerusalem as the future capital of both states," said EU representative Federica Mogherini in a statement on Wednesday.
Australia's Foreign Minister Julie Bishop expressed concern regarding "any unilateral action by either side which could add to tensions."
Protests erupted in several countries following Trump's announcement. Demonstrators burned American flags and effigies of Trump on the streets of Gaza and Lebanon on Wednesday with more demonstrations expected throughout the week.
The State Department issued an updated "worldwide caution" to American citizens traveling abroad.
"As terrorist attacks, political upheaval, and violence often take place without any warning, U.S. citizens are strongly encouraged to maintain a high level of vigilance and take appropriate steps to increase their security awareness when traveling," a statement issued shortly after the president's announcement said.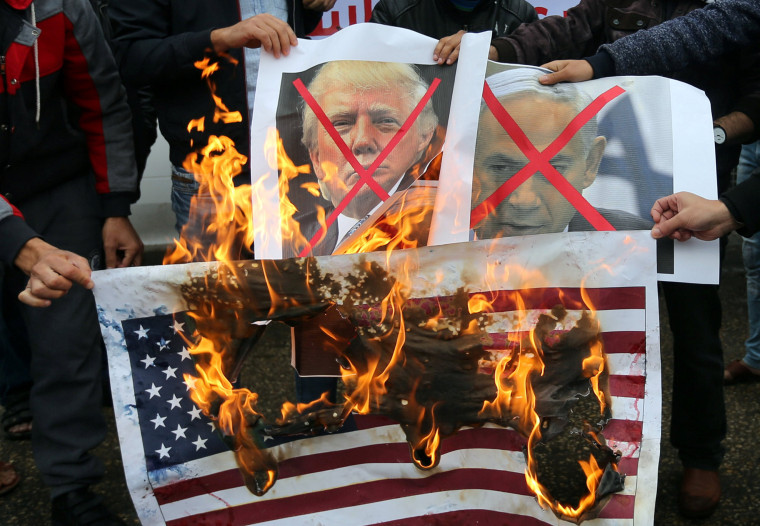 Several nations concurrently offered a stance of support to Palestinian leaders along with denunciations of the U.S. decision.
President Abdel Fattah El Sisi spoke with Palestinian President Mahmoud Abbas over the phone on Wednesday and the two discussed "the repercussions," according to a statement from the Egyptian president's office.
Jordan, which has long been a U.S. ally but also has a significant population of Palestinian refugees, also backed the Palestinian Authority along with its repudiation of Trump's declaration. In a statement released by the Jordanian Embassy in Washington, D.C., Jordan called Trump's move a "violation of international legitimacy resolutions and the UN Charter."
Jordan's King Abdullah II is scheduled to meet with Abbas later this week in Jordan to coordinate a response, the Associated Press reported.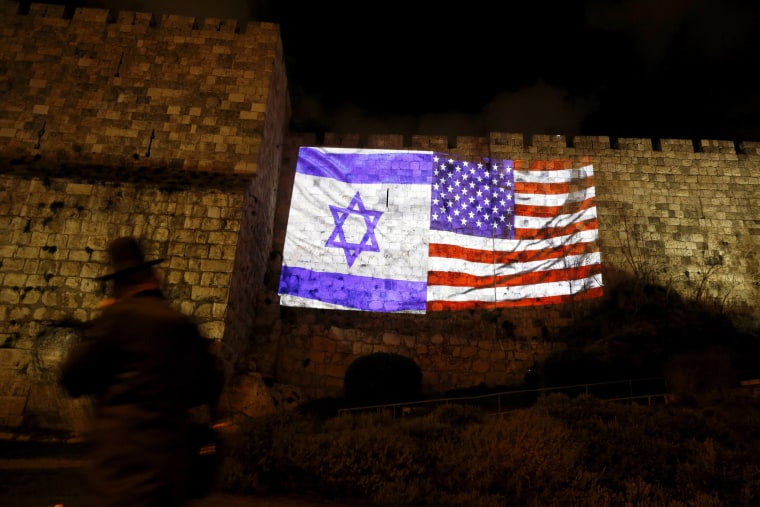 Jordan and the Palestinian National Authority have called for an emergency meeting of the Arab League's Ministerial Council in Cairo on Saturday to "coordinate positions on the U.S. decision and to agree on a mechanism of collective action to reduce its adverse impact effects and contain its consequences," the statement said.
The Arab League consist of 22 countries throughout the Middle East.
UN Secretary-General António Guterres delivered a strong rebuke of Trump's decision. "In this moment of great anxiety, I want to make it clear: there is no alternative to the two-state solution. There is no Plan B," Guterres said. "Jerusalem is a final status issue that must be resolved through direct negotiations between the two parties."
The United Nations Security Council is also expected to convene an emergency meeting on Friday at the request of eight member countries — Bolivia, Egypt, France, Italy, Senegal, Sweden, United Kingdom and Uruguay — that oppose Trump's decision, according to Reuters.
"The U.N. has given Jerusalem a special legal and political status, which the Security Council has called upon the international community to respect," said Deputy Swedish U.N. Ambassador Carl Skau, according to Reuters. "That is why we believe the Council needs to address this issue with urgency."