The world reacted with shock and sadness to the death of author Elie Wiesel, whose poignant memoir about surviving the Holocaust serves as a powerful testament of the atrocities capable of mankind, and who dedicated his life to fighting inhumanity around the world.
President Barack Obama called the author and Nobel Peace Prize laureate "the conscience of the world."
Related: Elie Wiesel, Nobel Laureate, Holocaust Survivor and 'Night' Author, Dies at 87
Israeli Prime Minister Benjamin Netanyahu said Wiesel "served as a ray of light."
"The state of Israel and the Jewish people express sorrow over the death of Elie Wiesel. Elie, a master of words, gave expression to the victory of the human spirit over cruelty and evil with his unusual personality and captivating stories.
"In the darkness of the Holocaust when our brothers and sisters perished — the six million — Elie Wiesel served as a ray of light and an example of humanity that believes in the goodness of man.
Elie's prolific creations do not just reflect the Holocaust but also the hope and optimism against the darkness of Auschwitz. Jerusalem — the eternal capital of Israel — represented to him our ability to rise from the bottom and reach new heights. I am grateful for the honor I had of knowing Elie and learning so much from him. On behalf of all Israelis citizens, Sara and I send out condolences to his wife Marion and the Wiesel family. May [his] memory be blessed forever."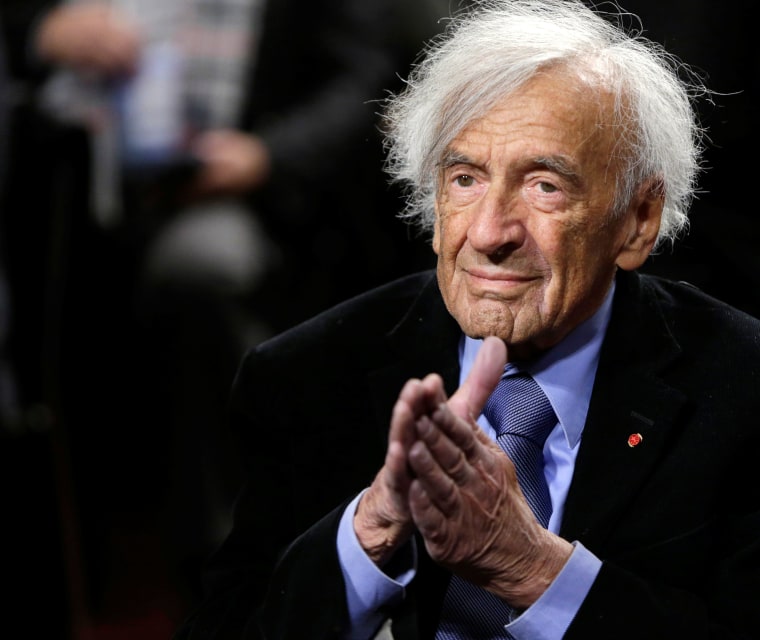 Israeli President Reuven Rivlin said: "Tonight we bid farewell to a hero of the Jewish People, and a giant of all humanity."
"Elie Wiesel, of blessed memory, embodied the determination of the human spirit to overcome the darkest of evils, and survive against all the odds. His life was dedicated to the fight against all hatred, and for the sake of man as created in the image of God — he was a guide for us all."
"One of the Jewish people's greatest sons, who touched the hearts of so many, and helped us to believe in forgiveness, in life, and in the eternal bond of the Jewish people. May his memory be a blessing, everlastingly engraved in the heart of the nation."
---
---
Obama said: "Tonight, Michelle and I join people across the United States, Israel and around the globe in mourning the loss and celebrating the life of a truly remarkable human being."
"Elie was not just the world's most prominent Holocaust survivor, he was a living memorial. After we walked together among the barbed wire and guard towers of Buchenwald where he was held as a teenager and where his father perished, Elie spoke words I've never forgotten — "Memory has become a sacred duty of all people of goodwill."
"Upholding that sacred duty was the purpose of Elie's life. Along with his beloved wife Marion and the foundation that bears his name, he raised his voice, not just against anti-Semitism, but against hatred, bigotry and intolerance in all its forms. He implored each of us, as nations and as human beings, to do the same, to see ourselves in each other and to make real that pledge of "never again."
---
---
French President Francois Hollande said: "This universal man had a special relationship with France, where he studied after the war, where he published the first edition of 'The Night' thanks to Jerome Lindon, where he created the Universal Academy of Cultures in 1992.
"France honors the memory of a grand humanist, tireless defender of peace."
---
U.S. Secretary of State John Kerry called Wiesel "one of our most poignant and passionate voices for justice, for remembrance, and for applying the lessons of a dark past to shape and inform a brighter future."
"Elie's message resonated across faiths and families. He warned us of the perils of indifference and of intolerance. He emerged from one of the darkest chapters of human history consumed not by vengeance, but rather a desire to quell the fires of prejudice and bigotry by serving the cause of hope and leading the pursuit of justice and peace."
---
---
Former Israeli President Shimon Peres mourned the loss of Wiesel Saturday and said "the world has lost a larger than life individual."
"Wiesel left his mark on humanity through preserving and upholding the legacy of the Holocaust and delivering a message of peace and respect between people worldwide. He endured the most serious atrocities of mankind — survived them and dedicated his life to conveying the message of — "Never Again'."
"I had the honor and privilege to personally thank him for his numerous years of work and for saving the world from apathy when I gave him the Presidential Medal on behalf of the State of Israel. May his memory be a blessing to us all."
---
---
Former U.S. President Bill Clinton and Secretary of State Hillary Clinton said in a statement: "We join all those around the world in mourning his loss and giving thanks for his life."
"Elie shouldered the blessing and the burden of survival. In words and deeds, he bore witness and built a monument to memory to teach the living and generations to come the perils of human indifference."
"As he often said, one person of integrity can make a difference. For so many, he was that difference — including at the dedication of the Holocaust Memorial Museum in 1993 when he urged me to stop the ethnic cleansing in Bosnia; at the White House Millennium Lecture Hillary invited him to give; and in all his wonderful books and lectures."
---
---
Ronald S. Lauder, president of the World Jewish Congress, said: "Elie Wiesel was more than a revered writer. He was also a teacher for many of us. He taught us about the horrors of Auschwitz. He taught us about Judaism, about Israel, and about not being silent in the face of injustice."
"Elie once remarked: 'This is what we must do: not to sleep well when people suffer anywhere in the world, not to sleep well when someone is persecuted, not to sleep well when people are hungry all over here or there, not to sleep well when there are people sick and nobody is there to help them, not to sleep well when anyone somewhere needs you.'"
"He never slept. And he woke others when he saw injustice. Himself a survivor of the Nazi genocide, he knew what he was talking about when he raised the plight of persecuted people in Rwanda, or the former Yugoslavia, or in other parts of the world."
...
"We have lost the most articulate witness to history's greatest crime. Without Elie Wiesel in the world, it is up to every one of us now to stand up to the deniers. With his passing, we will all have to work a little harder because we will no longer have Elie to remind us of what happens when the world is silent and indifferent to evil. It is now our job, and that of our children and grandchildren, to pick up the baton and to relay Elie's message of hope and peace to the world."
---
---
Actor and director George Clooney said it is up to the world to carry on Wiesel's legacy.
"We had a champion who carried our pain, our guilt and our responsibility on his shoulders for generations. Now he's gone. It's hard to fathom. So I guess it's up to us now. To fight for the disenfranchised. To speak truth to power and to never forget how cruel man can be to man. In memory of Elie (Wiesel) it's the least we can do."
---
"We must always take sides. Neutrality helps the oppressor, never the victim. Silence encourages the tormentor, never the tormented. Sometimes we must interfere. When human lives are endangered, when human dignity is in jeopardy, national borders and sensitivities become irrelevant. Wherever men or women are persecuted because of their race, religion, or political views, that place must – at that moment – become the center of the universe." -Elie Wiesel, 1986 Nobel Peace Prize Acceptance Speech