LONDON — The world's smallest self-proclaimed nation was rocked this week by the death of its princess.
But there will be no state funeral in the Principality of Sealand, nor any crowds of mourners, because this would-be republic is in fact a rusting World War II fortress, barely larger than a tennis court, six miles off the English coast.
It was declared a state in 1967 by former British Army Major Paddy Roy Bates and his wife, Joan — and its five-decade history has been pockmarked with court battles, international intrigue and even an attempted coup by armed mercenaries.
Sealand's latest chapter was drawn to a close this week with Joan Bates' death at the age of 86.
Her passing, which followed the 2012 death of her husband who styled himself as Prince Roy, has brought Sealand's future into focus.
It has never been recognized by the British government or any other international body. Just 106 people have been given "citizenship" — mostly friends of the couple. And while the Bates once lived on the platform intermittently, it is now maintained by a rotating group of caretakers.
Sealand's claim of national sovereignty is disputed — derided, even — by experts in international law.
An absent heir
The controversial fiefdom is now ruled by the couple's 63-year-old son, 'Prince' Michael Bates.
"It's the world's smallest independent state," he told NBC News this week. "It's had total independence and freedom from the U.K. for the past 50 years."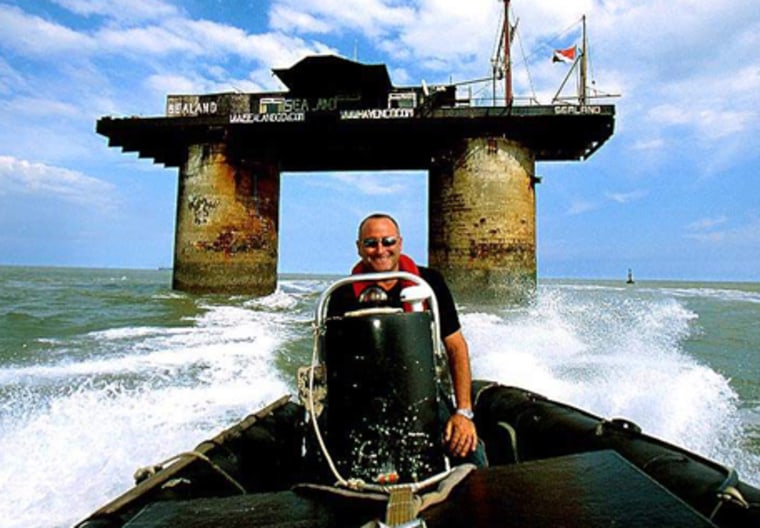 He insists the breakout nation is "not a joke at all, it's all very serious — 100 percent."
But while self-styled monarch maintains Sealand's claim to nationhood, he governs from a more conventional home in nearby Essex where he makes a living by managing a fishing business.
"I've got grandchildren," he explained. "Everyone keeps dying around me, including my mum, so I thought, 'I'd better get on and start living my life.'"
Bates said he could not rule out the possibility of selling the former military installation, which was once home to functioning anti-aircraft guns.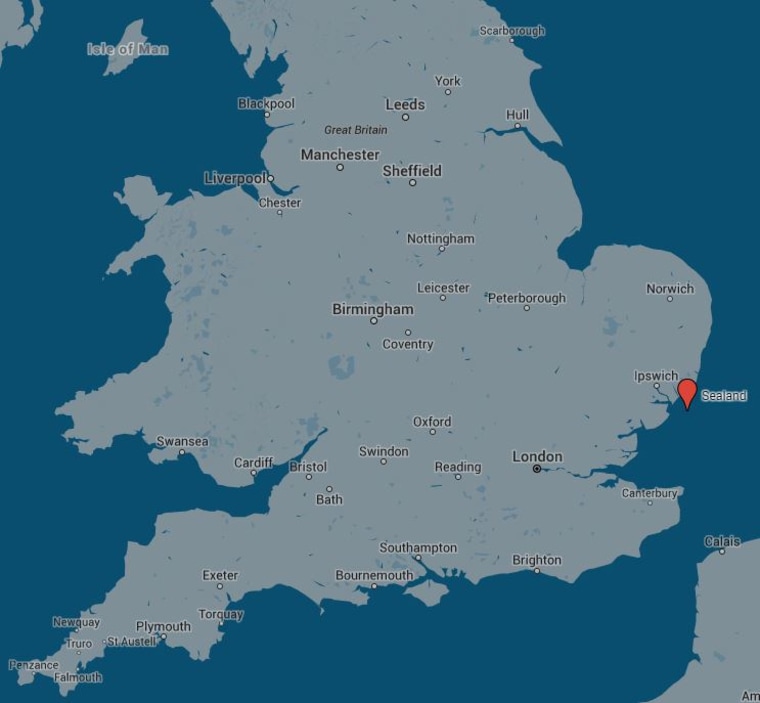 Reports in 2007 said the platform had been put on the market for around $977 million. There was no sale, but Bates told NBC News: "I suppose everything's for sale, at the right price … There were huge amounts of money talked about."
His family has spent the equivalent of at least $1.4 million in their efforts to turn the structure into something vaguely habitable.
Yet even today, its two rusting towers and bleak deck form an unappealing silhouette against the sky and rolling grey waves of the North Sea.
"It's quite big, although it does not look it from the outside," Bates said in defense of his erstwhile home. Sealand's sleeping quarters are hidden inside its windowless, cylindrical legs, with most of the rooms below the water line.
"There's always a lot to do, trying to maintain it," Bates added. "I have swum off it and I've scuba-dived off it, but you have to be a bit careful and know what you're doing."
Nazi warplanes and 'pirate radio'
Sealand's eccentric story began in 1943 when the British government built several sea forts off the coast to act as an anti-aircraft defense against German bombers.
These hulking structures were decommissioned in the 1950s but found themselves at the center of the U.K.'s so-called illegal "pirate radio" craze a decade later.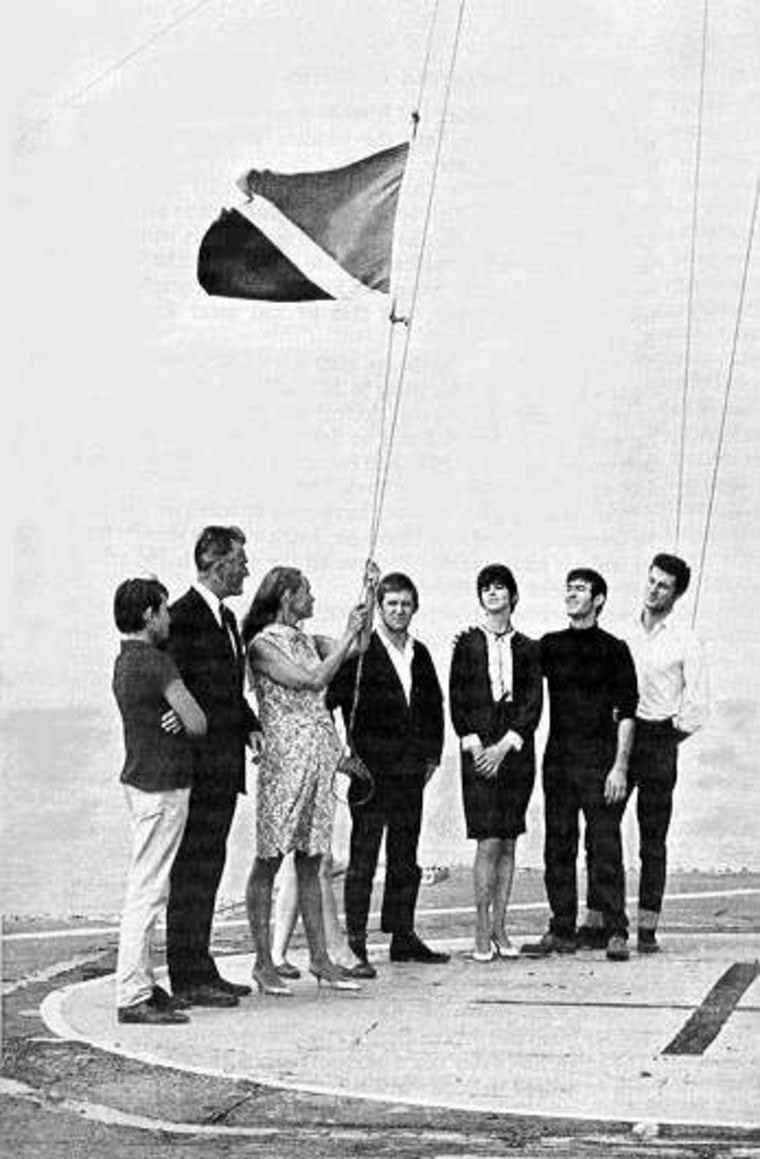 Frustrated by the BBC's monopoly of the airwaves, several colorful go-getters colonized the platforms to broadcast their own unlicensed programs, often resorting to threats of violence to dislodge each other from the best outposts. "It was all very physical back in those days," Bates said.
One of these renegade broadcasters was Paddy Roy Bates, who ousted a rival group from HM Fort Roughs, a fortress also known as Roughs Tower. This platform was coveted by pirate radio broadcasters because it lay outside British waters and beyond the jurisdiction of its courts.
However, a change in the law made it illegal even to broadcast from this location and Bates never took to the airwaves again.
With no use for his newly-claimed tower, he proclaimed Sealand a sovereign state on September 2, 1967. It was his wife's birthday and as a gift he made her into Sealand's first princess.
"It was not long before the British government decided they could not have what ministers described as a possible Cuba off the east coast of England," Sealand's website says. The British military sent helicopters and boats to destroy the other forts, allegedly threatening the Bates family that their tower would be next.
Bates and his son ended up in court after firing warning shots across the bows of one of the military vessels. However, the judge said the U.K. had no jurisdiction over the platform as it was in international waters. "This was Sealand's first de facto recognition," the website says.
Troubled waters
Perhaps the most dramatic incident in its existence came in 1978 while Paddy Roy Bates was away meeting a group of German and Dutch businessmen interested in turning the platform into a casino.
During his absence, associates of the consortium secretly dispatched a helicopter filled with mercenaries to take control of Sealand. The rappelled down onto the platform and took Michael, then 26 and alone at the time, as their hostage.
"They were basically terrorists who locked me up with no food or water for four days," he recalled.

When Michael was eventually freed and returned to dry land, he and his father wasted no time in launching a daring counterattack.
Enlisting the help of a friend who had a helicopter business, they flew back to Sealand in the middle of the night, lowering themselves down on ropes.
One warning gunshot was all it took to end the rebellion, although one was held as a prisoner until an intervention from German diplomats. This negotiation, Bates says, is further proof that Sealand is a legitimate state.
The British government remains unconvinced.
Nothing more than an oil rig?
The U.K.'s Foreign Office said in a statement that Sealand "cannot constitute a separate independent state since it has none of the characteristics of a state." It listed these criteria as a fixed population, a land territory, and the ability to conduct international relations.
Bates argues that Sealand has satisfied all three of these requirements, but his case was hindered by the passage in 1982 of the United Nations Convention on the Law of the Sea which extended the U.K.'s waters to include the platform.
The Convention also stated that "artificial islands, installations and structures do not possess the status of islands [and] they have no territorial sea of their own."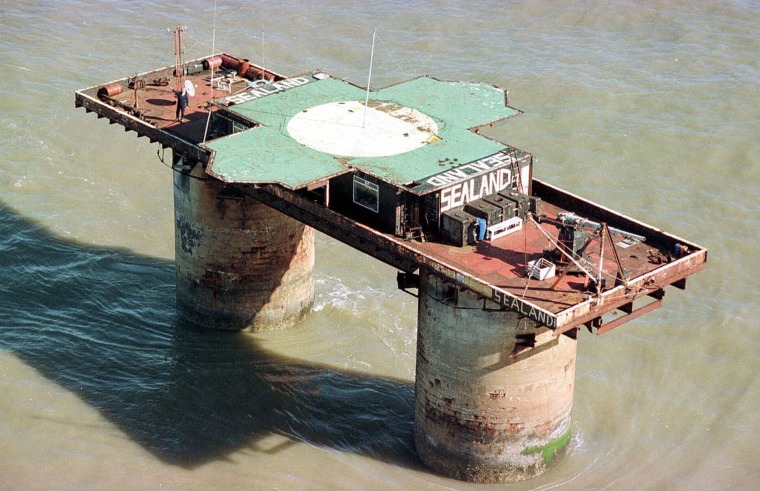 Alan Boyle, professor of international law at Edinburgh University, described Sealand's claim to statehood as "nonsense."
"It is not a micro-nation, but simply a platform located on the U.K.'s continental shelf," wrote in an email.
The Bates responded by declaring Sealand's own maritime borders would also be extended to 12 miles — thus annexing the small English port of Felixstowe. "That's how we see it and it's never been challenged," Bates said.
While Sealand's nationhood is disputed, few can doubt it has a business model. Visitors to its website can pay $42 to become a lord, baron, or baroness; $141 to join the "Knights of the Sovereign Military Order of Sealand" and $282 to become a count or a countess.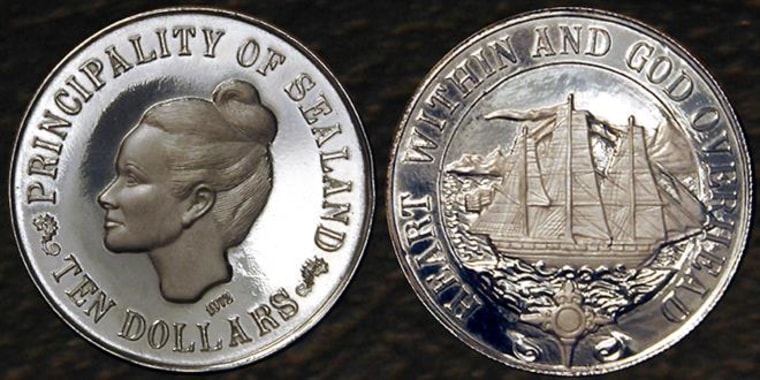 Gift shop items include Sealand flags, stamps, mugs, T-shirts and key rings, as well as Bates' own book on the platform's history, "Holding the Fort."
Bates said he would like to replace the platform with a permanent landmass complete with its own community. For now, though, he admitted "it just covers its overheads."
Looking to the future, he claims that his waning involvement with Sealand doesn't mean its heyday has passed. "My boys are all grown up now and very much involved with the whole thing," he said.