"World War III" was trending on Twitter Tuesday as the world waited to see how Russia would respond to Turkey shooting down one of its warplanes.
Russian President Vladimir Putin slammed the incident as "stab in the back by terrorist helpers," as NATO held what it described as an "extraordinary meeting" Tuesday afternoon just hours after the incident.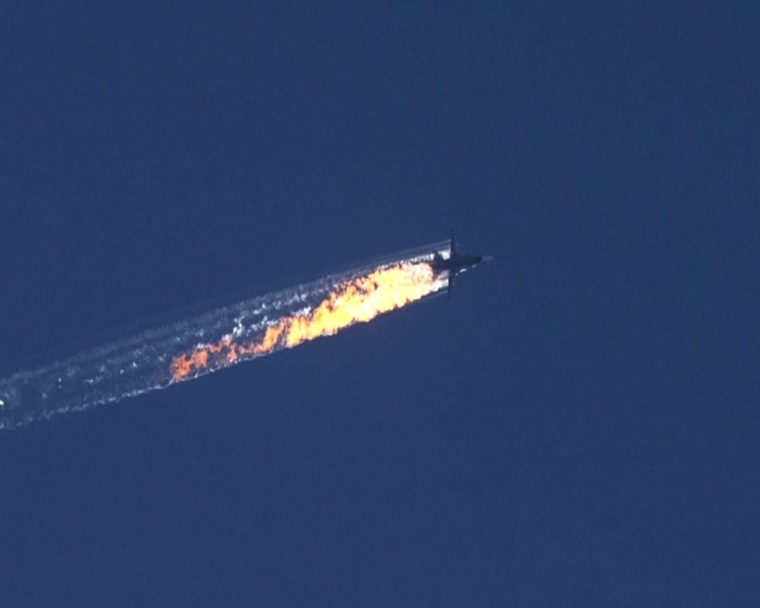 Russia denies its warplane was violating Turkish airspace, while Turkey — a NATO member — said it warned the aircraft 10 times before shooting it down.
Putin said Russia would "never tolerate such atrocities" and called for the international community to "fight this evil."
"Do they want to have NATO serve ISIS? I understand that every state has regional interests, and we respect that, but we would never tolerate crime like today's," Putin added.
Related: Turkey Shoots Down Russian Warplane Near Border With Syria
But despite the heated rhetoric — and fears on social media — outright war is unlikely, according to analysis from IHS Janes Terrorism and Insurgency Center.
"The immediate implication of the shooting down of the aircraft is likely to remain limited to a diplomatic crisis," IHS Janes said. "However, future such incidents between Russia and Turkey are highly likely, as neither side is willing or able to back down."
The diplomatic implications were already playing out in the immediate aftermath of the jet's downing.
Russia's foreign minister canceled a planned trip to Turkey scheduled for Wednesday, while Russia's Ministry of Defense said Turkey's defense attache in Moscow had been "urgently summoned" to receive an "official protest" over his nation's actions.
"The Defense Ministry considers actions of the Turkish Air Force as an unfriendly act," it said in a statement. "At present, the Russian Defense Ministry is designing a complex of measures directed to respond such incidents."
However, Ian Shields, a professor of international relations at Anglia Ruskin University, told NBC News that Russia won't want to overreact in case the U.S. and Europe increase economic pressure and sanctions.
"Those of us like me who are old enough to remember the Cold War are thinking 'here we go again'," he said. "Russia can lose on this, and can be hurt again if she overplays her hand and USA and Europe further increase economic pressure ... we are far more economically interdependent than we were before."