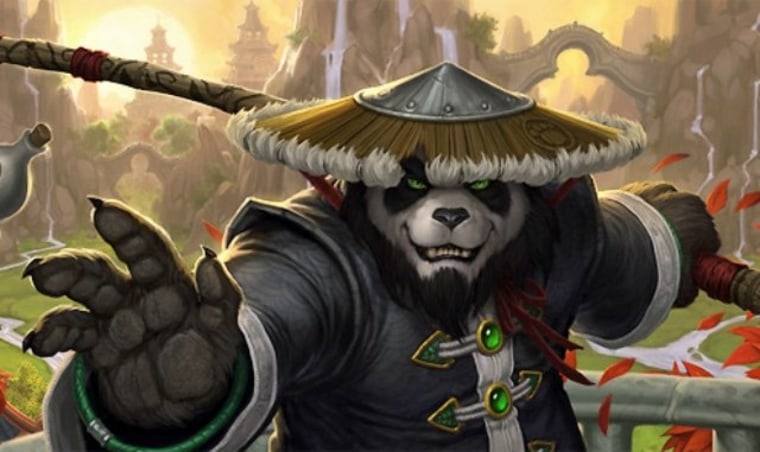 "World of Warcraft" players — are you ready to get your kung-fu panda on?
Game developer Blizzard has revealed the fourth expansion pack for "World of Warcraft" — an expansion that will let people play the massively popular online game as a race of giant humanoid pandas known as the Pandaren.
Blizzard unveiled the forthcoming "Mists of Pandaria" expansion Friday at its annual BlizzCon convention in California. And no, this is not a joke. 
But if it sounds like a joke that's because the panda race got its start as an April Fool's prank that Blizzard played on "Warcraft III" gamers a few years back. (You can read more about that here.)
"Mists of Pandaria" will introduce the continent of Pandaria to "WoW" — a place inspired by real-world Asia, home of the real-world pandas — as well as a new martial-arts-focused Monk class.
As I said, we're talking kung-fu pandas here. And here's the trailer to prove it:
"Players have been asking to see the Pandaren in World of Warcraft since the game's launch, and we're excited to finally be able to give them a proper re-introduction to Azeroth," Mike Morhaime, CEO and cofounder of Blizzard Entertainment, said in the official announcement. "In addition to the new playable race and class, Mists of Pandaria contains a huge amount of new content."
Blizzard did not say when the new expansion would be available, but said that, in addition to pandas, it would include the following new features:
Level Cap Increased to 90
Pet Battles: Challenge other players' companion pets with your own collection in a new tactical mini-game. 
New Zones: Explore the lush Jade Forest, treacherous Kun-Lai Summit, and other areas of Pandaria designed for high-level characters.
Scenarios: Join up with friends to achieve a common goal, such as mounting a defense against invading monsters, in a flexible new type of Player vs. Environment challenge.
Dungeon "Challenge" Modes: Master the ultimate five-player time trial to earn prestige rewards in a new dungeon mode.
New Talent System: Customize your character to suit your play style with the newly overhauled and improved talent system.
The last "World of Warcraft" expansion — "Cataclysm" — was a hit selling 4.7 million copies in its first month. And though "WoW" has been losing players in recent months, it still boasts more than 11 million subscribers.
But "WoW" players, what do you think? Is this expansion something you can't wait to get your paws on, or is it a sign that "World of Warcraft" has jumped the shark ... er ... panda?
Here are a few screenshots to help you decide:
For more game news, check out:
Winda Benedetti writes about games for msnbc.com. You can follow her tweets about games and other things here on Twitter or join her in the stream here on Google+. And be sure to check out the In-Game Facebook page here.