A woman who was admitted to the hospital with mystery symptoms, including forgetfulness, had a live, wriggling worm plucked from her brain — a world first.
The 64-year-old woman from New South Wales, Australia, had been admitted to the local hospital in late January 2021, after a few weeks of abdominal pain and diarrhea. 
The woman had respiratory symptoms, and medical scans revealed abnormalities in her lungs and liver. Her condition only worsened, extending to forgetfulness and depression. 
An MRI scan revealed what doctors initially thought was a tumor, but when the woman underwent a biopsy in June 2022, the doctors were stunned.
"We don't find things that are surprising, and when we do, that's just unheard of," said Dr. Hari Priya Bandi, a surgeon, who was conducting the biopsy.
Yet there it was on the right frontal lobe of the patient's brain: not cancer but a live parasitic worm, about 80 millimeters (3 inches) long and 1 millimeter in diameter.
"I then picked it up and just went, 'Look at it, what is that? … It's moving. Let's take it out,'" Bandi said, according to Australia's Channel 7 News. "There was a moment for me for just feeling a bit nauseated," she added.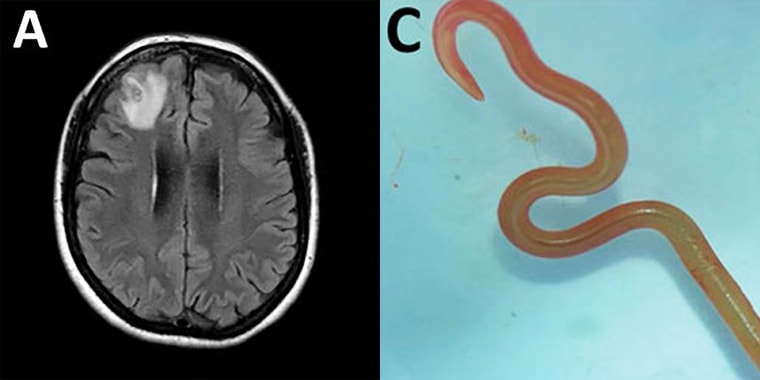 Infectious disease expert Sanjaya Senanayake was working the wards in Canberra Hospital in Australia that day when he got a call from his neurosurgical colleagues.
He did not expect the news that came next.
The 3-inch-long Ophidascaris robertsi is a roundworm that is usually found in pythons. It is the first time the parasite had been identified in a human being.
"It's not meant to develop in her. It's meant to develop in small mammals and marsupials. So she was an accidental host," Senanayake said. The parasite had made its way through the woman's lungs and liver and had finally arrived in her brain, he said.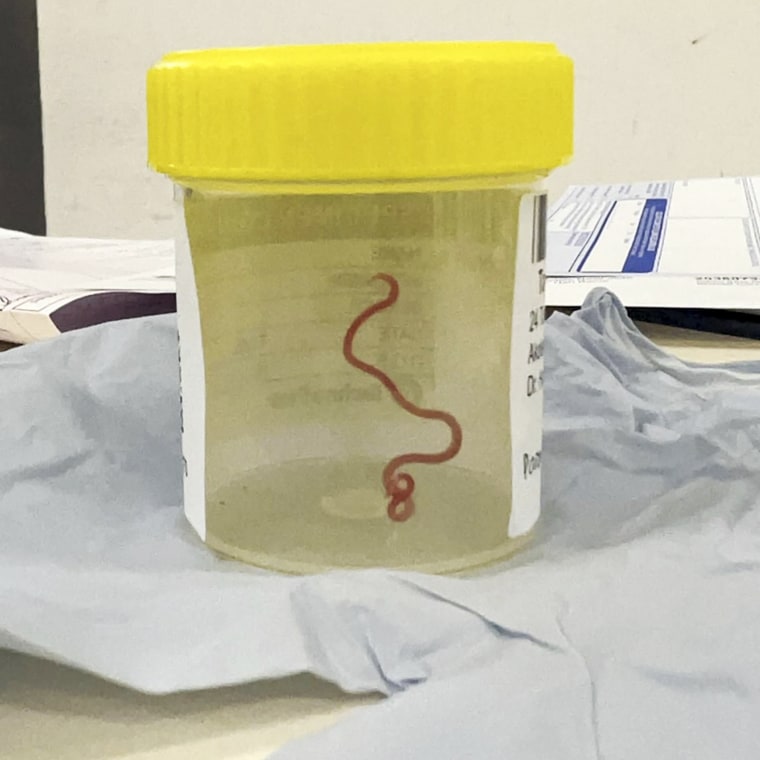 Bandi and Senanayake are among the authors of an article that describes the case in the latest edition of the journal Emerging Infectious Diseases.
Senanayake said the patient lived near a lake that was also home to carpet pythons. And while she had come in no direct contact with snakes, she often collected native vegetation from around the lake to use in cooking. 
That led doctors to believe she may have unknowingly consumed the worm's eggs because of contamination.
The larvae are known to survive for a long time in animal hosts, researchers said, warning of more cases' popping up among humans.
"We've had 30 new infections in the last 30 years appear in the world," Senanayake said, adding that almost three-quarters of them jump from the animal population.
It is a result of what he described as human encroachment on natural animal habitat. 
"We will see more of these types of infections," he added.
CORRECTION (Aug. 29, 2023, 11:01 a.m. ET): A previous version of this article misstated how doctors think the patient ingested the parasite. It was by unknowingly consuming worm eggs, not python eggs.