BEIJING - A wage dispute at a huge sneaker factory that supplies brands including Adidas and Nike escalated Wednesday, highlighting the growing problems faced by China's manufacturing powerhouse.
Workers at the plant – owned by the world's largest maker of sneakers, Yue Yuen – earn as little as $1.67 an hour making shoes that can sell for up to 100 times as much in the United States.
Tens of thousands of employees have been off work for a second week, forcing Adidas to switch production to some of its other suppliers. At least one organizer was arrested by police and has not been seen for 24 hours, activists told NBC News Wednesday after a settlement offer was rejected.
At the core of the dispute is the issue of historic underpayments for social security and housing fund contributions, but the issue goes far beyond the shoe plant.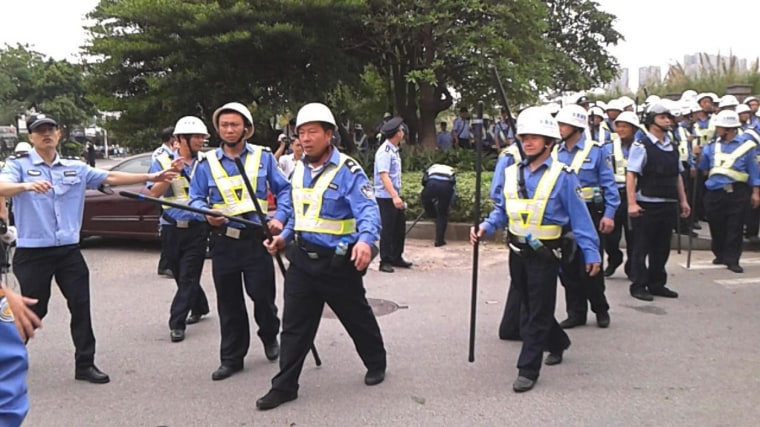 Workers throughout China are demanding not just higher wages but better social insurance as they face the prospect of supporting a rapidly aging population.
"The fact that something as nuanced as social insurance has led to a strike shows just how much things are changing," said Kevin Slaten of U.S.-based non-profit China Labor Watch. "This generation of workers is a lot more aware of its rights and this problem is not unique to this factory."
China has enjoyed decades as the world's manufacturing powerhouse, but increasing labor activism and a shortage of migrant workers is pushing up labor costs.
There has been a surge in the number of strikes and worker protests since the Lunar New Year holiday in early February, according to the Hong Kong-based China Labor Bulletin, which manages an online map of disputes. It recorded 202 incidents in the first quarter of 2014, which it said was a 31 percent increase on the same period last year.
"This increase might partly be explained by greater social media coverage but there does seem to be a pronounced increase in activism on the ground," it said on its website.
The stoppage at Yue Yuen's Dongguan plant in Guangdong is already one of China's biggest. Workers on Wednesday rejected the Hong Kong-based company's offer, which included partial back payments for social security and housing, full contributions for those benefits starting May 1 and a $37 monthly cost-of-living allowance.
The workers are demanding a 30-percent pay raise, a stronger commitment to future contributions and the right to choose their own workplace representatives.
"We'll pay what is in the regulations, there should not be any concern on that," Yue Yuen spokesman George Liu told Reuters.
However, there were signs of an escalation Wednesday when at least one activist helping the workers was arrested by police. Zhang Zhiru, leader of the Shenzhen Spring Breeze Labor Disputes Service, hasn't been seen since his arrest and his wife has been unable to contact him for 24 hours, another activist told NBC News.
"There is some uncertainty now on what will happen next" in the dispute, the activist said.
Adidas, the biggest customer of the factory, said Wednesday that plant owners were in talks with local officials in a bid to find a solution. The Germany-based sportswear brand said it had more than 1,000 global suppliers and had already taken steps to source shoes from other factories.
"We are closely monitoring the situation and we can confirm that our supplier … is in discussion with the local government and the trade union federation to seek ways to address the concerns expressed by the workers," said spokeswoman Katja Schreiber in a statement.
"In order to minimize the impact on our operations, we are currently reallocating some of the future orders originally allocated to Yue Yuen Dongguan to other suppliers."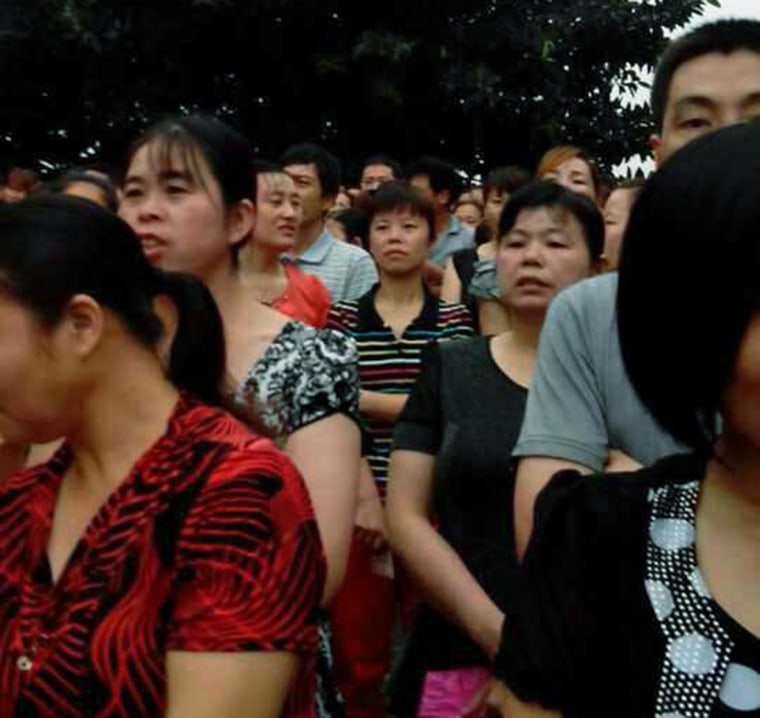 In a statement, Nike said it was "aware of and concerned by the events at the Yue Yuen factory," adding: "We're continuing to monitor the dialogue between factory management and the workers, as well as production at the factory."
A typical worker the plant might earn around $400 a month depending on position and overtime, according to China Labor Watch, which published a report on the facility in 2010. Hours vary in China's factories, but a 60-hour week is not uncommon.
Hong Kong-based advocacy group Globalization Monitor said some Yue Yuen workers discovered the factory had been underpaying social insurance for years. One worker on a $480 monthly salary had been getting social insurance contributions based on a salary of $288, the group said.
Another Yue Yuen worker told the Associated Press that there was a reluctance to accept new offers because of the scale of the historic underpayments.
"Some have worked there for more than 10 years, and in this case, they need to pay 20,000 to 30,000 yuan ($3,200 to $4,800)" to make up the difference, said 31-year-old Cui Tiangang, who cuts and glues rubber soles. "It is too hard for the workers."
The company was not immediately available to comment on the claims, but it has already threatened to temporarily shift some production to its other factories in Vietnam or Indonesia.
"When labor costs are kept down, protests violently suppressed and workers cannot use different channels to defend their rights, it creates what companies see as a stable business environment."
However, Slaten said labor disputes were unlikely to cause a manufacturing exodus.
"The infrastructure in China is very good," he said, and blue collar workers there are better educated than their low-wage counterparts elsewhere in south Asia.
Chinese employers also have the country's uncompromising security forces on their side, as some of the Dongguan strikers discovered when they were prevented by police from marching through the city on April 14, according to a video uploaded to YouTube by China Labor Watch.
"When labor costs are kept down, protests violently suppressed and workers cannot use different channels to defend their rights, it creates what companies see as a stable business environment," said Slaten. "Local officials support these businesses because the growth of the local economy is more important to them than the rights if individual workers."
Alastair Jamieson reported from London. Reuters and The Associated Press contributed to this report.