CHENGANNUR, India — Some 800,000 people have been displaced and over 350 have died in the worst flooding in a century in southern India's Kerala state, as authorities rushed to bring drinking water to the most affected areas, officials said Sunday.
The deluge finally let up on Sunday, giving some respite for thousands of marooned families, while authorities feared an outbreak of disease among two million people crammed into relief camps.
Using boats and helicopters, India's military has led rescue efforts to reach people in communities cut off for days by the floods, with many trapped on roof tops and the upper floors of their homes, and in desperate need of food and water.
At least two trains carrying about 1.5 million liters of water were moving to the flooded areas from the neighboring states of Madhya Pradesh and Maharashtra, Indian railway official Milind Deouskar said, according to the Press Trust of India news agency.
One train arrived on Sunday, said P.H. Kurian, a top disaster management official in Kerala. However, he said the officials had largely restored the state's water supply systems.
"What we need right now is bottled water, which is easy to transport to remote and isolated places, where some people are still stranded," Kurian said.
Officials have called it the worst flooding in Kerala in a century, with rainfall in some areas well over double that of a typical monsoon season.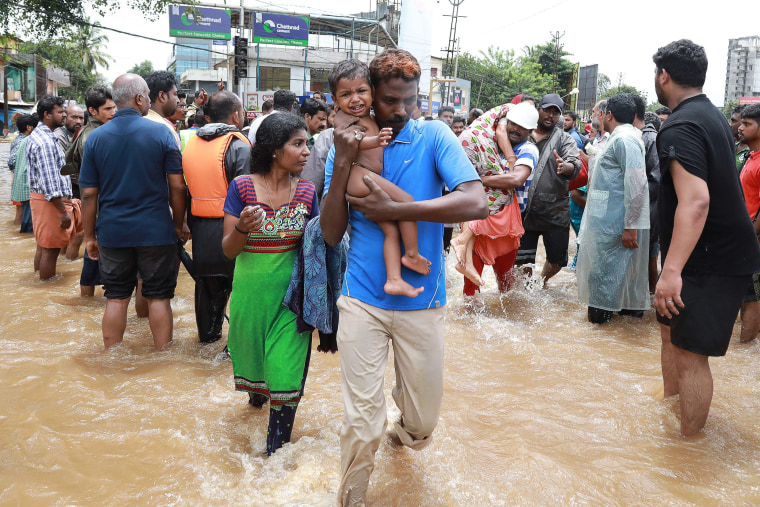 Thousands of rescuers were continuing efforts to reach out to stranded people and get relief supplies to isolated areas by hundreds of boats and nearly two dozen helicopters, Kurian said. He said weather conditions had improved considerably and expected the nearly 10,000 people still stranded to be rescued by Monday.
An estimated 800,000 people have taken shelter in some 4,000 relief camps across Kerala, Kurian said.
Weather officials have predicted more rains across the state through Monday morning.
The downpours that started August 8 have triggered floods and landslides and caused homes and bridges to collapse across Kerala, a picturesque state known for its quiet tropical backwaters and beautiful beaches.
Officials estimate that more than 6,200 miles of roads have been damaged. One of the state's major airports, in the city of Kochi, was closed this past Tuesday due to the flooding. It is scheduled to remain closed until August 26.
The Indian government said a naval air base in Kochi will be opened for commercial flights starting Monday morning.
Prime Minister Narendra Modi inspected the flooded landscape from a helicopter on Saturday and met with the state's top officials, promising more than $70 million in aid. While the central government has dispatched multiple military units to Kerala, state officials are pleading for additional help.
Officials have put initial storm damage estimates at nearly $3 billion.
Sheikh Mohammed bin Rashid Al Maktoum of the United Arab Emirates, where many Keralites work, has also offered assistance to the state.