WASHINGTON — Chinese President Xi Jinping's trip to Russia offers a symbolic shot in the arm to his increasingly isolated Russian counterpart, Vladimir Putin, and highlights Xi's determination to push back against American power in the world, experts and former U.S. officials say.
Calling each other "dear friends," the two leaders held informal talks in Moscow for almost four and a half hours Monday, the Russian state news agency Tass reported, and talks between their full delegations took place Tuesday. In televised remarks after greeting Xi inside the Kremlin, Putin said he had "carefully studied" China's recent proposal for ending the war in Ukraine, where Beijing has tried to portray itself as a potential peacemaker. 
After's Tuesday meeting, there appeared to be no sign of a diplomatic breakthrough over Ukraine. Putin offered praise for Xi's peace plan and blamed Kyiv and the West for rejecting it. Meanwhile, Xi barely mentioned the conflict, saying that China had an "impartial position" on it.
The three-day state visit underscores how Xi, unlike his predecessors, wants to position himself as a world-shaping leader and his country as a counterweight to America's long-standing global dominance.
"Xi Jinping wants to show the world that he's a statesman," said Brian Hart, a fellow with the China Power Project at the Center for Strategic and International Studies in Washington, and that Beijing wants "to play a constructive role."
Former Secretary of State Henry Kissinger told NBC News that Xi's visit "is an important change in the world, in the global strategic situation."
Washington has criticized Xi's trip as giving Putin "diplomatic cover" after the International Criminal Court issued an arrest warrant last week for the Russian leader on charges of involvement in the alleged abduction of Ukrainian children, which his government denies. Beijing says the court is using "double standards."
The White House urged Xi to use his visit to press Putin to respect Ukraine's sovereignty and withdraw his troops. But officials said they were concerned Xi would instead reiterate calls for a cease-fire that leaves Russia's territorial gains in place — part of a 12-point proposal from Beijing that contains few specifics and has met with skepticism from the U.S. and its allies.
Secretary of State Antony Blinken said any peace plan that does not involve the withdrawal of Russian troops from Ukrainian territory was "a stalling tactic at best."
"The world should not be fooled by any tactical move by Russia, supported by China or any other country, to freeze the war on its own terms," he said Monday.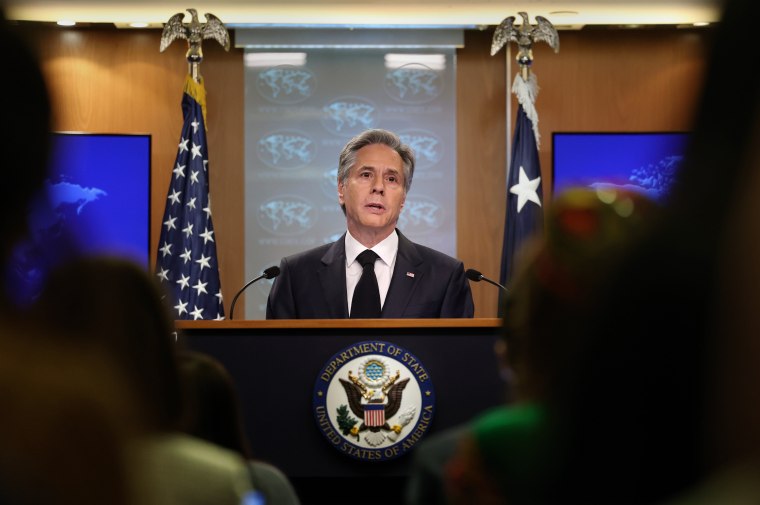 A spokesperson for the Chinese Foreign Ministry countered Tuesday that "the U.S. is in no position to point fingers at China."
China has accused the U.S. — which announced Monday an additional $350 million in ammunition and other military aid for Ukraine — of aggravating the war by arming Kyiv against Russia's invading forces. Beijing denies U.S. allegations that it is considering providing Russia with lethal military assistance. 
But Xi's high-profile Russia trip, his first since the invasion of Ukraine last year, underscores Beijing's deepening ties with Moscow and mounting tensions with Washington.
"They share a deep and abiding interest in undermining U.S. influence around the world," said Bonnie Glaser, managing director of the Indo-Pacific program at the German Marshall Fund, a think tank based in Washington.
Xi and Putin, who have met about 40 times since 2010, both reject what they see as efforts by the U.S. and its allies to impose their liberal democratic model on the rest of the world and have sought to make their case to countries outside America's network of alliances, she said.
In an unusually pointed speech this month singling out the U.S., Xi accused Washington of trying to hold back China's progress.
"Western countries — led by the U.S. — have implemented all-round containment, encirclement and suppression against us, bringing unprecedentedly severe challenges to our country's development," he said.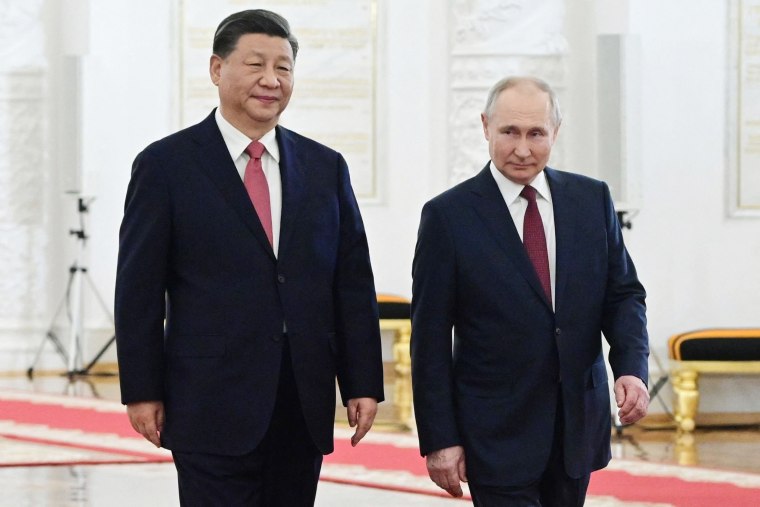 Xi flew to Russia after China scored a surprise diplomatic success in the Middle East, a region once dominated by the U.S., by brokering an agreement between Saudi Arabia and Iran to restore diplomatic ties for the first time in seven years. 
China's economy faces a serious slowdown after the end of the government's strict "zero-Covid" policies, and Xi — who has just secured an unprecedented third term as president — is keen to demonstrate his status as a global leader, according to Victor Cha, who oversaw Asia policy on the White House National Security Council from 2004 to 2007 and now serves on the Defense Policy Board, which advises the defense secretary.
"He's got a lot of problems at home and he's looking for ways to justify his third term by saying China is playing this big global role now, and provide a counternarrative to what he sees as the West's narrative about the liberal democratic order," said Cha, now a professor at Georgetown University. 
With U.S. and European Union sanctions cutting Russia off from Western energy markets and access to advanced U.S. and European technology, Beijing has offered Moscow an economic lifeline by buying its oil and gas and selling semiconductors and other "dual use" items needed to keep the Kremlin's war machine operating.
China spent $81.3 billion on imports of Russian oil, coal and natural gas last year, up from $52.1 billion in 2021, according to customs data analyzed by the Center on Global Energy Policy at Columbia University. No longer able to sell its oil and gas to Europe, Russia has exported its surplus energy at a steep discount to China, as well as other countries, saving them billions of dollars.
In a commentary published in the Russian newspaper Rossiyskaya Gazeta on the eve of his trip, Xi touted an increase in trade between China and Russia and said his trip to Moscow would be "a journey of friendship, cooperation and peace."
In a veiled jab at the U.S., Xi added: "No model of governance is universal, and no single country should dictate the international order."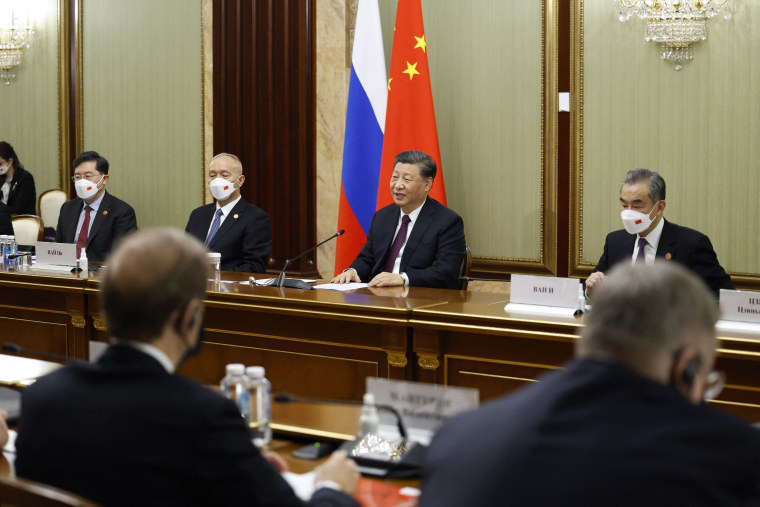 Although China and Russia have held joint military exercises and recently staged naval drills with Iran in the Gulf of Oman, Beijing so far has stopped short of directly arming Russian forces waging war in Ukraine, according to U.S. intelligence officials. 
The U.S. and European governments have warned China that it will face severe consequences if it chooses to start providing weapons and ammunition to Russian forces.
Arming Russia would risk a wave of sanctions from the U.S. and Europe and derail Xi's economic goals, experts said.
"He's not going to let Putin fail, but there's a limit to how much he's going to stick his neck out for Putin to succeed," Cha said.
Although China may not be ready to wade into the conflict and provide direct military support to Russia, the current state of affairs offers some benefits to Beijing, some experts said. 
As long as Russia avoids defeat, China can rely on the flow of inexpensive oil and gas from Russia while the U.S. and its allies are forced to devote attention and spend billions of dollars keeping Ukraine's military equipped. At some point, transatlantic unity may begin to fracture as the war drags on, and China could try to play a role in diplomatic talks by exploiting divisions within NATO, experts said.
The danger is that China, by siding with Russia and helping keep its economy afloat, could help prolong the war, Cha said.
"That's not good for the U.S. and the West because that means the war will just continue, and that's not a positive outcome for anybody," he said.