Medics treating casualties of fighting and bombings in Yemen have been besieged inside a hospital for almost three weeks and are "desperate" for supplies, an aid group said Thursday.
Nurses and a pharmacist have been working around the clock after receiving more than 600 patients at a hospital in Aden since the civil war erupted last month, according to Medecins Sans Frontiers (MSF).
The port city was a stronghold of Saudi-backed President Abd-Rabbu Mansour Hadi, but parts of it have been seized by Iran-allied Houthis and soldiers loyal to ex-President Ali Abdullah Saleh.
Their advance has continued despite airstrikes by Saudi Arabia and its Arab allies, including an aerial attack by warplanes in early Thursday on targets including the capital, Sanaa.
The violence — which the World Health Organization says has killed at least 643 people nationwide — has prevented wounded civilians from reaching the hospital and stopped workers from leaving.
"The road is too dangerous for me to use," pharmacist Liqa Hamza said in a statement issued through MSF. "There is no other pharmacist at the hospital, so I am badly needed."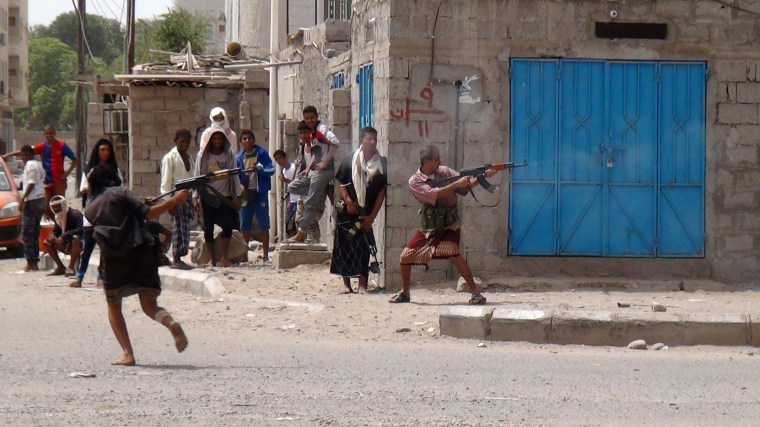 She added: "Life has stopped in the city and movement has become extremely dangerous; some roads have been completely blocked. Our pharmacy stock is starting to run low and we are in desperate need of drugs and medical supplies, as well as staff."
Hamza was finally able to return home on Tuesday after 19 days at the hospital. "My family has not had access to water for two whole days now and they only get electricity for a few hours," she said.
Aness Dayan, a nurse at the hospital, said the situation was the worst she has ever seen — with more than 600 wounded patients needing treatment in the past two weeks.
"This huge number of patients was a shock for us, but we were able to control the situation, act responsibly and manage things. I was very sad as we were receiving people … from my neighborhood, as well as people I know personally. We were receiving all those casualties and at the same time thinking about our families."
A ship laden with emergency medical aid docked at the city Wednesday, but Houthi forces fought street-by-street battles with local militia in the old center, Reuters reported.
Residents saw a dozen bodies strewn on the streets and said several buildings were burnt or demolished by rocket fire.
Houthi fighters also entered the city of Ataq Thursday, according to Reuters, citing local residents. They took control of offices of the local government and security forces compounds. It took the Houthis and Saleh's forces closer to the prized Belhaf gas facility and export terminal, on the Arabian Sea about 100 miles to the southeast.
Meanwhile, residents in the al-Siddah district in central Yemen said they woke to find al Qaeda flags flying over local government offices. They said a group of al Qaeda militants led by a local commander known as Ma'mour al-Hakem, took over the district at night. Al Qaeda in the Arabian Peninsula (AQAP), one of the most active branches of the network founded by Osama bin Laden, has exploited the security vacuum to entrench itself further in the country's remote eastern reaches.
Reuters contributed to this report.