Parties fighting in war weary Yemen have agreed to a 72-hour ceasefire, the United Nations Special Envoy announced Monday.
Ismail Ould Cheikh Ahmed said he hopes the agreement "will spare the Yemeni people further bloodshed and will allow for the expanded delivery of humanitarian assistance."
The cessation of hostilities, which is set to begin at 11:59 p.m. local time on Oct. 19, is the resumption of a stalled April agreement between the warring parties that dissolved almost entirely in August.
Cheikh Ahmed called upon "all Yemeni parties, the region and the international community to encourage full respect for the cessation of hostilities and to ensure that it leads to a permanent and lasting end to the conflict."
The UN envoy's announcement follows an investigation into a Saudi airstrike that killed 140 people and injured 600 others at a funeral in Sanaa.
The airstrike prompted President Barack Obama's administration to announce a review of U.S. support for its Saudi allies. The Saudi's own investigation concluded the airstrike resulted from "erroneous information."
Yemeni President Abd-Rabbu Mansour Hadi has been requesting humanitarian access for Taiz, a divided city largely encircled by the Houthi rebels who overran Yemen's capital, Sanaa, in 2014. Government forces maintain control of only one of four access routes.
The Iranian-aligned Houthis and their allies, forces loyal to former President Ali Abdullah Saleh, hold most of Yemen's northern half, while forces loyal to the Saudi-backed Hadi share control of the rest of the country with local tribes.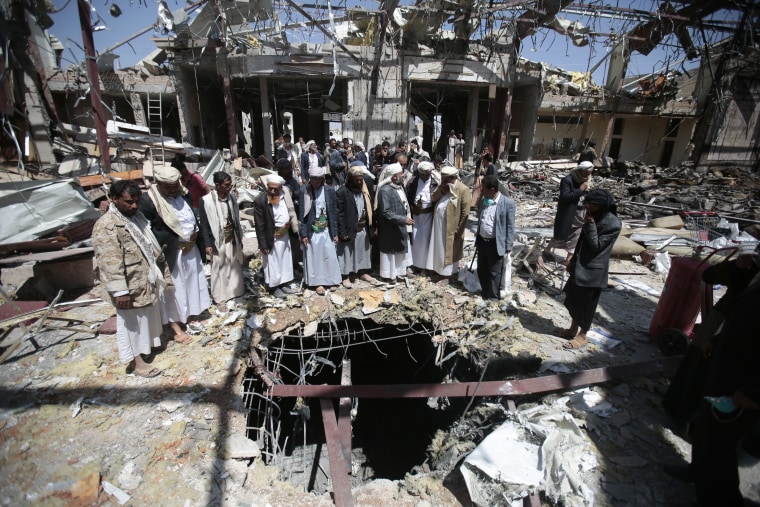 Saudi Arabia and several Gulf Arab allies have carried out air strikes and deployed troops in Yemen in support of Hadi's government since March 2015. Some 10,000 people, including 3,800 civilians, have been killed in the conflict, according to U.N. estimates.
The U.S. was drawn into the war for the first time last week. The U.S. military launched cruise missiles on radar sites along Yemen's Red Sea coast after its ships were targeted by missiles fired from rebel-controlled areas of the nation.