The U.N.'s humanitarian chief warned last week that 14 million people in Yemen — or half of the country's population — need aid to survive amid fears of an "imminent and great big famine."
Mark Lowcock told the Security Council that this potential famine would be "much bigger than anything any professional in this field has seen during their working lives."
Only two famines have been declared in the past two decades — the one that took the lives of a quarter of a million Somalis in 2011 and another one last year in South Sudan.
Here are three statistics that shed light on the situation on the ground in one of the Arab world's poorest countries.
130: The number of children under 5 who die each day from hunger and disease
A total of almost 50,000 kids are believed to have perished from such causes during 2017, with a similar number expected this year, according to Save the Children and the U.N.
Save the Children spokesman Bhanu Bhatnagar called the situation in Yemen "a stain on the world's conscience."
UNICEF's operation in Yemen estimates there are 1.8 million children currently facing malnutrition, including 400,000 who are severely malnourished and at risk of death if not urgently treated. More than 8 million children are cut off from regular access to basic water, sanitation and hygiene services.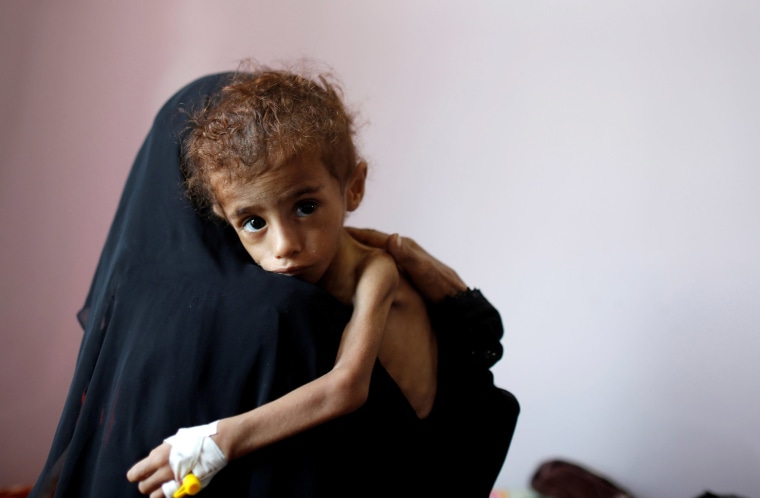 Bhatnagar says the fighting that is raging in Yemen is killing an "entire generation of children," who are bearing the brunt of the violence.
"Thousands are so malnourished they don't even have the energy to cry," he said.
U.N. is assessing whether the crisis in Yemen can officially be declared a famine, with initial results expected next month.
"An official famine declaration would only confirm what we already know: Children are already dying from starvation," said Frank McManus, the International Rescue Committee's country director in Yemen. "Famine, by definition, means it's too late."
The conflict in Yemen began with the 2014 takeover of the capital, Sanaa, by Iran-backed Houthi rebels, who toppled the internationally recognized government. A Saudi-led coalition allied with the government has been fighting the Houthis since 2015.
The fighting has left 6,800 civilians dead and more than 10,000 injured, sparking the world's worst humanitarian crisis. Yemen's gross domestic product has been cut in half since 2015, with more than 600,000 jobs lost and a least 80 percent of the population living below the poverty line, according to U.N. numbers.
"It's astounding that today, the international community can sit on its hands and, in fact, allow and facilitate this famine," said Oxfam's Richard Stanforth.
1 million: The number of cholera cases
Against the backdrop of the conflict, Yemen has suffered from the largest cholera outbreaks in recent history.
The World Health Organization says there have been 1.2 million cases of suspected or confirmed cholera in Yemen since April 2017, including over 154,000 cases this year.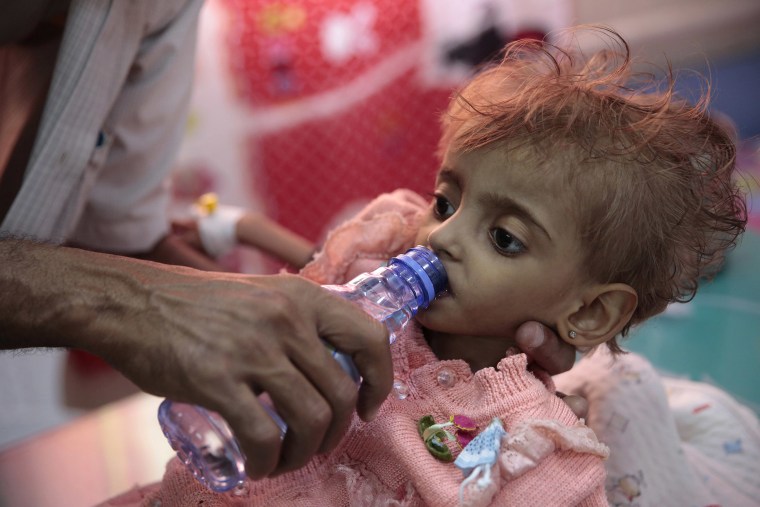 More than 2,500 people are reported to have died from the preventable disease.
An entire country and its health infrastructure has been brought to its knees, according to Dr. Ahmed Al Mandhari, WHO's regional director for the Eastern Mediterranean.
While medical care is free in public health facilities, many Yemenis can barely afford the cost of public transport to get to these facilities, Al Mandhari said, and families are forced to sell all their belongings to buy medicines.
"People in Yemen are dying today not just because of the bullets and bombs, but because they are unable to receive the medical care they need to stay alive," he added.
18,000: The number of air raids a 3-year-old child in Yemen has lived through
The independent Yemen Data Project has tracked the number of air raids since the start of the war — more than 18,000 since spring of 2015.
Save the Children says that means a child in Yemen who was born as the conflict broke out has lived through an average of about 14 air raids per day.
"Yemen is one of the most dangerous places in the world to be a child today," said Bhatnagar. "The ongoing brutality means children are being consistently exposed to extreme violence, further heightening the risk of psychological damage."
In August, dozens of Yemeni children were killed in a Saudi-led coalition airstrike on a bus in northern Yemen, one of the deadliest attacks on civilians in the three-year-old war.
The U.N. has said that all parties in the conflict have been responsible for attacks on civilians, underscoring how targets have included homes, medical facilities, schools, farms and weddings.
The people of Yemen "live under fear of continuous bombardment," said McManus, of the International Rescue Committee. "Despite almost four years of airstrikes and use of heavy weapons, neither side is any closer to achieving their strategic objectives."