CAIRO — Despite ongoing fighting between Iranian-backed Houthi rebels, who are Shia, and Saudi Arabian-backed loyalist forces, who are Sunni, Yemen's foreign minister on Sunday insisted that his country is not in the grips of a sectarian war.
"There is no war between Sunnis and Shiites,," said Foreign Minster Riyadh Yaseen. "We use the same mosques. There is no Sunni mosque or Shiite mosque."
He also dismissed calls by Russia for negotiation between the two sides, saying, "We can talk about dialogue if the Houthis drop their weapons."
A Saudi-led coalition of Gulf states began bombing Yemen on Thursday — targeting the Houthis and their allies, which include forces loyal to Yemen's former leader, Ali Abdullah Saleh.
Yaseen spoke after an meeting the Arab Summit in Egypt on Sunday where regional leaders agreed to establish a joint military force to respond to security threats facing member nations.
The announcement on the closing day of the Arab League summit in Egypt's Red Sea resort of Sharm el-Sheikh came amid an escalating crisis in Yemen. A multinational coalition led by Saudi Arabia launched airstrikes there this week to weaken Shiite Houthi rebels who have been making a play for power — an advance that has forced Yemen's president to flee the country.
Nabil al Araby, chairman of the Arab League, told the summit Sunday that those airstrikes will continue "until the Houthi militias withdraw and surrender their weapons."
The Houthi rebels seized the Yemeni capital in September and forced the American-backed president, Abd-Rabbu Mansour Hadi, to flee. He was in the port city of Aden until last Wednesday or Thursday, when he left the country entirely, according to his spokesman. The spokesman said Thursday that Hadi has arrived in the Saudi capital of Riyadh.
Foreign Minister Yaseen said that ousted President Abdrabbo Hadi will return when the situation allows.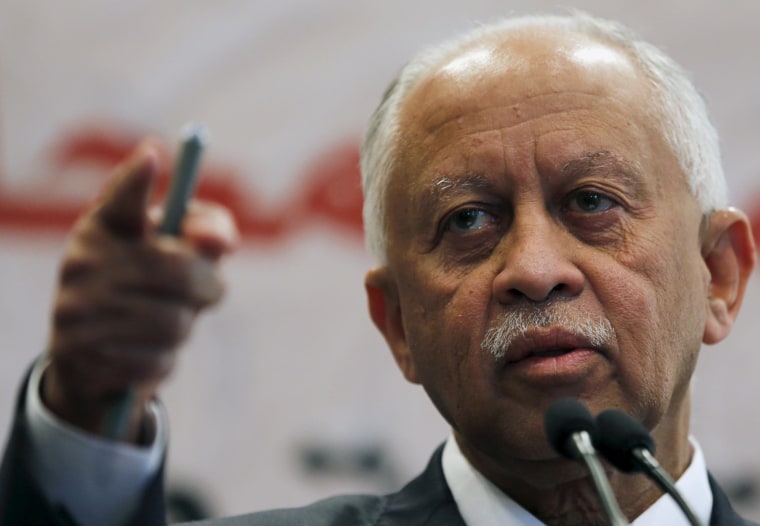 IN-DEPTH
— with Hasani Gittens in New York