A Saudi-led coalition has blamed an airstrike that killed more than 140 people at a funeral ceremony in Yemen on "erroneous information" received from a "party" affiliated with the country's embattled government.
The airstrike, which struck the capital of Sanaa Oct. 8., was one of the deadliest single attacks in the country's civil war, a U.N. official said, and was condemned by the U.N. and others.
The Joint Incidents Assessment Team, set up by the coalition, said "a party affiliated with the Yemeni Presidency of the General Chief of Staff passed on erroneous information that there was a gathering of armed Houthi leaders in a known location in Sana'a, and insisted that the location be targeted immediately as a legitimate military target."
The team in a statement released by the Saudi embassy in Washington, D.C. Saturday also said that an air operations center in Yemen carried out a "close-air-support mission" without proper authorization from the coalition.
Yemen is in the midst of a civil war between Shiite Houthi fighters and forces loyal to President Abed Rabbo Mansour Hadi. Houthis seized Sanaa in September of 2014.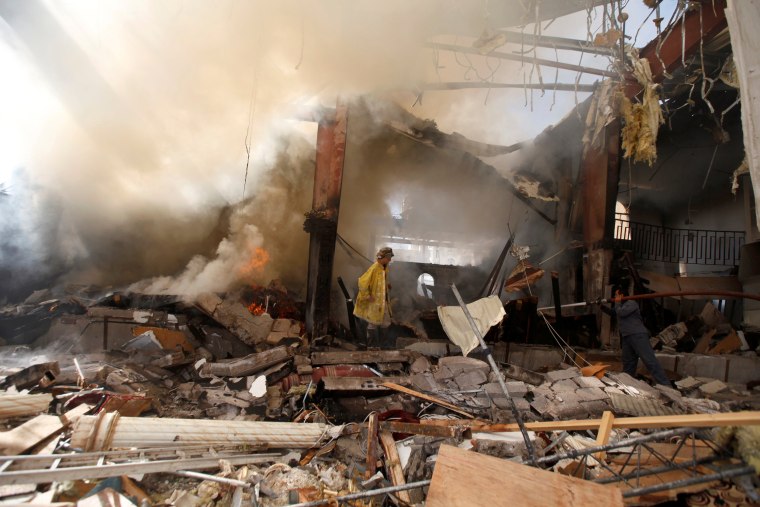 Saudi Arabia, which supports Hadi's government, began conducting airstrikes in Yemen in March of 2015, when the conflict intensified. The Houthis are alleged to be backed by Iran, Saudi Arabia's rival.
Related: American Hostages Released by Yemen Rebels, Sec. Kerry Says
The coalition said in a statement on Saudi Arabia's state-run news agency that it accepted the results of the investigation and regrets the attack.
"The coalition command expresses its regret at this unintentional incident and the ensuing pain for victims' families," the statement on the Saudi Press Agency said.
The airstrike on the funeral gathering was condemned by the United Nations Commissioner on Human Rights as "outrageous" and the strike caused the U.S. to announce an "immediate review" of its support for the Saudi-led campaign.
"JIAT has found that because of non-compliance with Coalition rules of engagement and procedures and the issuing of incorrect information, a Coalition aircraft wrongly targeted the location, resulting in civilian deaths and injuries," the statement from the JIAT said.
Related: Who Are Yemen's Houthis And What Do They Want?
More than 4,000 civilians have been killed since the conflict in Yemen intensified in March of 2015 the Office of the U.N. Commissioner on Human Rights said Monday.
The U.S. early Thursday Yemen time conducted airstrikes against radar facilities after missiles were fired at a U.S. Navy destroyer in international waters off the coast.
The USS Mason late Saturday was again targeted by at least one cruise missile, officials said. None of the missiles struck the ship.