Yemeni forces, helped by the United States and at least two American drone strikes, killed more than 40 militants in airstrikes and raids over the weekend, sources from both countries confirmed to NBC News on Monday.
The campaign is the most aggressive counterterrorism activity in Yemen in months.
But there is no indication that any top al Qaeda leaders were killed, U.S. officials said. The bodies of some militants who were killed have been flown to the Yemeni capital of Sana'a for DNA testing, the officials said.
The officials said that Yemeni forces launched the attacks because intelligence showed that al Qaeda elements were preparing attacks against Yemeni and foreign installations and assets in Yemen, the U.S. officials said.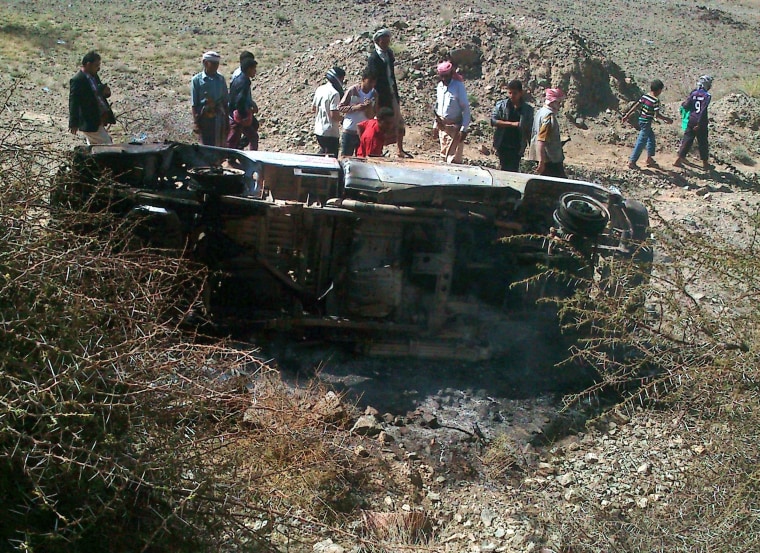 The officials would not or could not say whether intelligence pointed to attacks against the U.S. Embassy.
A Yemeni official told NBC News that the counterterrorism operations were carried out in three phases:
— The first phase began Saturday morning, with an airstrike on a militant vehicle that the official said was part of a terrorist training camp. The source said 10 militants were killed along with three civilians. Five civilians were hurt.
— In the second phase, the camp itself was hit by airstrikes — three of them, from the predawn Sunday until after daybreak. The camp was not a "brick-and-mortar facility," the official said, but had vehicles and weapons caches. At least 24 militants were killed.
— In the third phase, Yemeni commandos raided suspected high-value al Qaeda targets believed to be leaders of al Qaeda's Yemen affiliate. Identification was still underway, but the Yemeni source said it did not appear any top militants were killed.
— Jim Miklaszewski, Richard Engel, Courtney Kube and James Novogrod