A Saudi-led coalition airstrike hit a funeral hall packed with thousands of mourners in Yemen's capital Saturday, killing over 140 people and wounding more than 525 others in one of the deadliest single attacks of the country's civil war, a U.N. official said.
Saudi Arabia announced early Sunday that it would launch an investigation into "reports about the regrettable and painful bombing" in Sanaa, without acknowledging that its coalition battling rebels in Yemen is the only force with air power in the conflict.
Thousands of Yemenis marched outside the U.N. building in Sanaa, urging an independent investigation and blaming the United Nations for not ending the conflict. Some protesters brandished automatic weapons, and rebel supporters in the crowd called on people from the region to rise up and attack Saudi Arabia.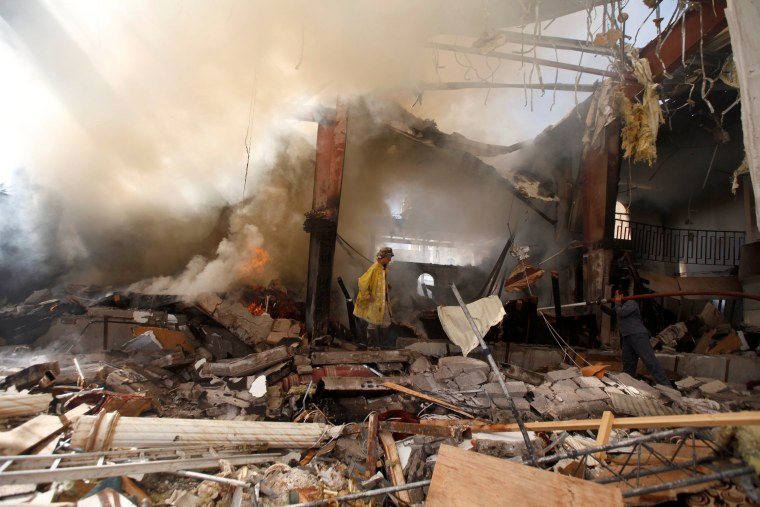 U.N. Secretary-General Ban Ki-moon condemned the bombing in a statement, saying, "Any deliberate attack against civilians is utterly unacceptable. ... Those responsible for the attack must be brought to justice."
It is the latest in a string of bombings by the coalition that have struck hospitals, markets and other places where civilians congregate.
"The place has been turned into a lake of blood," said one rescuer, Murad Tawfiq.
Yemeni officials said the dead and wounded included military and security officials from the ranks of the Shiite Houthi rebels fighting the internationally recognized government of President Abed Rabbo Mansour Hadi and their allies, loyalists of former President Ali Abdullah Saleh.
Saturday's funeral was held for Sheikh Ali al-Rawishan, the father of Galal al-Rawishan, the interior minister in the rebel-led government. Among those killed was Maj. Gen. Abdul-Qader Hilal, head of the capital's local council, officials said, while Galal Al-Rishwan was seriously wounded.
In the aftermath of the strike, hundreds of body parts were found strewn in and outside the hall. Rescuers collected them in sacks. The strike left the building little more than a shell, with most of its walls and roof gone. Cars parked outside were mangled by the blast.
Mohammed Abdul-Salam, the Houthis' spokesman in Sanaa, angrily denounced the airstrike as the latest act of "genocide" by the Saudi-led coalition.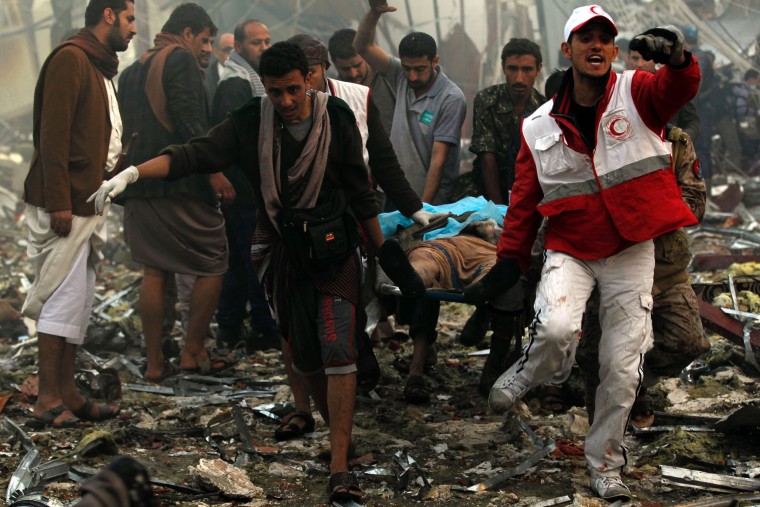 "The silence of the United Nations and the international community is the munition of the murderers," he said. "Those murderers will not escape divine justice."
In a statement early Sunday, Saudi Arabia said an investigation would be launched.
Jamie McGoldrick, the U.N. humanitarian coordinator in Yemen, said in a statement that the relief community in the country is "shocked and outraged" by the airstrikes. He condemned the "horrific attack" and reminded all parties to the conflict "that under international humanitarian law, they are obliged to protect civilians and civilian infrastructures." He called for an immediate investigation.
"The international community must exert pressure and influence on all parties to the conflict to ensure civilians are protected," McGoldrick said. "This violence against civilians in Yemen must stop immediately."