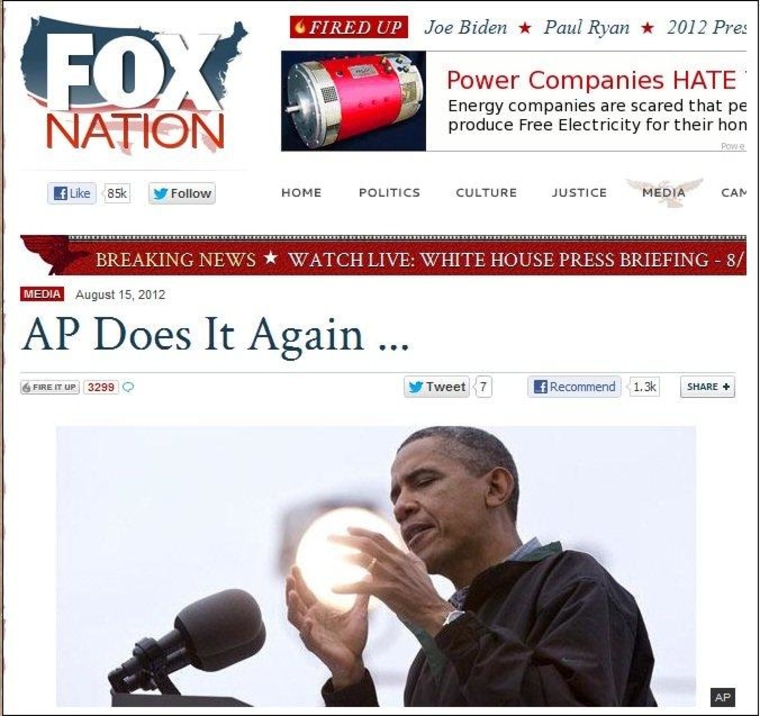 Fox Nation is angry -- I know, I know, redundant -- at the Associated Press for, in the network's view, repeatedly portraying President Obama as either an all-powerful wizard (see Buzzfeed) or a halo-headed angel-in-chief. The actual Fox Nation headline? "AP Does It Again..."
Two thoughts:
1). Fox Nation vents its outrage over these photos by ... showing these photos again, four of them! Don't the good people of Fox Nation realize the political damage this could cause?  Undecided swing state voters will take one look and think to themselves, (forehead slap), "Of course -- President Obama is a wizard!!! That changes my entire world view! You have not only my vote, President Obama Halo Wizard, but my lifelong fealty, too, sir! Please, take my guns and implement whatever healthcare system you deem fitting!"
2). If Fox Nation is so confident that the Romney/Ryan ticket is an unstoppable juggernaut, why, exactly, start attacking A.P.? If this isn't the bottom of the barrel, you can definitely see it from here.