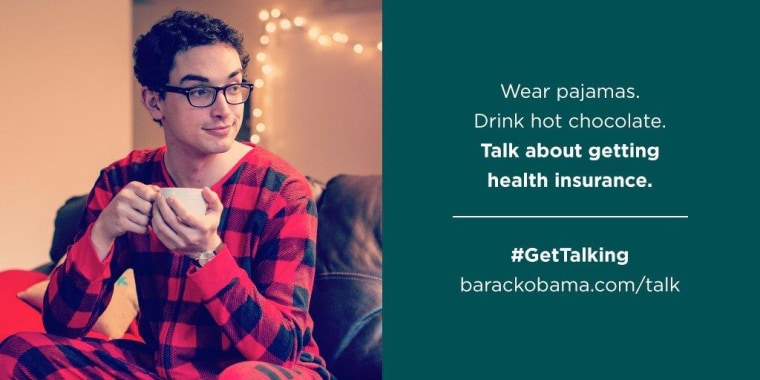 A lot of people don't like the persona that has become "Pajama Boy," whoever he really is.
Ahead of Monday's deadline for people without health insurance to sign up for Jan. 1 coverage, Organizing for Action, the president's former campaign arm supporting his presidential agenda, sent out a tweet urging people to sign up that sparked all kinds of debate.
As part of an ongoing campaign using the president's Twitter handle (@BarackObama) to try and reach young people, the Tweet showed a young man in red-plaid pajamas holding a mug and donning a wrist watch and a smirk, with the message:
"Wear pajamas. Drink hot chocolate. Talk about getting insurance."
It included the hashtag #GetTalking. It certainly has done that and more, triggering (mostly) conservative reaction.
New Jersey Gov. Chris Christie (R) mocked the campaign telling people to "get out of your pajamas" and go volunteer.
Rep. Steve Stockman (R-TX), running to Sen. John Cornyn's right in Texas, pasted Cornyn's head onto Pajama Boy's body and zinged, "Talk about how you killed Ted Cruz's filibuster and voted to fund Obamacare."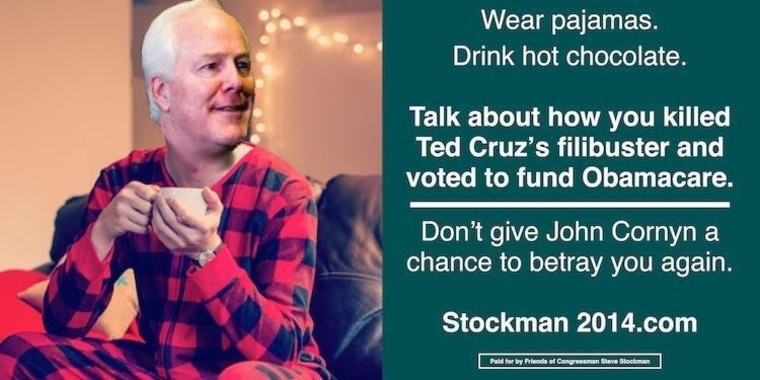 Conservative writer Rich Lowry called "Pajama Boy" an "insufferable man child," who is "so nerdy he could guest-host on an unwatched MSNBC show," and goes so far as to draw out the "breakdown of marriage" as the reason people like "Pajama Boy" exist while quoting Tocqueville.
The Daily Caller's Matt Lewis creates "Two Americas," pitting "Pajama Boy" vs. "Duck Dynasty." (Conservatives are out defending the reality show's protagonist after getting fired for expressing anti-gay views to GQ magazine.)
Charles C.W. Cooke in National Review took it all very seriously, calling "Pajama Boy" the "Obama Machine's Id," a "metrosexual hipster in a plaid onesie who wants you to spend your precious Christmas days talking to him about the president's vision for health insurance." He also invoked the Founding Fathers.
All of this "outrage" misses the point.
During the 2012 campaign, the Obama campaign bombarded supporters with provocative, if not downright creepy, email subject lines. (Remember: "Sometime soon, can we meet for dinner?" Or: "You, me, and Michelle?")
Those were often derided on Twitter, mocked by Jon Stewart, and called "desperate."
But they were among the most successful marketing and fundraising devices employed during the campaign. And no campaign has shown a better sensibility about what breaks through with young people.
That is vitally important if the law is going to be financially viable. The White House, before the website rollout debacle, stressed that it needed a three-to-one ratio of older-and-sicker versus young-and-healthy people to sign up for the law.
And the underlying message in this tweet -- part of a light-hearted campaign that included the same model with his feet up on a coffee table smiling in a Christmas sweater -- in many ways, is: "DON'T be like this guy. Get health care."
"Don't be this guy sitting around in his pajamas," a Democratic official told First Read said of the message, who requested anonymity to talk freely. "Have a conversation, and get health care. And it's poking fun at that" idea of doing nothing.
The official added that this is a way to try and reach a demographic that can be "hard to break through" with.
"Young people are going to be home, and this [getting health care] is a conversation they should have," the official said. "They shouldn't be this guy."
At the end of the day, "It's spurred a conversation," the official said. "The whole point is to get people talking about the enrollment process."