By Jeff Cox, CNBC
The battle to boost the minimum wage escalated Thursday when thousands of workers at hundreds of fast food restaurants in 50 U.S. cities walked off the job to demand decent pay.
From San Diego to New York, workers stopped flipping burgers, frying fries, and slathering on secret sauce in what organizers called the largest strikes against the nation's fast food companies ever.
"You're trying to go up and you're just going down," said protester Shantel Walker, 31, of Brooklyn who makes $7.25 working at a Papa John's in Manhattan. "All of us are in the same financial crunch. We're trying to take care of our families and our livelihood."
The strikes mark the latest salvo in a nearly year-long battle to get not only higher wages but also an opportunity to unionize without facing retaliation from employers. The workers' ire is at the heart of a politicized debate to raise the country's minimum wage that eventually may be decided in Washington.
U.S. Labor Secretary Thomas Perez told The Associated Press the strikes were a sign of the need to raise the minimum wage. "For all too many people working minimum wage jobs, the rungs on the ladder of opportunity are feeling further and further apart," Perez said.
Workers are demanding that the $200 billion fast-food industry more than double starting salaries to $15 an hour from the current $7.25 an hour minimum wage and the $8.94 median wage for front-end workers.
New demographic of workers
Workers mobilized in cities from Alameda, Calif., to West Haven, Conn., and across the nation, including several demonstrations in New York City. To date, strikes have been held one city or the other, or in regions, but nothing like Thursday's national push, according to organizers.
About 200 workers marched through the midtown Manhattan McDonald's on Thursday morning, and more gathered downtown in the Financial District. As the streets became more crowded with protesters beating drums and blowing loud whistles, police struggled to keep traffic moving.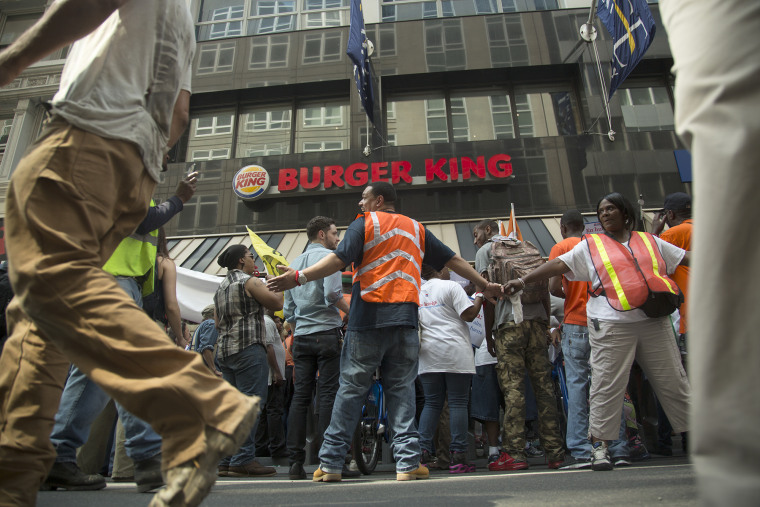 The strike comes as a growing number of minimum wage fast food workers are not teenagers, but adults trying to support families, particularly since the Great Recession. Only 16 percent of fast food industry jobs now go to teens, down from 25 percent a decade ago. More than 42 percent of restaurant and fast-food employees over the age of 25 have at least some college education, including 753,000 with a bachelor's degree or higher, according to the U.S. Bureau of Labor Statistics.
Janul Dixon, 35, came out on Thursday to offer his support to the workers. He used to work at Wendy's for a low wage, but has since found employment as an exterminator. "They need to allow people to make enough to support their family," he said. "In New York everything is going up but wages are not."
Industry defense
The National Restaurant Association has countered that only about 5 percent of fast-food workers earn the minimum wage. Other defenders of the industry note that increased wage costs will be passed onto consumers.
"The restaurant industry provides opportunity to over 13 million Americans with jobs that meet critical needs within our economy. We welcome a national discussion on wages, but it should be based on facts. The restaurant industry is the nation's second largest private sector employer and our industry is an industry of opportunity," said Scott DeFife, executive vice president of policy and government affairs at the National Restaurant Association.
"Nine out of ten salaried restaurant workers, including owners and managers, started as hourly workers. The fact is, only five percent of restaurant employees earn the minimum wage and those that do are predominantly working part-time and half are teenagers," DeFife added.
In The Wall Street Journal on Thursday, the conservative Employment Policies Institute ran a full-page ad with a picture of a robot making pancakes, warning that higher wages would mean "fewer entry-level jobs and more automated alternatives."
"You can either raise prices and lose customers, or (automate) those jobs," said Michael Saltsman, EPI's research director, adding that "the idea that restaurants are rolling in the money is not representative of the situation franchisees face."
Related content:
'By the grace of God': How workers survive on minimum wage
Looking for a big increase in the minimum wage? Don't bank on it