The daughter of a former Russian spy, who with her father was poisoned with a rare military-grade nerve agent in Britain earlier this month, is no longer in critical condition and "improving rapidly," the hospital treating the pair said Thursday.
"I'm pleased to be able to report an improvement in the condition of Yulia Skripal. She has responded well to treatment but continues to receive expert clinical care 24 hours a day," Dr. Christine Blanshard, medical director for Salisbury District Hospital, said in a statement.
Sergei Skripal, 66, and his daughter were found unconscious on a bench in Salisbury, a city 90 miles west of London, on March 4. The elder Skripal remains in critical condition but is stable, the hospital said.
The medical update came a day after British authorities said they believe that the Skripals were first exposed to the nerve agent at the front door of their home. Detectives will focus their investigation on that location.
The investigation into the attempted murders has become "one of the largest and most complex investigations undertaken by British counterterrorism policing," the Metropolitan Police said Wednesday.
The former double agent and his daughter, who is in her early 30s, are at the center of a growing diplomatic dispute between Russia and Western powers. Britain blames Moscow for the attack, and it has expelled 23 Russian diplomats allegedly working as undeclared intelligence officers.
In retaliation, Russia said it would oust 23 British diplomats and revoke permission for the U.K. to build a British consulate in St. Petersburg.
The United States, for its part, has also said it will dismiss 60 Russian diplomats. Nikki Haley, the U.S. ambassador to the United Nations, has said the Security Council should hold the Kremlin "accountable."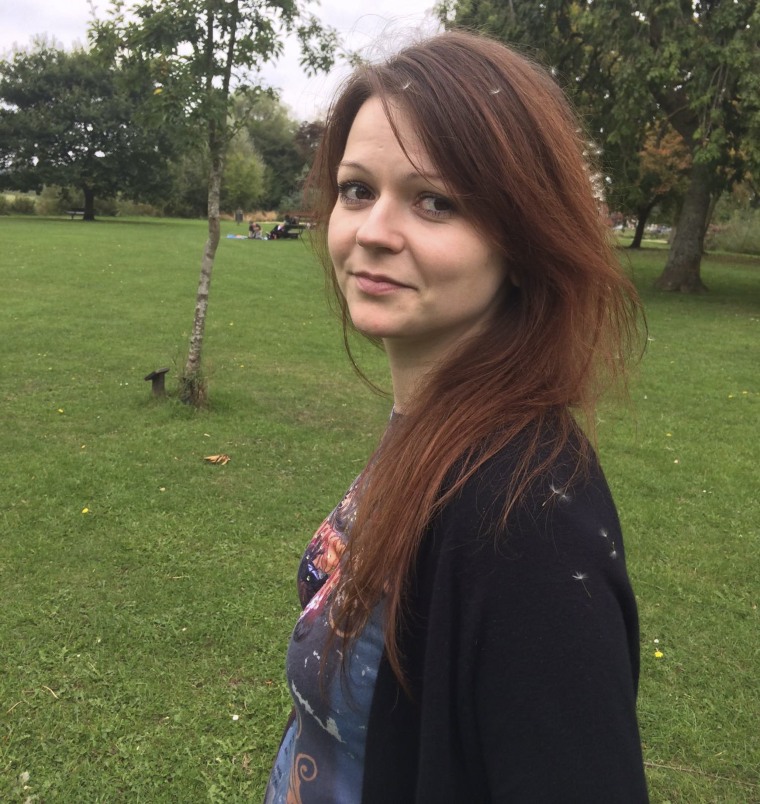 Russia has vociferously denied any involvement in the attack, the first known offensive use of a nerve toxin in Europe since World War II.
The elder Skripal is a former Russian military officer who was sentenced to 13 years in prison after being convicted in 2006 of spying for Britain. He passed the identity of dozens of spies to the U.K.'s foreign intelligence agency, according to news reports.
He was freed in 2010 as part of a U.S.-Russian spy swap that also included spy Anna Chapman, who was arrested in New York earlier that year.