LONDON — The big question hanging over the high-profile NATO summit this week is whether Ukrainian President Volodymyr Zelenskyy will show up. 
The answer could either prove a galvanizing moment for the West in its support of Kyiv against Russia, or a humiliation. Though invited, Zelenskyy has yet to confirm his attendance, with his officials saying he is not yet clear about what was being promised at the summit. 
Zelenskyy's last-minute decision shines a spotlight on the divisions between Kyiv and its foreign backers as the war passes its 500th day.
The central disagreement: whether to invite Ukraine to join NATO, and, if so, when and how.
The two-day summit opens Tuesday in Lithuania, a former Soviet republic that today is one of the most outspoken critics of Russia's war in Ukraine. 
President Joe Biden, who stopped in London on Monday en route to Vilnius, the Lithuanian capital, has said he doesn't think Ukraine is ready for full NATO membership. 
Biden told CNN's Fareed Zakaria that discussion around Ukraine imminently joining NATO was premature, but he said the U.S. and its allies in NATO would continue to provide Kyiv with weaponry and support to end the war.
"I don't think there is unanimity in NATO about whether or not to bring Ukraine into the NATO family now, at this moment, in the middle of a war," Biden said. 
Ukraine's joining NATO as the war rages, in the eyes of the U.S. and other allies such as Germany, would risk a full-blown conflict with a nuclear-armed Russia.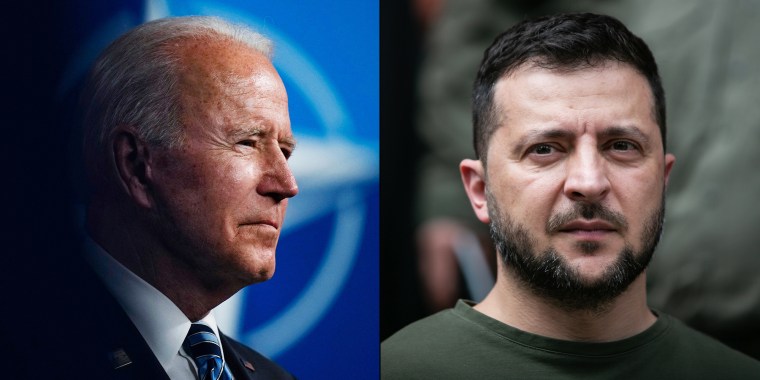 As national security adviser Jake Sullivan said at a briefing Friday: Biden "has been clear that we are going to support Ukraine for as long as it takes," but "we are not seeking to start World War III."
NATO's central pillar is Article 5 — the "all for one and one for all" clause that suggests allies, and namely the colossal U.S. military, will come to the aid of any fellow member that is attacked.
As such, it's unlikely that any concrete commitments on this front will emerge from the Vilnius event. But Ukraine is nevertheless looking for verbal guarantees that extend beyond what it sees as the timid and vague assurances offered so far. 
Zelenskyy's office did not immediately respond to NBC News' requests for comment on whether Zelenskyy would attend. 
"It's been very clear that Ukraine wants some enhanced statement, rather than just a reaffirmation of the open-door policy," said Neil Melvin, director of international security studies at the Royal United Services Institute, a London think tank. "But I think that the time frame will remain open and tied very much to when the war ends." 
For Ukraine, this is not just about its own safety but also providing a bulwark against Russia trying to invade other countries farther into Europe. Zelenskyy has been adamant since the early days of the war that Ukraine needs to join NATO for any long-term peace agreement to hold not only within Ukraine, but beyond its borders. 
His country has been given promises in the past that have not borne fruit. In 2008, Ukraine and the former Soviet republic of Georgia were both told that they would become members of the alliance. But crucially they were not given what's known as a "Membership Action Plan," a formal pathway for any would-be NATO member. 
Membership never happened for either country. And later that year Russia was at war with Georgia, and in 2014 made its first incursion into Ukraine and annexed its Crimea Peninsula.
So it's against this backdrop that Zelenskyy appears to be willing to stage something of a grand statement — snubbing his invitation as an honored guest — unless tangible assurances are offered.
There were encouraging signs for Kyiv on Monday. 
Ukrainian Foreign Minister Dmytro Kuleba tweeted that NATO had "reached consensus" on removing the Membership Action Plan requirement from Ukraine's path into the alliance. Kuleba said it "shortens" Ukraine's path to NATO and is the "best moment" to offer clarity on a membership invitation. There was no immediate comment from NATO. 
But NATO Secretary General Jens Stoltenberg said Friday that he expects the summit to yield a three-point package to bring Ukraine closer to NATO: a multiyear program of assistance, increased political ties and "reaffirmation that Ukraine will become a member of NATO."
It comes at a key time for Ukraine, which is in the middle of a counteroffensive to reclaim territory occupied by Russia, itself apparently weakened by the brief Wagner rebellion last month. But with the counteroffensive going slower than planned, Ukraine is grasping for anything that could help turn the tide, including cluster munitions, which Washington last week agreed to provide after months of hesitation over the moral and reputational implications of supplying and using such weapons. 
The weapons have been banned in more than 100 countries because they pose a life-threatening danger to civilians long after conflict, and the White House suggested last year that Russia's use of them in Ukraine was a potential war crime.
Meanwhile a poll released Monday by the Kyiv International Institute of Sociology suggested 89% of Ukrainians want their country to join NATO, a desire that has grown steadily since Crimea was annexed in 2014 and a military conflict broke out in the country's east.
And yet, while war rages, the possibility of full membership for Ukraine looks distant.
"I can't see any prospect for Ukraine joining NATO before" there is "at the very least the liberation of all occupied territories," said Mark Galeotti, who heads the Russia-focused consultancy Mayak Intelligence. "No one wants, in effect, to commit NATO to war with Moscow."
Nevertheless it's an idea that, in theory at least, does have support among some Western allies. And to firm up that support this week, Zelenskyy went on a diplomatic offensive, touring several NATO member capitals. Turkey, NATO's largest army after the U.S., and Czechia are among the countries that have recently said they back Ukraine's accession as soon as conditions allow. 
Ukraine knows it can't change NATO's mind at such short notice, according to Volodymyr Fesenko, a Ukrainian political analyst, but Zelenskyy wants to show Biden that he has "sufficiently massive support of Ukraine's NATO membership among" its member countries, Fesenko wrote in an analysis posted on Facebook. Appearing in person would be crucial to that, Fesenko said.
Other experts also said that it is in the Ukrainian president's interests to show his face at the summit in Vilnius rather than stage a high-profile boycott.
Lt. Gen. Ben Hodges, a former commander of the U.S. Army in Europe, says he is "sure that President Zelenskyy will appear in Vilnius" so he can have some influence over the talks.
"He can see and sense the growing support for Ukrainian membership" and "he knows that this is a long process, yet his support across NATO is growing," said Hodges, who supports the country joining the alliance. 
"He will be there in Vilnius to demonstrate his determination, his calm, poised leadership and to remind everyone of the courage and sacrifice of Ukraine, from which all of Europe is benefiting," he said.