The decades-long rule of President Robert Mugabe appeared to be at an end Wednesday after Zimbabwe's military took over state television to announce that he was in custody.
Army chiefs told viewers that the 93-year-old Mugabe — the world's oldest head of state — and his family were "safe and sound" as tanks were seen on the streets of the capital, Harare.
The U.S. Embassy was closed to the public Wednesday and encouraged citizens to take shelter, citing "the ongoing political uncertainty through the night."
"We can confirm that there is an increased military presence in the city, and we encourage American citizens to stay safely inside at home or your hotels until things clam down a bit," Jen Savage, the deputy chief of mission in Harare, said in a video posted to Twitter.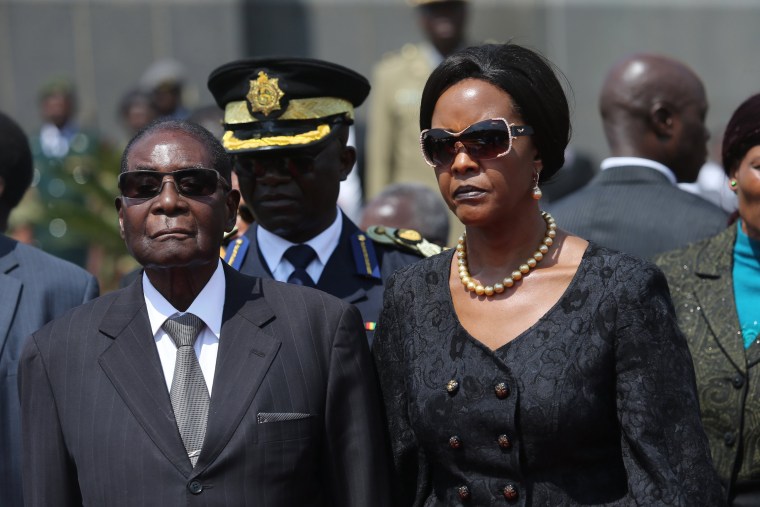 The State Department said it was "concerned by recent actions undertaken by Zimbabwe's military forces." It said the United States "does not take sides in matters of internal Zimbabwean politics and does not condone military intervention in political processes."
Neither Mugabe nor his wife, Grace, who had been lined up to succeed him, have been seen for several days. However, the military insisted that there had not been a coup.
"We wish to make it abundantly clear that this is not a military takeover," Maj. Gen. Sibusiso Moyo said in a national address Wednesday after taking control of the Zimbabwe Broadcasting Corporation.
After he "guaranteed" the security of Mugabe and his family, Moyo said: "We are only targeting criminals around him who are committing crimes that are causing social and economic suffering in the country in order to bring them to justice. As soon as we have accomplished our mission, we expect that the situation will return to normalcy."
Jacob Zuma, president of neighboring South Africa, said he had spoken by phone to Mugabe, who was confined to his home, and to Zimbabwe's military chiefs.
"I hope that they will be able to respect the constitution of Zimbabwe so that this situation does not go beyond the situation where it is now," Zuma said.
Soldiers stationed themselves at key points in Harare while Zimbabweans formed long lines at banks to withdraw cash — a routine chore in a country plagued by economic crisis and hyperinflation. Overnight, at least three explosions were heard.
It was not clear whether the military planned to permanently remove Mugabe, who has been in power since the end of white minority rule in 1980, or whether it simply wanted to prevent Grace Mugabe from assuming power.
"We knew that a day such as this one was on its way," said Promise Mkwananzi, spokesman for the opposition pressure group Tajamuka and a former leader of the Zimbabwe National Students Union. "It was only a matter of time."
'The Crocodile' to be installed as president?
He speculated that army chiefs would install a pro-military leader such as Emmerson Mnangagwa, whom Mugabe fired last week as vice president.
They might even allow Mugabe "to continue as a figurehead president," Mkwananzi said.
Mnangagwa, 75, is a former Mugabe ally who earned the nickname "Ngwena," or "The Crocodile," after leading a group of fighters called the Crocodile Gang during the country's pre-1980 war of independence, Voice of America reported. He was sentenced to death for blowing up trains in the 1960s but was never executed because of his young age.
"This is a coup. There's no question about that."
The military move came after army commander Constantino Chiwenga threatened to "step in" to calm political tensions. Mugabe's ruling party, ZANU-PF, responded by accusing the general of "treasonable conduct." But now Chiwenga appears to be in control.
Tendai Biti, leader of the opposition People's Democratic Party, said: "If it fluffs like a duck, waddles like a duck, then it's a duck. This is a coup. There's no question about that."
He added: "The real issue now is how do we go back to our former, legitimate legal order, and in my view this is the time to introduce an inclusive national transitional authority that will establish a road map towards a democracy."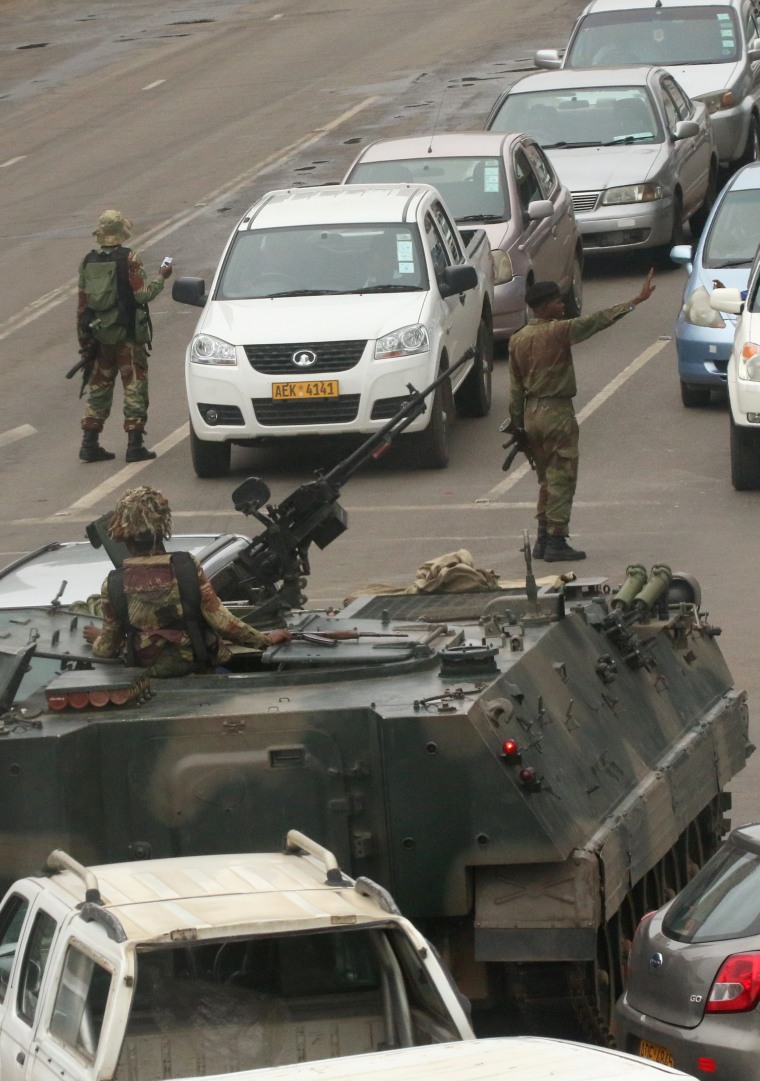 Frustration has been growing in once-prosperous Zimbabwe as the economy collapsed under Mugabe after 37 years of near one-party rule. The country was shaken last year by the biggest anti-government protests in a decade.
Chris Mutsvangwa, leader of Zimbabwe's influential war veterans, pinned the blame on Grace Mugabe.
"It's the end of a very painful and sad chapter in the history of a young nation, in which a dictator, as he became old, surrendered his court to a gang of thieves around his wife," he told Reuters.
David Coltart, a human rights lawyer and former minister in Zimbabwe, said the military intervention was unlikely to bring significant change — but he did offer some hope to wearied citizens.
"It's a reversal of Mugabe's desire to create a Mugabe dynasty, no doubt about that," he told Britain's ITV News. The military behind this action have been "limited participants" in politics, he said, and "unless they've changed their colors, it won't necessarily result in a transition to democracy."
Under Mugabe's rule, people believed the country's economic crisis would continue to worsen, Coltart said. "I think this gives them some hope that the country may stabilize or that the military will, in effect, allow a transition to a new democratic order."
Mugabe's latest five-year term began in 2013 after elections that the United States said were flawed. Washington said it had no plans to loosen sanctions until there were signs of change in the country.
Mugabe told his critics to "go hang," and reportedly served elephant meat at his 91st birthday celebrations.
The Zimbabwe Peace Project reported a near 50 percent month-to-month increase in human rights violations in July, the latest period for which it had figures. Violations included "political rights, right to personal security, freedom of association, freedom from arbitrary eviction, property rights and the right to food among others," it said.
CORRECTION (Nov. 15, 1 p.m.): An earlier version of this article misstated Emmerson Mnangagwa's age. He is 75, not 71.