Five years ago, Africa's oldest head of state was re-elected president after a wave of violent attacks persuaded his main rival to quit the race.
This time around the 89-year-old Robert Mugabe is deploying a rather different tactic to extend his 33-year grip on power in Zimbabwe: sex.
Opposition candidate Morgan Tsvangirai has survived at least three assassination attempts, including one in which unidentified assailants tried to throw him from a 10th floor office window, and was savagely beaten after he was detained by police in 2007.
But he is now coming under attack over his alleged love life in a series of ads on the country's state-controlled and only television station.
One ad by Mugabe's Zanu-PF party features footage of Tsvangirai's Nosipho Shilubane, a South African widely reported to have been his lover.
She decried Tsvangirai in an interview with South Africa's E News Channel last year, saying he told her to be patient, only to ditch her with a text message.
"I received a message from an unknown number that said the relationship was terminated," Shilubane says. "At an age of 60, you dump women with SMSes? Then what do the young ones do?"
In a radio ad, two unidentified women talk about the election and one says she couldn't vote for Tsvangirai "in good conscience" because he is "busy impregnating 20-year-old girls and then refusing to take care of those kids."
It is unclear whether any of these claims are actually true.
A spokesman for Tsvangirai's Movement for Democratic Change called Zanu-PF's tactics "desperate."
The 61-year-old himself has urged the electorate to "make a choice between despair and hope."
"If you want hope, a better life and freedom then vote for the MDC, but if you want the status quo of suffering then vote for Zanu-PF," he told crowds at a recent rally.
Tsvangirai's wife Susan died in a 2009 car crash in which he was also hurt. He married Elizabeth Macheka, 35, in 2011.
Tsvangirai won the first round of the 2008 presidential election, but the brutal crackdown on Mugabe's opponents only got worse. Human rights groups said at least 86 people died and some 200,000 were forced from their homes.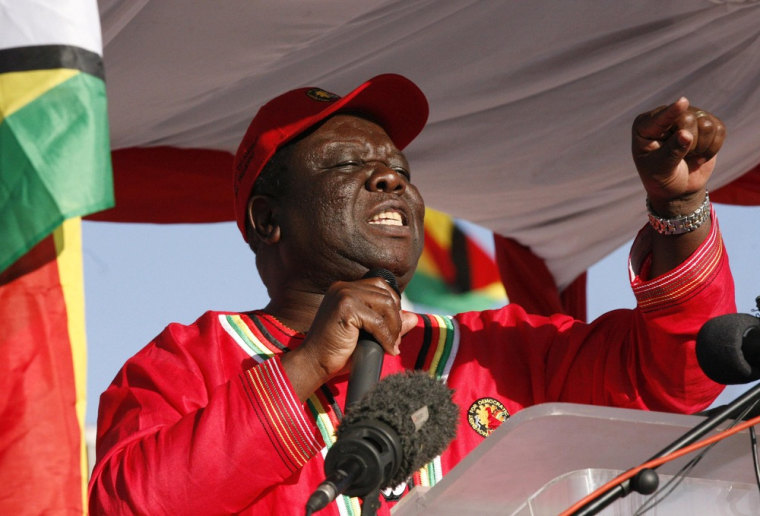 The violence prompted Tsvangirai to stand down as a candidate, but after lengthy international mediation he became prime minister in a fractious coalition government the following year.
Knox Chitiyo, an associate at British think tank Chatham House, said the stakes were high in Wednesday's election.
"Were Mugabe to lose, it could trigger his retirement," he said, adding it was also "all or nothing for Tsvangirai," who has failed twice to unseat his opponent.
"If he wants to remain a player in Zimbabwean politics, he needs to win," he said.
"If he loses, his career is in jeopardy as well because people are not going to wait another five years. So both parties could face a succession issue," he added.
Ahead of the vote, there have been fewer violent incidents reported than in previous years.
"The country is peaceful," said the Zanu-PF's, deputy director of communications, Psychology Maziwisa. "There is virtual peace in this country and tolerance. You cannot use violence as an excuse anymore."
But an Amnesty International report accused Zimbabwean police of arresting and "intimidating human rights defenders."
Among those taken into custody was the award-winning human rights lawyer Beatrice Mtweta, who has been internationally recognized for her defense of journalists and press freedom.
Police charged her with "obstructing the course of justice" over an incident when they tried to arrest some of her clients.
"The clampdown on the work of human rights defenders is a worrying indicator that government agencies remain actively hostile to civil society," said Noel Kututwa, Amnesty International's Africa deputy program director.
The United States also said it was "deeply concerned" by the lack of transparency in the preparations for the election. 
Patrick Ventrell, a spokesman for the U.S. State Department, said the election was not seen as credible.
The Southern African Development Community has called for Mugabe to delay the elections to allow time for reforms to the official list of voters.
"We are concerned because things on the ground are not looking good," Lindiwe Zulu, a special adviser on Zimbabwe to South African President Jacob Zuma, told Reuters on July 18.
Mugabe labeled Zulu "stupid and idiotic," branded American concerns "absolutely insane" and said he would rather withdraw from the SADC than postpone the election.
African research group Afrobarometer said that Mugabe, in power since the country gained independence from the U.K. in 1980, had narrow lead going into the election with 33 percent for Zanu-PF, 30 for the MDC, and the rest unsure.
"Whoever wins, I just hope the country has peace," Zulu added. "The people deserve that."
Reuters contributed to this report.