At his bail hearing today, a shackled George Zimmerman wearing a jacket and tie took the stand and apologized to Trayvon Martin's family. 
"I wanted to say, I am sorry for the loss of your son. I did not know how old he was. I thought he was a little bit younger than I am. And I did not know if he was armed or not," said Zimmerman, addressing Trayvon Martin's mother, Sybrina Fulton, and father, Tracy Martin, who attended the hearing. 
Judge Kenneth Lester set his bail at $150,000 and ordered Zimmerman to wear a GPS tracking device. He will be released from prison within in the next few days.
Before the bond was set, defense attorney Mark O'Mara dissected the prosecution's affidavit paragraph by paragraph, questioning one of the State Attorney's investigators about the details of what happened the night Trayvon Martin was killed. The sentence that received the most attention from O'Mara was "Zimmerman confronted Martin."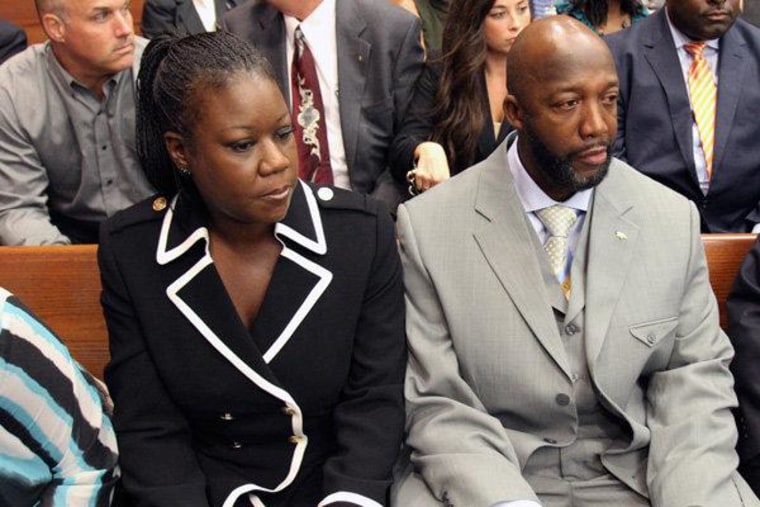 O'Mara asked investigator Dale Gilbreath why the State Attorney's office chose the word "confronted." O'Mara said, "I want to now know your evidence to support the word "confronted" if you have any."
Gilbreath acknowledged that another word could have been used, and O'Mara asked him to come up with "less antagonistic" words.
"Met, came up to, spoke with," said O'Mara. Gilbreath added his own words, "Got in a physical confrontation with."
At the beginning of the hearing, Zimmerman's wife and parents testified by phone on behalf of Zimmerman, who is charged with second-degree murder for killing 17-year-old Trayvon Martin.