CAESAREA, Israel — A golfer stands at the first tee, the fairway reflected in his mirrored sunglasses.
"Driver," Zohar Sharon's caddy Shimshon Levy says. Sharon swings, the club connects and the little white ball flies down the the fairway.
"And?" Sharon asks.
"Great shot, in the middle of the fairway," Levy replies.
Sharon, 62, has no idea where the ball is because he is blind. Still, he's an international champion having clinched his first title in the 2003 World Invitational blind golf tournament in Scotland, and four more titles since.
It has not come easily. Sharon began losing his sight at 25 after suffering a chemical accident as a conscript in the Israeli Defence Forces. His vision slowly deteriorated over the course of a few years.
One day his daughter came home from kindergarten with tears in her eyes, he told NBC News. Other children were pretending to be blind and laughing at her, she told him.
"That's when I decided, yes I'm blind but I'm not just a blind person," Sharon said. "I'm going to do something with my life. I studied law, I learnt how to paint."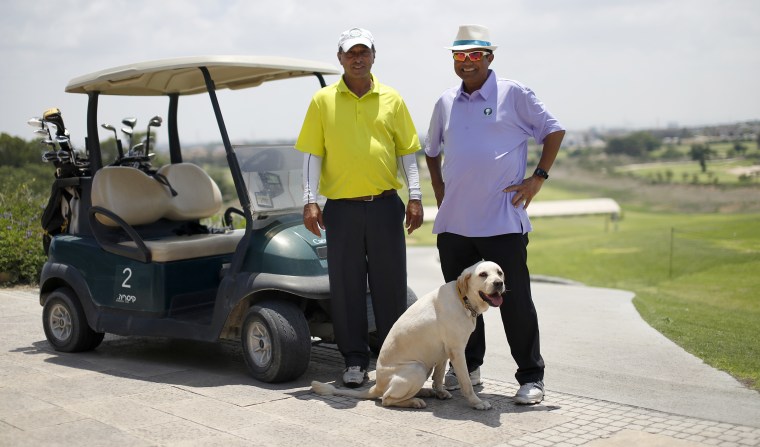 Then his marriage collapsed and another piece fell out of Sharon's life.
"I felt that I was a broken flowerpot, everything was in pieces," he said. "Golf has helped me glue those pieces together again."
It was his wife's divorce lawyer who got him into the game.
"He took a shoe box, placed it on the carpet and put a small radio behind it," Sharon said. "He switched the radio on and told me to putt the ball into the box."
It was difficult at first but soon Sharon was hooked.
The rest came as if it were meant to happen: Israel's only 18-hole course, Caesarea Golf Club, helped Sharon get full sponsorship — vehicles, training and equipment — after it became clear how naturally gifted he was.
Now he plays 10 hours a day, except on the Sabbath or when he's receiving hospital treatment.
Related: Device That Lets Blind 'See' With Tongue Approved
Local golf professional Boaz Segev vouches for Sharon's talent.
"When I see Zohar, the first word to come out of my mouth is 'wow," he said. "This game ... is so difficult for people that can see the ball, and this guy [who] cannot see anything goes out there, and he plays. And he has a low handicap, he hits the ball great, he chips the ball, he putts the ball into the hole better than many people that can see the ball."
Back on the green, Sharon stands alongside Levy and his guide dog, Venus.
"When do you learn?" he muses at the tee of the ninth after a poor previous hole.
He answers himself: "You learn when you fall and have to get up — this is what golf teaches me."