A Canadian zoo owner whose Bengal tiger starred in the "Life of Pi" resigned Wednesday after he was charged with five counts of animal cruelty.
The allegations first arose last December, after animal rights activists posted an undercover video online purporting to show the owner, Michael Hackenberger, whipping a tiger.
In a statement posted late Wednesday to the Bowmanville Zoo's Facebook page, Hackenberger said that while he was "not guilty of the charges" against him, "the welfare of the zoo and the animals that it serves has always been my principal concern. To this end I am standing down from the position of Director of Bowmanville Zoo until such time as this legal matter is resolved."
The Ontario Society for the Prevention of Cruelty to Animals, which has legal authority in animal welfare cases, filed the charges against Hackenberger after spending "significant time reviewing the facility and interviewing all involved," the group said in a statement.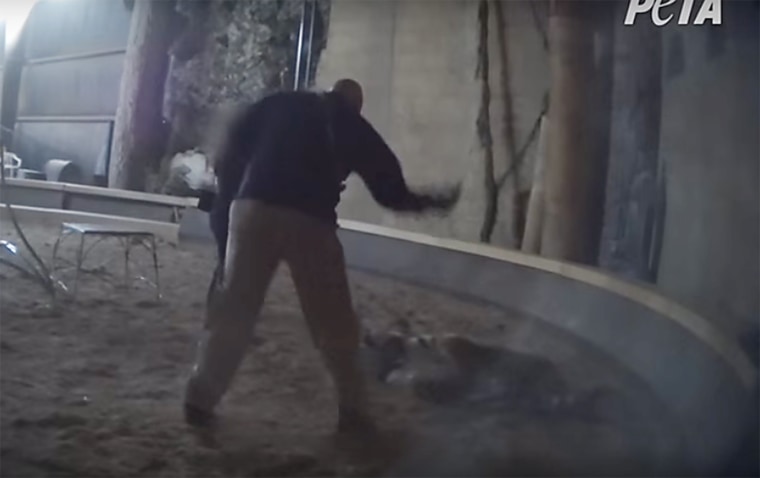 Hackenberger was found to have struck the male Siberian tiger, Uno, in the face and elsewhere with a whip, the statement said, adding that he also caused "the animal distress by pushing his thumb into the animal's eye."
In the roughly one-and-a-half-minute video, which shows footage from a training session and was posted by People for the Ethical Treatment of Animals on Dec. 23, Hackenberger can be seen apparently whipping Uno repeatedly and swearing at him.
"The beauty of the paws being on the rock when you hit him, it's like a vise," he explains at one point. "It stings more."
He adds: "If we'd been running a videotape the whole time you were here, and you did a 45 second montage of the times I struck this animal, PETA would burn this place to the ground."
In a video response posted to the zoo's Facebook page the next day, Hackenberger accused PETA of fabricating footage, and he disputed the group's claim that he was "viciously" whipping the tiger, among other things.
"I got him twice," he said. "But after that, every whip of the whip you see, I do not strike the animal."
He adds that "a tiger will not lay on the ground and allow itself to be struck, as this videotape suggests. They'll turn around and they'll try to kill you. That's not what we're about."
If convicted, Hackenberger faces a maximum sentence of two years in jail, a $66,000 fine and a possible lifetime ban on owning an animal, Ontario SPCA spokeswoman Alison Cross told NBC News.
On its website, the Bowmanville Zoo claims to be the oldest private zoo in North America. In addition to "The Life of Pi," one of the zoo's elephants appeared in the Adam Sandler movie "Billy Madison," and two of its camels were the "The Thirteenth Warrior," with Antonio Banderas.