A Danish zoo that received death threats after it killed a young giraffe last month has now euthanized four lions.
The Copenhagen Zoo said Tuesday it put down two older lions and their two 10-month-old cubs to make room for a new male lion.
"Because of the pride of lions' natural structure and behavior, the zoo has had to euthanize the two old lions and two young lions who were not old enough to fend for themselves," the Copenhagen Zoo said in a statement, adding that the cubs would have been killed by the new lion "as soon as he got the chance."
The older lion and lioness were euthanized as part of a generational shift, it said. They were about 16 years old, the Copenhagen Post reported.
The four lions were put down Monday after the zoo failed to find a new place for them to live, a spokesman told the AFP news service.
Zoo officials hope the incoming male — who is three years old and will arrive within the next several days — will form a new pride with two female lions born in 2012.
The zoo killed a giraffe, 18-month-old Marius, with a bolt gun in February, arguing he needed to be euthanized to avoid in-breeding. Marius was then skinned, dissected and fed to lions as visitors, including some children, looked on.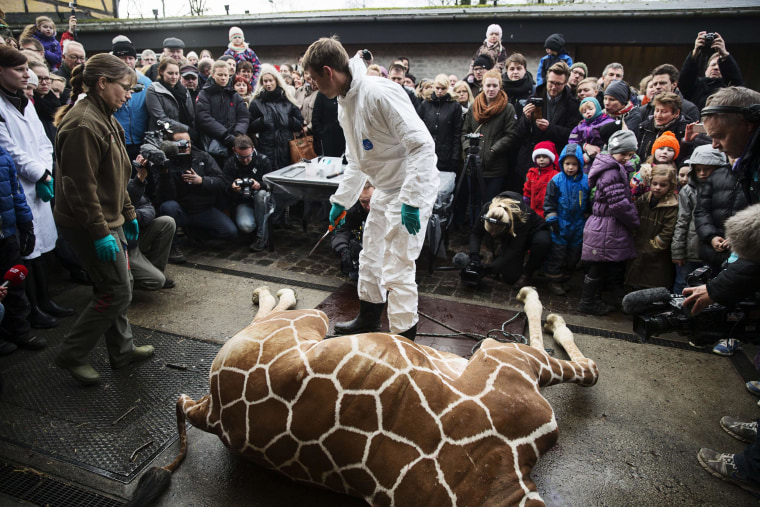 The killing stunned animal lovers around the world, who created an online petition to save Marius.
The Copenhagen Zoo spokesman told AFP the euthanized lions' corpses would not be on public display.
"Not all our animals are dissected in front of an audience," he said.
— Elizabeth Chuck