Officials at a zoo in Denmark say they received death threats after the zoo killed a young giraffe and fed its carcass to lions because the animal was "unwanted."
Copenhagen Zoo spokesman Tobias Stenbaek told The Associated Press on Monday that he and the zoo's scientific director, Bengt Holst, received multiple threats via telephone and email. They quoted one threat as saying: "The children of the staff of Copenhagen Zoo should all be killed or should get cancer."
The giraffe, 18-month-old Marius, was killed with a bolt gun, then skinned and fed to lions in front of park visitors — including some children.
Animal rights activists massed outside the zoo to protest the killing Sunday, local media reported, as gruesome photos of the public autopsy spread like wildfire across international social media amid public outrage.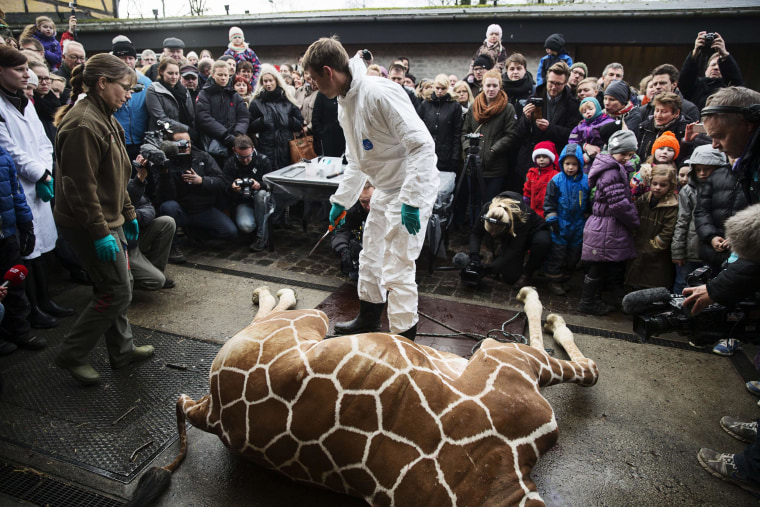 The zoo said Sunday that Marius was euthanized to avoid in-breeding.
"When breeding success increases, it is sometimes necessary to euthanize," Holst said on the zoo's website, adding that the decision led to a "debate."
The zoo also defended the public feeding as an educational demonstration about animals, according to the AP.
The organization Animal Rights Sweden told the AP that the case highlighted what they believe zoos do to animals regularly. "It is no secret that animals are killed when there is no longer space, or if the animals don't have genes that are interesting enough," the organization said in a statement. "The only way to stop this is to not visit zoos."
The Associated Press contributed to this report.
— Alastair Jamieson and Daniel Arkin