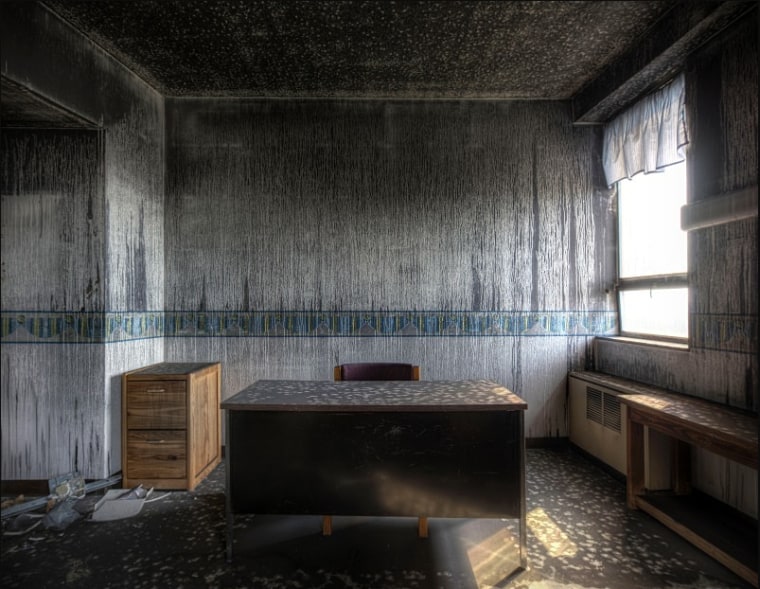 Reporter's notebook by Jane Derenowski, NBC News
Things sound different in a place where no one goes.   
Words echo off walls in empty rooms.  
Real or imagined creatures scurry through mysterious puddles.  
Shadows fall in strange places. 
Time doesn't stop in abandoned buildings, it just moves differently -- and before their ultimate demise, photographer Matthew Christopher is determined to document the life, purpose, and deterioration of these structures.
They aren't just brick and mortar, wood and windows -- Christopher believes the abandoned buildings dotting America's landscape also have something of a soul.  He wants us to remember our country's neglected factories, schools, churches, and hospitals before they are gone forever.
He started this project 10 years ago while working in the mental health field.  Some of his first photographs were inside a deserted asylum.  
Since then, he's documented dozens of abandoned buildings across the country and presented their stories at galleries and on his website, abandonedamerica.us.  The goal, he says, is to highlight the economic failures leading to their downfall and the social impact on communities fractured by the closing of these neighborhood mainstays.
We met recently at the partially deserted Holmesburg Prison near Philadelphia.  It was eerie, but there was a certain beauty in the stillness and things left behind.  Inside, it reminded me of a quote by French composer Claude Debussy who famously said, "Music is the space between the notes." The places Christopher photographs tell their stories with silence and extraordinary light – the spaces between the life and death of a building. 
His pictures make me feel like someone told me a secret. 
Christopher is a thoughtful man, melancholy in his assessment of decay -- and I feel lucky he shared his art and technique with us.  I am also grateful to NBC News photographer Bob Riggio for documenting our adventure inside a place almost no one goes.