Candy Crush Saga is now so popular the company behind the smartphone game wants to go public. After generating millions in profit, King Digital Entertainment has filed for an initial public offering of up to $500 million.
So what's the big draw?
Ask interior designer Jane Mogel how much time she's spent playing Candy Crush and she'll tell you "probably too much."
Sometimes it's an hour or two, she says. Sometimes more.
"I find the time [when] I do it the most is when we're watching TV," said Mogel, who lives in New York City. "So, after dinner maybe seven, eight o'clock till 10 or 11."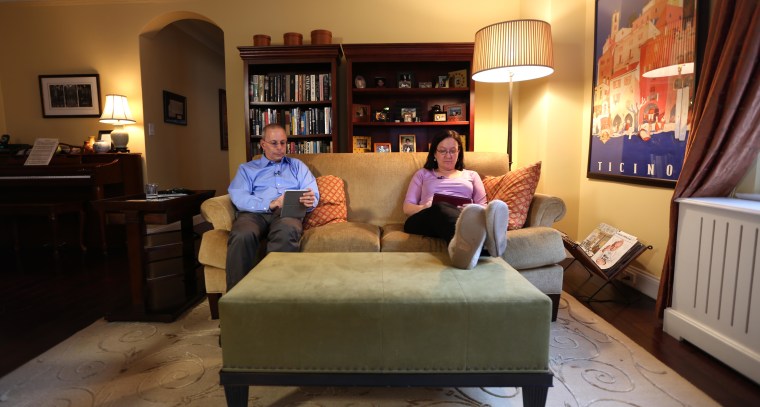 Her husband of 30 years, Peter Pitts, is more of a "Words With Friends" kind of guy -- he can only theorize about Candy Crush's appeal.
"There's a degree of relaxation that's part of it. But there's also a degree of addiction ... where she's clearly just being sucked into it," he said. "I don't think that she finds it that gratifying ... I think that she can't stop."
He's not the only one raising questions about the game's allure.
NBC News' Erica Hill spoke with Joshua Topolsky, Editor in Chief of The Verge, to find out why the game is so addictive. Here's what he had to say:
1. Slow and Steady Pace
"Unlike ... a lot of mobile games that you play, it moves at a very slow pace ... and it's very casual," he said. "It's the kind of thing you can do when you've got a sandwich in one hand or you're riding the train ... I think that has a lot to do with why people have found they'll just gravitate towards it in a free moment."
2. Engrossing Simplicity
"It kind of looks like an 8-bit game," Topolsky said. "It ... looks like something that that you might play on the NES [Nintendo Entertainment System]. It's a really basic puzzle game when you look at it, I mean it's not complicated, there's no fancy graphics, it is relatively minimal and cartoonish."
3. The 'Freemium' Model
With a "freemium" interface, Topolsky says, "You get a little bit of something, you check it out and then if you want more you gotta pay a few bucks to get it ... In this case it's pay a few bucks, then pay a few more, then pay a few more, and so it does have a kind of a similarity to drug addiction."
4. The Right Level of Difficulty
"The gameplay ... is engrossing enough to make you want to go onto the next level but not so demanding that you feel like the game wants something from you," he said. "It rewards novice players, makes them feel like they're achieving something so they can keep going, they get better, the game gets more difficult."