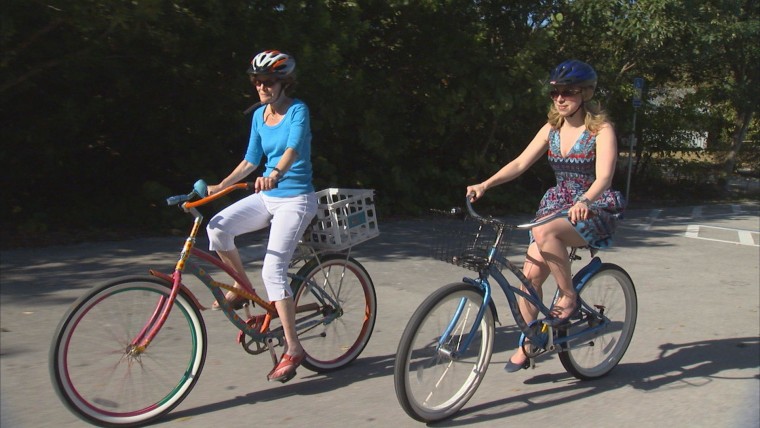 By Chelsea Clinton
Rock Center Special Correspondent
Along with my parents, my best friend Elizabeth Fleming, ballet and Zeke (our dog), I cannot imagine my life between the ages of eight and 12 without Judy Blume, or her iconic characters: Peter, Davey, Margaret and Katherine.
I remember spending endless hours talking about Blume's books with Elizabeth, whose little brother was eerily Fudge-like, and with my parents. For me, talking about Blume's characters being bullied or worrying about whether or not a boy liked them, or stressing over their homework or getting their periods was far easier than talking about what we were actually experiencing in elementary school or junior high. (Yes, I am old enough to have gone to junior high, not middle school – today, what was once the Horace Mann Junior High School in Little Rock, Ark., is now a middle school.) 
I started thinking about Blume again around the holidays at the end of last year. I had some vague memory of reading that she had sold more than 75 million books – it's now actually more than 80 million – and had been published in dozens of languages.  I wondered what girls and boys were reading nowadays, here in the United States and around the world, and what they were learning about growing up with determination and courage, words that in my mind are synonymous with Blume's protagonists. 
When I looked up various young adult bestseller lists, including on Amazon.com and Publisher's Weekly, I found the top 10 and top 100 of 2012 and those of the past decade populated with books about wizards, vampires and kids in dystopic realities.  
Many of the now iconic characters from those books, particularly girls like Hermione and Katniss, have the determination and courage reminiscent of Blume's Jill (better known as Blubber) and Davey (or Tiger Eyes) but their stories take place in other worlds. I love the Harry Potter books, too -- and am grateful to my husband for convincing me to read them at 27 -- but I was curious about the absence on the bestseller lists of believable characters living in real places like New York City or Los Alamos, N.M., two of the backdrops Blume used in her books.
As I asked friends with kids of ages nine or 10, they all said their kids were reading Blume, often the very same books their parents had read 30 years earlier. That struck me as remarkable, that a writer's characters could appear equally real when those parents read the books three decades ago, when I read them two decades ago and when kids are reading them today.   
I also realized I still had many of my Blume books at my parents' house – and I could absolutely understand why our friends' kids were reading Harry Potter on their Kindles or iPads and old, yellowed paperback copies of Blume's "Tales of a Fourth Grade Nothing." 
A colleague at NBC told me her son didn't believe she could have read Blume, telling her, as only a 9-year-old boy can, he didn't believe her because she was "way too old." To me, that meant Blume's work is timeless.  
I wanted to know more about the woman who seemed to be gifted with the ability to inhabit kids at different ages, regardless of her own age. I thought re-reading her books would be the best part of doing this story. 
Instead, by far, the best part was spending time interviewing Blume. I realized that she is, as she has said, a 12-year-old trapped in a grown-up body. For many of Blume's readers, myself included, we're grateful that she is. I hope you'll agree she is even more magical than her writing after you watch our story on NBC's Rock Center with Brian Williams.