Dylan Spoering may be only 8 years old, but this little kid dreams big on the front porch of his home in Minneapolis.
That's where Dylan decided to have a free piano recital Saturday. He put a hand-written sign on his front lawn that said "Free concert by Dylan Spoering, 2:30 - 3:20pm."
Neighbor Tommy Rehbein saw the sign, took a picture of it, then posted the event on Facebook.
"I have no idea who Dylan Spoering is, but he made this sign and put it out in his front yard, which I saw while biking home," Rehbein wrote. "Wouldn't it be cool if a bunch of people showed up for his free concert?"
Dylan's event quickly went viral. And instead of just a few neighbors showing up, at least 200 neighbors were there to cheer him on.
Not even rain could dampen his keys. As the crowd began gathering with umbrellas in hand, Dylan -- who takes piano lessons from his grandpa -- remained confident.
"This is gonna be my big day. I'm not nervous," he said before the concert.
And at 2:30 p.m., he struck the first note, playing "Skip To My Lou." What followed was a recital from a charming kid, who entertained the crowd with several more songs, like "Rhino In The Mud."
About halfway through the concert, he yelled, "Intermission! Intermission!" to his delighted audience: a chance to pass out cookies and answer a few questions.
"Wow! People even came on a rainy day. I must be famous," Dylan told NBC News.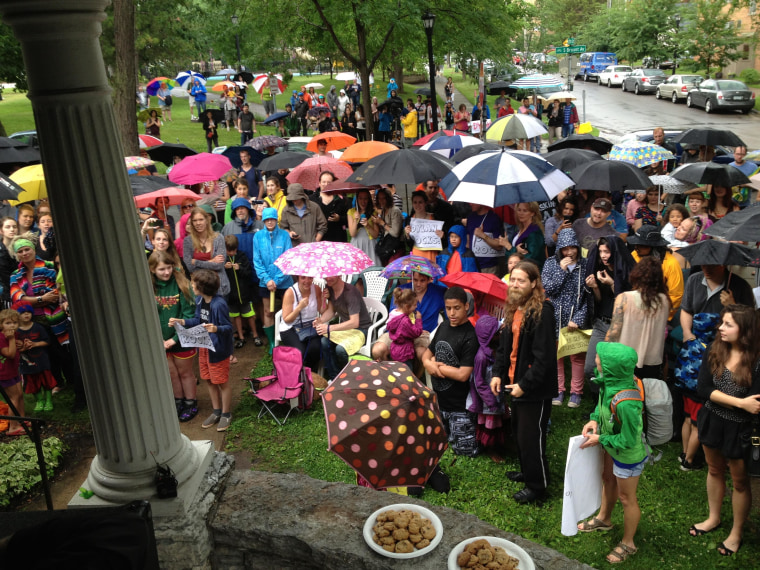 The concert was streamed live on the web by Minneapolis resident Travis Lee, using his cell phone. More than 40,000 watched.
And reaction poured in to Facebook and Twitter. "Get outta here with all this cuteness," said one woman watching the live stream. "This was probably the highlight of my weekend," said another woman who watched on Dylan's front lawn.
"He takes what's good in people and kind and sweet, and brings it to the surface," Rehbein said. "And he did that for a big group of people."
While Dylan received most of the online praise, Minnesotans got their share for helping give Dylan a day he will never forget. "Delightfully uplifting," said one tweet.
This isn't Dylan's first concert. He's had a few others, but none attracted hundreds of spectators.
And after last Saturday's turnout, Dylan is already planning his next big thing: another piano concert on Saturday, August 2. Same time, same place: on his front porch -- where dreams come true.