Students are taking a stand at Vallecito Elementary School in San Rafael, California.
Nearly every classroom in the school now has standing desks, which keeps kids on their feet for much of the day.
Teachers can already notice the difference.
"I can hold their attention for longer because I feel like their brains and their bodies are more active and more awake," said fourth grade teacher Amanda Grey.
The school initially tested the concept in a few classrooms last year. The pilot project was so successful that parents raised enough money to buy standing desks for the entire school this year. The old-fashioned sitting desks are now piled up in a fenced-in area, dubbed "the graveyard."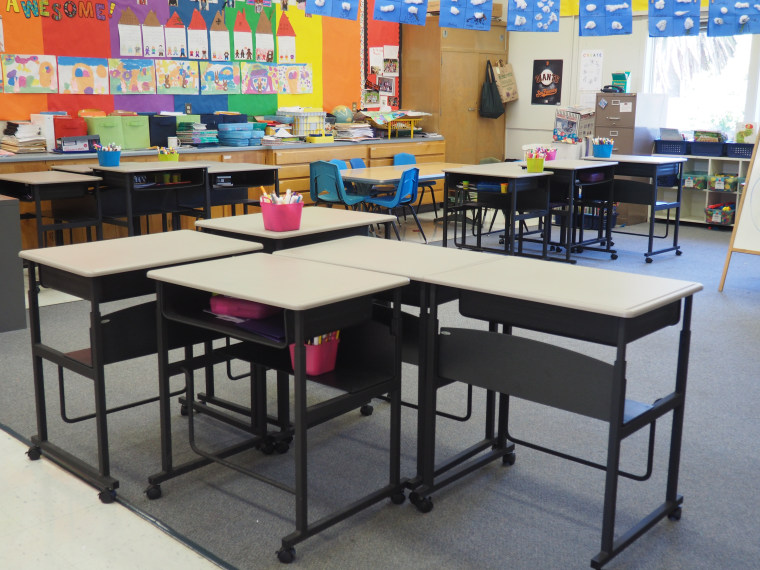 For some students, it took a little time to adjust to the change. But now there is overwhelming support.
"I just focus better when I'm standing," said 10-year-old Jee Davis.
"Standing more helps me not be so jittery," said fifth-grader Raquel Frankel.
Even Principal Tracy Smith has a standing desk.
"I was an early-adopter," she told NBC News. "I would never go back."
Smith said it is important to realize that kids do not stand all day long. Students are encouraged to sit down on stools or the floor if they are feeling tired.
Every desk is also equipped with a "fidget bar." Kids can place their foot on the bar, which is located near the ground and moves back and forth like a swing.
"It releases all of your energy and it's not having you hunched over," student Georgia Starrett said about the fidget bar.
Numerous studies have documented health problems related to sitting too much, including the risk of diabetes, high blood pressure, cardiovascular disease and obesity.
James Levine, an author and researcher at the Mayo Clinic and Arizona State University, said getting kids to move more during the school day helps both their bodies and brains. Some research suggests test scores increase by 10 to 15 percent.
"Their scores are better, their attention is better, their specific skill development is better," Levine said. "If that is the case, it is therefore self-evident that this has to be the future."
The biggest challenge is cost. Standing desks at Vallecito Elementary cost about $225, while the traditional sitting desks were around $75.
To pay for the new desks, the community raised $110,000 with help from an non-profit organization called Standup Kids.
"Our mission is to get these desks into as many public schools as we can in the next ten years, hopefully all of them," said Juliet Starrett, Standup Kids co-founder — and Georgia's mom.
Using the website DonorsChoose.org, Starrett's group is helping communities across the country raise money for standing desks, realizing that cash-strapped school districts may not be able to afford the equipment.
At Vallecito Elementary, second grade student DJ Armstrong has a wish when it comes to standing desks.
"We should all have them around the world," he said. "I think for Christmas, people should start asking for them."
It is a growing movement for more movement.