Two days after Bettie Jones was shot dead by Chicago police, it remains unclear why the 55-year-old grandmother of five walked to the front door of her West Side home, the spot where she became what authorities called an "accidental" casualty of a "domestic disturbance."
But her daughter has a theory about the one-time crossing guard. She was "just being a good citizen," Latarsha Jones told NBC News. "Trying to help out."
Bettie Jones, along with 19-year-old Quintonio LeGrier, her upstairs neighbor, who was also killed by police on Saturday morning, have become the latest symbols in a city roiled by anger over alleged police abuse.
Latarsha Jones and two of her sisters told NBC News on Monday that the events were "shocking" and "terrifying."
Latisha Jones said her mother was probably just opening the front door for the police Saturday morning.
"She was probably thinking, 'I'm going to open the door, let them in," she said. "'They're going to go upstairs and handle whatever's going on. I'm going to come back, close my door and get back in my bed.'"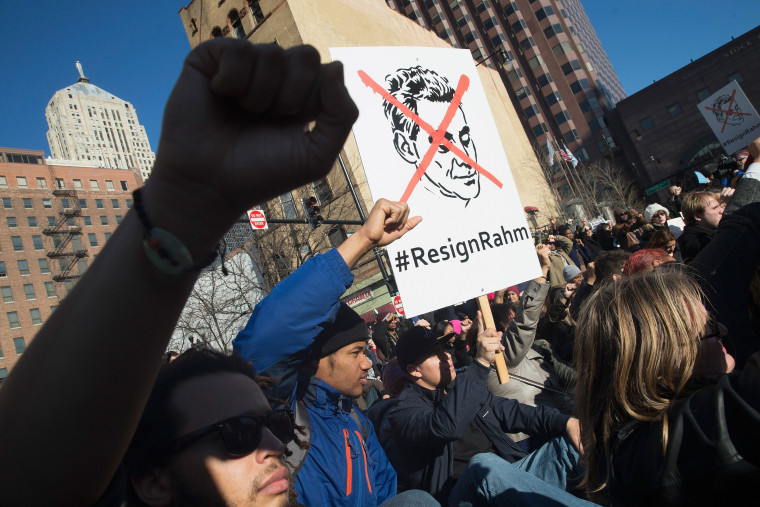 Instead, Latisha added, "My mom wound up getting shot."
Chicago police have said they "confronted a combative individual" just after 4 a.m. on Saturday. Friends and neighbors told NBC affiliate WMAQ that LeGrier — a college student at Northern Illinois University who was home on break — had recently shown signs of mental illness and was threatening his father with a baseball bat. When police arrived, they shot him seven times, his mother said.
His father, Antonio LeGrier, filed a lawsuit against the city Monday alleging that LeGrier was unarmed and "never posed a danger of threat or harm."
Their deaths came just more than a month after the release of dash-cam video that showed Chicago police Officer Jason Van Dyke firing 16 shots at 17-year-old Laquan McDonald. Protests erupted over the city's handling of the killing and whether the authorities — including Mayor Rahm Emanuel — tried to cover it up.
Chicago police released a statement Saturday saying Jones was "accidentally struck and tragically killed" and Mayor Rahm Emanuel ordered the city's Independent Police Review Authority — or IPRA — to examine the case. "I have asked that they determine the deficiencies in the current training, and determine what steps can be taken immediately to address them," Emanuel said. "We will continue to ask tough questions of the police department, of the investigative agencies, and of ourselves, to drive the reforms the people of Chicago deserve and expect."
The Jones family's lawyer, Sam Adam Jr., assailed the authorities' version of the incident, telling NBC News on Monday that "many" shell casings were found "down the street" from Jones' home.
"That sort of activity certainly doesn't comport with necessary and justifiable shooting when the shell casings are 15 to 20 feet away," he said.
A Chicago police spokesman referred calls on the case to IPRA. A phone call to the authority on Monday was not immediately returned.